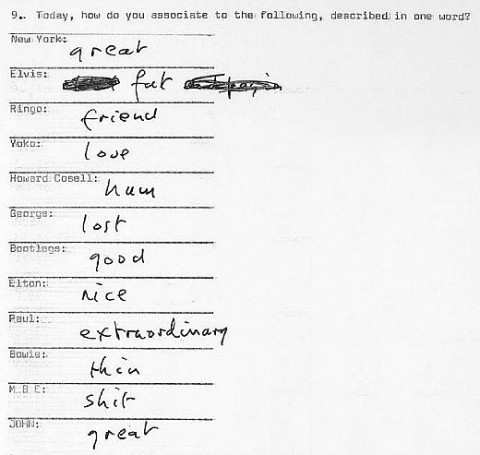 In 1976 a youthful fan named Stuart sent John Lennon a six-page list of questions. The former Beatle responded with answers, along with a child-like drawing of a lamb standing on a cloud, saying, "Hi Stuart."
Stuart wanted to know a few things, like what sort of album Lennon was working on. "Until it's been on tape," Lennon replied, "I never know what it will be." He also wondered if the famous musician was writing anything, like perhaps an autobiography. "Yes, I have been writing, but not an autobiography. I've noticed that people tend to DIE after writing their life story."
The young fan included a list of words and names, along with the question: How would you characterize the following figures in one word?
John: "Great"
Paul: "Extraordinary"
George: "Lost"
Ringo: "Friend"
Elvis: "Fat"
Yoko: "Love"
Howard Cosell: "Hum"
Lennon signed off with, "It was a pleasure, hope ya dig it/John Lennon."
via Lists of Note