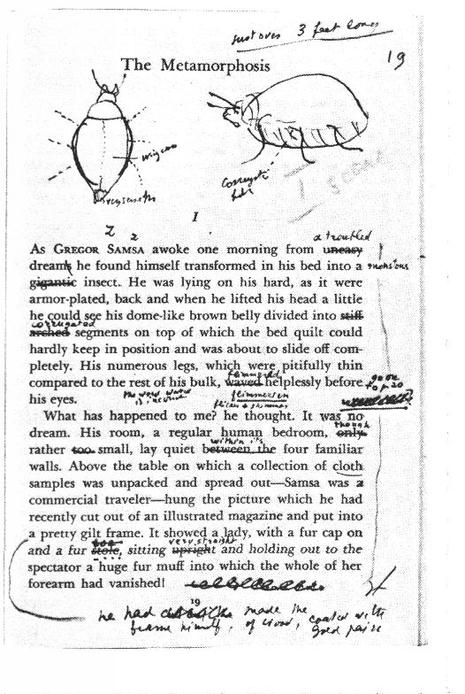 Vladimir Nabokov admired Franz Kafka's novella, The Metamorphosis. Hence the lecture that Nabokov dedicated to the work here. But he also saw some small ways to wordsmith the story, or at least the English translation of it. Above, we have some edits -- the nips and tucks -- that Nabokov scribbled on his personal copy of Kafka's most famous work.
In 1989, Nabokov's lecture on The Metamorphosis was actually turned into a television production starring Christopher Plummer. You can watch The Metamorphosis - A Study: Nabokov on Kafka online. It runs 30 minutes. Of course, you can also download your own copy of Kafka's near perfect work of poetic imagination, to borrow a phrase from Elias Canetti. Visit our collections of Free eBooks and Free Audio Books.
Follow Open Culture on Facebook and Twitter and share intelligent media with your friends. Or better yet, sign up for our daily email and get a daily dose of Open Culture in your inbox. 
If you'd like to support Open Culture and our mission, please consider making a donation to our site. It's hard to rely 100% on ads, and your contributions will help us provide the best free cultural and educational materials.
Related Content:
Take Vladimir Nabokov's Quiz to See If You're a Good Reader–The Same One He Gave to His Students
Vladimir Nabokov Names the Greatest (and Most Overrated) Novels of the 20th Century
Vladimir Nabokov Talks About Life, Literature & Love in a Meticulously Prepared Interview, 1969
Vladimir Nabokov (Channelled by Christopher Plummer) Teaches Kafka at Cornell