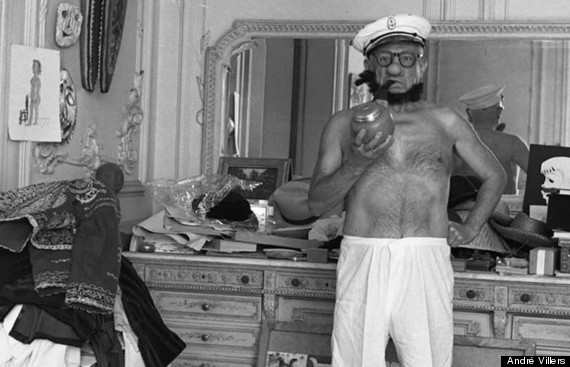 Suffering from tuberculosis, André Villers spent eight long years at a sanatorium in the French Riviera town of Vallauris, starting in 1947. There, while recovering, he learned photography, refined his craft, and later shot portraits of Europe's great artists -- Fernand Léger, Alexander Calder, Salvador Dalí, Joan Miró, Marc Chagall, Max Ernst, Jean Cocteau, Luis Buñuel, Federico Fellini, to name a few. Villers met Picasso in 1953 and stayed at his side for close to a decade, writes The Age, "quietly observing and shooting the man at work and at play." In the image above, we find Picasso most certainly at play. Apparently Pablo threw on some random clothes one day, and said "Look at me, I am Popeye!" That scene is recorded for posterity with the great image above. Click to view it in a larger format.
Follow Open Culture on Facebook and Twitter and share intelligent media with your friends. Or better yet, sign up for our daily email and get a daily dose of Open Culture in your inbox. 
If you'd like to support Open Culture and our mission, please consider making a donation to our site. It's hard to rely 100% on ads, and your contributions will help us provide the best free cultural and educational materials.
Related Content:
The Postcards That Picasso Illustrated and Sent to Jean Cocteau, Apollinaire & Gertrude Stein
Watch Picasso Create Entire Paintings in Magnificent Time-Lapse Film (1956)