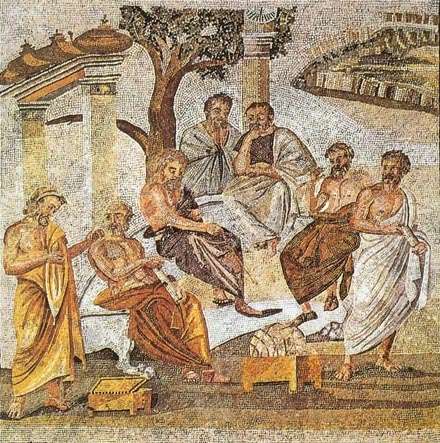 On Mon­day, we told you where you can down­load Free Cours­es from Top Philoso­phers (Fou­cault, Sear­le, Rus­sell and the rest). As the day went along, our list grew thanks to read­er sug­ges­tions, and we also dis­cov­ered anoth­er promis­ing resource — a pod­cast called "The His­to­ry of Phi­los­o­phy With­out Any Gaps," cre­at­ed by Peter Adam­son, Pro­fes­sor of Ancient and Medieval Phi­los­o­phy at King's Col­lege Lon­don:
Begin­ning with the ear­li­est ancient thinkers, the series will look at the ideas and lives of the major philoso­phers (even­tu­al­ly cov­er­ing in detail such giants as Pla­to, Aris­to­tle, Avi­cen­na, Aquinas, Descartes, and Kant) as well as the less­er-known fig­ures of the tra­di­tion.
That's what Adam­son promis­es, and he does­n't dis­ap­point. Over the past 34 months, Adam­son has pro­duced 136 episodes, each about 20 min­utes long, cov­er­ing the Pre­So­crat­ics (Pythago­ras, Zeno, Par­menides, etc) and then Socrates, Pla­to and Aris­to­tle. That's rough­ly 45 hours of audio, and there's no telling how many more hours of audio will bring us to the mod­ern peri­od. The more, the bet­ter, we say.
You can access all episodes via these links: iTunes — RSS Feed — Web Site. Or find oth­er free phi­los­o­phy cours­es in our big col­lec­tion of Free Cours­es Online.
If you would like to sign up for Open Culture's free email newslet­ter, please find it here.
If you would like to sup­port the mis­sion of Open Cul­ture, con­sid­er mak­ing a dona­tion to our site. It's hard to rely 100% on ads, and your con­tri­bu­tions will help us con­tin­ue pro­vid­ing the best free cul­tur­al and edu­ca­tion­al mate­ri­als to learn­ers every­where. You can con­tribute through Pay­Pal, Patre­on, and Ven­mo (@openculture). Thanks!
Relat­ed Con­tent:
Free Online Phi­los­o­phy Cours­es
Take First-Class Phi­los­o­phy Cours­es Any­where with Free Oxford Pod­casts
Learn The His­to­ry of Phi­los­o­phy in 247 Pod­casts (With More to Come)