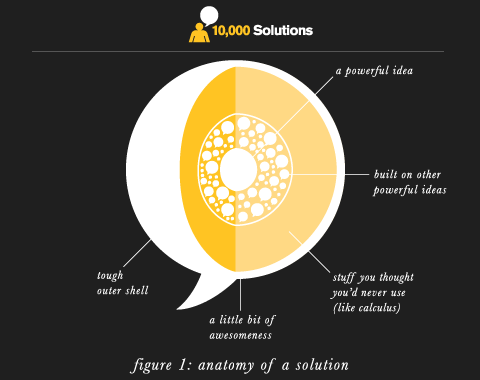 Arizona State University has launched a new contest called 10,000 Solutions open to anyone over 18, anywhere in the world, and it offers a $10,000 prize. Entries can take on one of the eight greatest challenges facing the world, like sustainability and the future of education. What makes the contest unusual is that participants are encouraged to collaborate and build on one another's solutions. ASU wants to create an open solutions bank that others can use to generate new ideas, and some students at ASU have already met up in person to talk over things they shared on the site. The school is promoting 10,000 Solutions as an experiment in collaborative invention and the National Science Foundation is funding a team of ASU researchers to study the contest and see how ideas are shared and developed.
The contest is off to a strong start, getting some high-profile entries like this one from Dan Ariely.
While many of the solutions share questions or ideas at the brainstorming stage, some groups are using the platform to promote working prototypes. This group of ASU student engineers is working on a low-cost smartboard technology based on the Wii that could be set up anywhere you can run a projector.
ASU hopes 10,000 Solutions will bring some fresh energy to problems that often seem overwhelming. If you have a minute to spare and a bright idea for making the world a better place, why not share it?
Ed Finn is an occasional contributor to Open Culture. He recently started working at Arizona State University in University Initiatives, an office focused on developing new projects and thinking big about the future of public university education. 10,000 Solutions is a project his team is helping to launch this year.