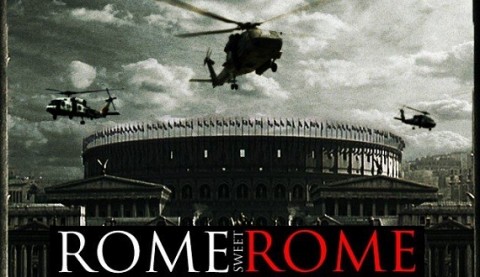 It all started as a thought experiment on Reddit.com when a user posed the question: "Could I destroy the entire Roman Empire during the reign of Augustus if I traveled back in time with a modern U.S. Marine infantry battalion or MEU?"
Then the Reddit user offered a more precise scenario:
Let's say we go back in time with a Marine Expeditionary Unit (MEU) … could we destroy all 30 of Augustus' legions?

We'd be up against nearly 330,000 men since each legion was comprised of 11,000 men. These men are typically equipped with limb and torso armor made of metal, and for weaponry they carry swords, spears, bows and other stabbing implements. We'd also encounter siege weapons like catapults and crude incendiary weapons.

We'd be made up of about 2000 members, of which about half would be participating in ground attack operations. We can use our mechanized vehicles (60 Humvees, 16 armored vehicles, etc), but we cannot use our attack air support, only our transport aircraft.

We also have medics with us, modern medical equipment and drugs, and engineers, but we no longer have a magical time-traveling supply line (we did have but the timelords frowned upon it, sadly!) that provides us with all the ammunition, equipment and sustenance we need to survive. We'll have to succeed with the stuff we brought with us.

So, will we be victorious?
The question touched off a frenzy of discussion. One user, James Erwin, wrote a short story, Rome Sweet Rome, imagining how the battles might play out, and Warner Bros. came along and bought the movie rights to the story.
And now professional historians are weighing in. Interviewed in Popular Mechanics, historian Adrian Goldsworthy, an expert on the Roman army, offered these thoughts:
Obviously, there is a massive difference in firepower. Not only would Roman armor be useless against a rifle round—let alone a grenade launcher or a .50 caliber machine gun—it would probably distort the bullet's shape and make the wound worse.
But here comes the difficulty:
In the short term and in the open, modern infantry could massacre any ancient soldiers at little risk to themselves. But you could not support modern infantry. So all of these weapons and vehicles could make a brief, dramatic, and even devastating appearance, but would very quickly become useless. Probably in a matter of days…. Marines are the best warriors ever trained. But they can't fight an endless wave of soldiers. No one can.
You can find the rest of Goldsworthy's thoughts here, and several good Roman history courses in our big collection of Free Online Courses.
via Andrew Sullivan
Follow Open Culture on Facebook and Twitter and share intelligent media with your friends. Or better yet, sign up for our daily email and get a daily dose of Open Culture in your inbox. And if you want to make sure that our posts definitely appear in your Facebook newsfeed, just follow these simple steps.