In 1968, Ter­ry Gilliam was a young Amer­i­can car­toon­ist liv­ing in Lon­don. He was hav­ing trou­ble mak­ing a liv­ing from mag­a­zine work, so his friend John Cleese sug­gest­ed he get in touch with Humphrey Bar­clay, who was pro­duc­ing a slight­ly sub­ver­sive tele­vi­sion show for chil­dren called Do Not Adjust Your Set.
Sub­ti­tled "The Fair­ly Point­less Show," it fea­tured a group of pre­vi­ous­ly unknown actors includ­ing Eric Idle, Michael Palin and Ter­ry Jones, and attract­ed a cult fol­low­ing among adults. Bar­clay looked at Gilliam's port­fo­lio and decid­ed he would fit right in.
For one ear­ly assign­ment, Gilliam was asked to pre­pare some­thing for a spe­cial show to be broad­cast on Christ­mas day, 1968, called Do Not Adjust Your Stock­ing. Look­ing for inspi­ra­tion, he decid­ed to vis­it the Tate Gallery. In The Pythons Auto­bi­og­ra­phy of the Pythons, Gilliam remem­bered the project and how it fig­ured into his emerg­ing artis­tic style:
I went down to the Tate and they've got a huge col­lec­tion of Vic­to­ri­an Christ­mas cards so I went through the col­lec­tion and pho­to­copied things and start­ed mov­ing them around. So the style just devel­oped out of that rather than any plan­ning being involved. I nev­er analysed the stuff, I just did it the quick­est, eas­i­est way. And I could use images I real­ly loved.
The result (above) is a hilar­i­ous free-asso­ci­a­tion­al send-up of tra­di­tion­al Christ­mas card motifs. In addi­tion to being aired on the show, The Christ­mas Card was incor­po­rat­ed into Gilliam's short debut film from 1968, Sto­ry­time, which is part of our col­lec­tion of Free Movies Online.
For an update of Gilliam's twist­ed take on Christmas–a dark­er rework­ing of his Malev­o­lent San­ta theme in The Christ­mas Card–look below for a draw­ing Gilliam post­ed a few days ago on his Face­book page. And as the man says, you bet­ter watch out!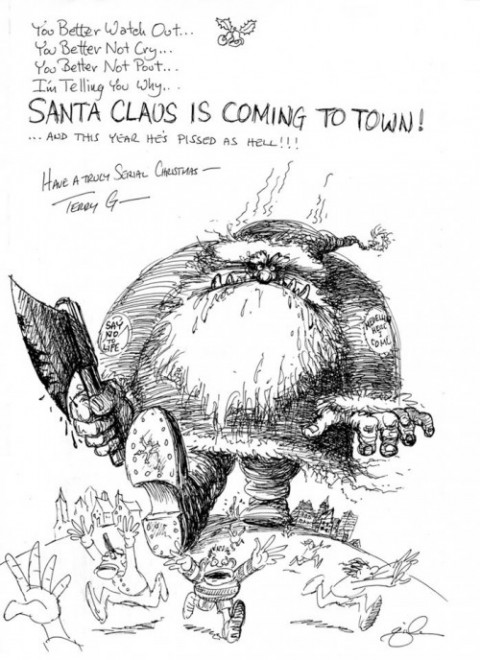 via Bleed­ing Cool
Relat­ed Con­tent:

Ter­ry Gilliam: The Dif­fer­ence Between Kubrick (Great Film­mak­er) and Spiel­berg (Less So)
Ter­ry Gilliam (Mon­ty Python) Shows You How to Make Your Own Cutout Ani­ma­tion