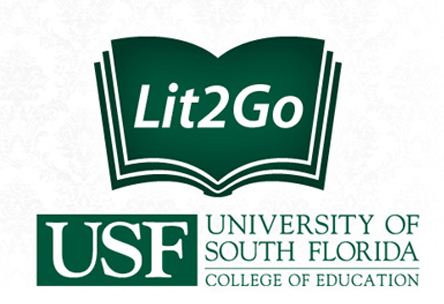 A number of sites offer free Mp3s of public domain books—
Librivox
and
Podiobooks
, for instance. What sets apart
Lit2Go,
 the University of South Florida's extensive collection of free audio books (
Web
 – 
iTunes
), are the materials to help K-12 teachers present literature in the classroom.
From fairy tales to The Iliad (Web – iTunes), Lit2Go organizes more than 200 titles by author and genre (adventure, gothic, history, science fiction) with clear genre descriptions and plot summaries for young readers. The look and feel of the site's beta version is user-friendly and library-like, with typewriter fonts and illustrations making it a pleasure to browse. There are a few small kinks to be worked out however, so teachers interested in downloading supplemental materials should opt for the original site.
Lit2Go marries the old school library form (each novel's year of publication and original publisher is included) with the capacity of the web (a link takes readers directly to the iTunes store, where Lit2Go has its own section of free downloads).
Many titles include support material to kick off classroom discussion or to coach students through developing their own character diagrams. One of the site's real assets is the way it curates titles into collections, including African-American Literature, American Founders and the intriguing Happiness Collection where readers find Robert Louis Stevenson's poem "The Swing" and Shakespeare's heart-stopping scene in which Friar Laurence marries Romeo to Juliet (Web – iTunes).
Another curatorial bonus: Materials are also organized by grade level, using the Flesch-Kincaid Grade Level index. Teachers and students can also download each title's full text as a PDF, to read along to the audio.
Meanwhile, your can find hundreds of downloadable works of literature in our own meta collection of Free Audio Books.
Kate Rix writes about k-12 instruction and higher ed.