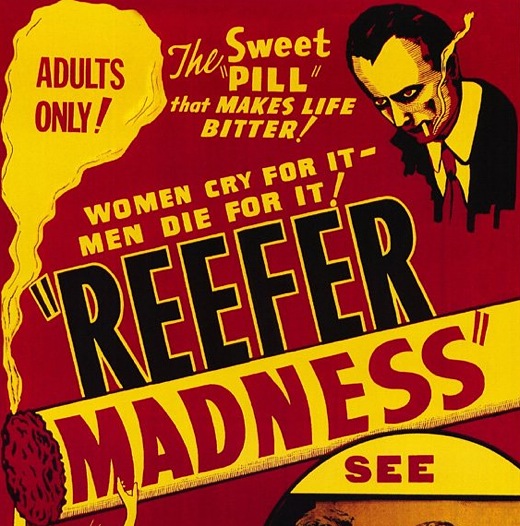 The motion picture you are about to witness may startle you. It would not have been possible, otherwise, to sufficiently emphasize the frightful toll of the new drug menace which is destroying the youth of America in alarmingly increasing numbers. Marihuana is that drug — a violent narcotic – an unspeakable scourge — The Real Public Enemy Number One! Or at least that's how the opening crawl of Reefer Madness tells it.
Also known, in other forms, as Tell Your Children, The Burning Question, Dope Addict, Doped Youth and Love Madness, the film has spent the past forty years accruing cult credibility on the (highly overlapping) midnight-movie and cannabis-culture circuits. That peculiar spelling of what we know as marijuana reveals only a whiff of its distinctive blend of hand-wringing salaciousness, aggressive squareness, and sheer ignorance. Keith Stroup, founder of the National Organization for the Reform of Marijuana Laws, spotted the movie's unintended comedic potential back in 1971, when he bought a print and began college-campus screenings. It today draws more prolonged, disbelieving guffaws and chortles than ever before.
Since Reefer Madness has fallen into the public domain, you can hold your own midnight screening nearly without effort by watching it online. Behold the deeply askew motion picture that began as a church-funded morality play, got into the hands of early exploitation-film icon Dwain Esper (he of 1934's Maniac, 1937's How to Undress in Front of Your Husband, and 1938's Sex Madness), and wound up as an uproarious mainstay of hazy university auditoria. While the film clearly knows nothing of marijuana or its real effects — or, seemingly, of the real effects of any narcotic — that doesn't stop its script from yielding a host of resonant lines. These run from the "straightforward question" of whether "you have, perhaps unwillingly, acquired a certain habit through association with certain undesirable people" to the recollection of having been "high enough to take over the marines and the navy" to that immortal imperative, "Bring me some reefers!" Laugh if you must, but bear in mind the final words from the solemn Dr. Carroll: "The next tragedy may be that of your daughter's… or your son's… or yours… or yours… or yours!"
You can always find Reefer Madness in our collection, 4,000+ Free Movies Online: Great Classics, Indies, Noir, Westerns, Documentaries & More.
Related content:
This is What Oliver Sacks Learned on LSD and Amphetamines
Bela Lugosi Discusses His Drug Habit as He Leaves the Hospital in 1955
Beyond Timothy Leary: 2002 Film Revisits History of LSD
Colin Marshall hosts and produces Notebook on Cities and Culture. Follow him on Twitter at @colinmarshall.