F. Scott Fitzgerald to himself, c. 1937: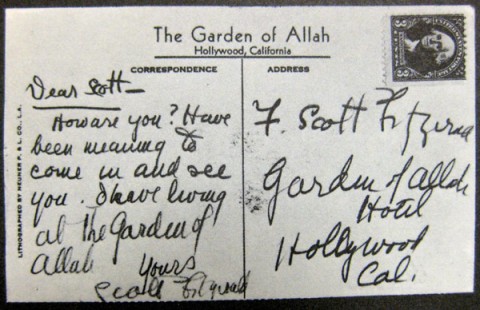 Today we've gathered together a group of postcards from six of the most famous writers of the 20th century. (Please click the images to see them in a larger format.)  Some of the cards are about business, others friendship. We found them all fascinating to glance through.
Perhaps the most curious and amusing of the cards is the whimsical note F. Scott Fitzgerald wrote to himself. (See above.) Fitzgerald was working as a screenwriter in Hollywood during the late 1930s and stayed for awhile at the fabled Garden of Allah (now a parking lot just down Sunset Boulevard from the Chateau Marmont), where a number of film and literary luminaries once lived, including Errol Flynn, Greta Garbo, the Marx Brothers, Dorothy Parker and Robert Benchley. Little is known about Fitzgerald's postcard to himself, but alcohol is generally assumed to have been involved. The undated card was stamped, but never mailed. In F. Scott Fitzgerald: A Life in Letters, editor Matthew J. Bruccoli guesses that it was written in the summer of 1937.
Jack Kerouac to Malcolm Cowley, 1956: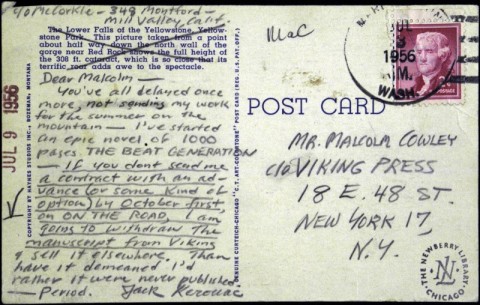 In 1956, Viking Press editor Malcolm Cowley was a believer in Jack Kerouac's talent but was putting off the publication of On the Road. In March of that year Cowley had cautioned the Beat writer about going too far with automatic writing. "Automatic writing is fine for a start," Cowley said in a letter to Kerouac, "but it has to be revised and put into shape or people will quite properly refuse to read it–and what you need now is to be read, not to be exhibited as a sort of natural phenomenon like [the] Old Faithful geyser that sends up a jet of steam and mud every hour on the hour." Kerouac was apparently stung by the last line, because on July 3 of that year he sent a postcard (above) with a picture of Yellowstone National Park on it, expressing extreme impatience with Cowley's foot-dragging. "If you don't send me a contract with an advance (or some kind of option) by October first, on On the Road, I am going to withdraw the manuscript from Viking and sell it elsewhere. Than have it demeaned I'd rather it were never published." A year later Viking published the novel.
James Joyce to Elkin Mathews, 1908: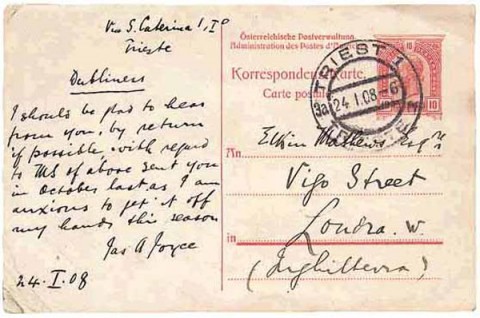 In 1908, James Joyce was four years into his self-imposed exile from Ireland. He was living in the Austro-Hungarian port city of Trieste (now part of Italy) and teaching at the Berlitz School while trying to get his book of short stories, Dubliners, into print. One publisher had already accepted the book, but the printer had refused to produce it for fear of being prosecuted on obscenity charges. On January 24, 1908 Joyce sent the postcard above to the London publisher Charles Elkin Mathews, who had been holding onto the manuscript for several months, requesting a decision. Mathews turned it down. Six more years of headaches followed for Joyce (with one publisher actually printing 1,000 copies of the book only to change his mind and burn them all) before Dubliners was finally printed in 1914 by Grant Richards Ltd.
Franz Kafka et al. to Kurt Wolff, 1913: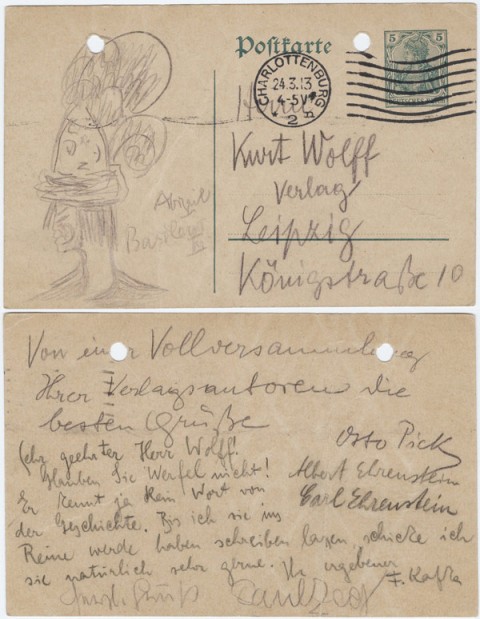 Franz Kafka is often pictured as a solitary figure, brooding alone in his room. The postcard above is evidence of Kafka's social side. It was sent on March 25, 1913 from Charlottenburg, a district of Berlin, where Kafka was meeting with a group of fellow authors who shared the same publisher. The writers decided to send a group postcard to their publisher Kurt Wolff. Kafka writes "Best greetings from a plenary session of authors of your house. Otto Pick, Albert Ehrenstein, Carl Ehrenstein. Dear Herr Wolff: Pay no attention to what Werfel tells you! He does not know a word of the story. As soon as I have a clean copy made, I will of course be glad to send it to you. Sincerely, F. Kafka." At the bottom, in another hand, is written "Cordial greetings from Paul Zech," and on the front of the postcard is a drawing by Else Lasker-Schuler with the name "Abigail Basileus III" next to it. The "Werfel" Kafka refers to is the Austrian-Bohemian writer Franz Werfel, who had told Wolff about Kafka's unpublished novella, The Metamorphosis. Wolff had expressed interest in seeing "the bug story." He published it two years later, in 1915.
Ernest Hemingway to Gertrude Stein, 1924:
In the summer of 1924, Ernest Hemingway traveled in Spain to attend bullfights. On June 9 he sent a postcard from Madrid to his mentor and fellow bullfighting fan Gertrude Stein. Hemingway was eager to fill Stein in on the latest developments. "Tomorrow," he writes, "six bulls of Martinez with Villalta, who is a very wonderful kid. Tall and stands out from the rest of them like a wolf. Think he's going to be the next great one." Hemingway's accumulated knowledge of Spain and bullfighting would figure into his breakthrough novel of 1926, The Sun Also Rises. Another postcard from Hemingway to Stein and Alice B. Toklas appears here.
Kurt Vonnegut to David Breithaupt, 2006: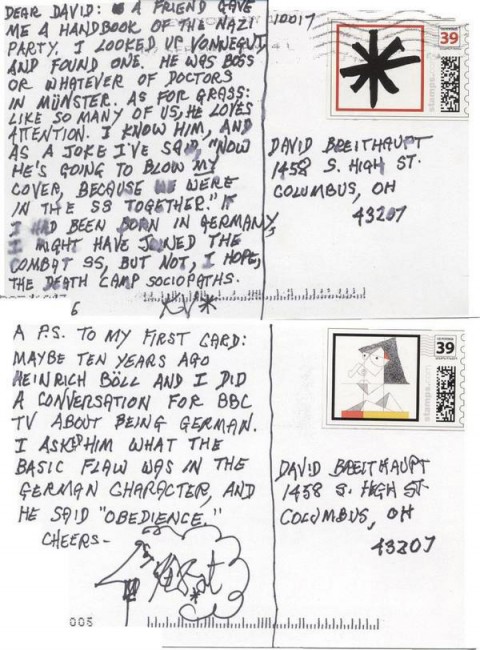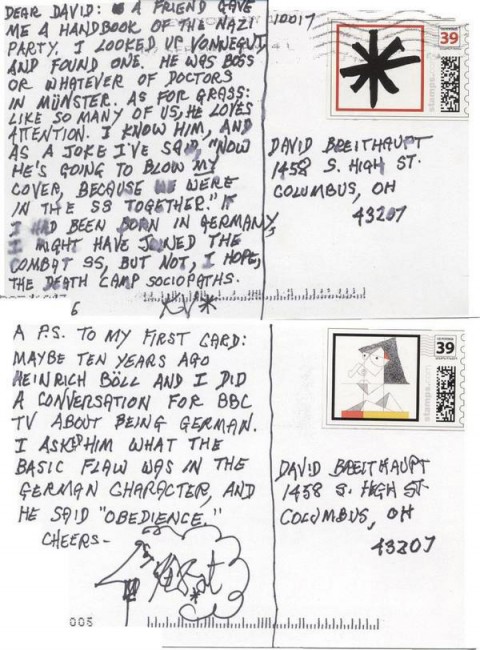 In the last two decades of his life, Kurt Vonnegut corresponded with a young man named David Breithaupt, whom he had met through Allen Ginsberg. (Breithaupt had worked part-time as an archivist for Ginsberg in the early 1980s.) In a 2007 interview with The Nervous Breakdown, Breithaupt was asked why Vonnegut took the time to exchange letters with him. "This has mystified me over the years," said Breithaupt, "but part of the reason may have been because Kurt and I were both midwesterners. I grew up in central Ohio and he was a Hoosier next door. We both had Germanic backgrounds and we were often sending sightings of the other's family names to each other. In fact our last correspondence was about Gunter Grass and his out-of-the-closet Nazi announcement." Grass had stunned the literary world in the summer of 2006 by admitting that he was drafted into the Waffen SS when he was a teenager. "As for Grass," says Vonnegut in a September, 2006 postcard shown above: "He loves attention. I know him, and as a joke I've said 'Now he's going to blow my cover, because we were in the SS together.' If I had been born in Germany, I might have joined the combat SS, but not, I hope, the death camp sociopaths."
via Vintage Everyday
Related Content:
Classic works mentioned above can be found in our collection of Free Audio Books and Free eBooks.
Discover J.R.R. Tolkien's Personal Book Cover Designs for The Lord of the Rings Trilogy
Jack Kerouac's Hand-Drawn Cover for On the Road (And More Great Culture from Around the Web)
Henri Matisse Illustrates 1935 Edition of James Joyce's Ulysses