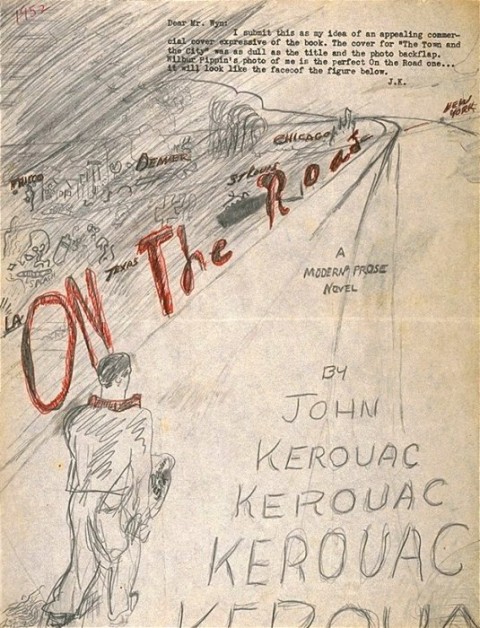 This falls under the category, "If you want it done right, you have to do it yourself."
In 1950, when Jack Kerouac released his first novel, The Town and the City, he was less than impressed by the book cover produced by his publisher, Harcourt Brace. (Click here to see why.) So, in 1952, when he began shopping his second novel, the great beat classic On the Road, Kerouac went ahead and designed his own cover. He sent it to a potential publisher A.A. Wyn, with a little note typed at the very top:
Dear Mr. Wyn:

I submit this as my idea of an appealing commercial cover expressive of the book. The cover for "The Town and the City" was as dull as the title and the photo backflap. Wilbur Pippin's photo of me is the perfect On the Road one … it will look like the face of the figure below.

J.K.
Wyn turned down the novel, and it wouldn't get published until 1957. It would, however, become a bestseller and be published with many different covers through the years. They're all on display here. The image above comes to us by our favorite Wired writer Steve Silberman (aka @SteveSilberman)
Now please enjoy more great links that recently passed through our Twitter stream. And don't forget to give us a follow here.
The Top 10 Most Difficult Books, according to Publishers Weekly. Find many in our Free eBooks collection.
Rare Nabokov Story -- "Everything Plays" -- Published in English for the First Time.
World's Oldest Surviving Photograph (1826) Goes on the Road.
William S. Burroughs Rips Truman Capote Upon the Publication of "In Cold Blood".
'Just Tell Me That You Want Me: A Tribute To Fleetwood Mac'. 17 Songs. Available Online.
Neil deGrasse Tyson is Officially a Rock Star
Restored Version of La Passion de Jeanne d'Arc by Carl Dreyer. Added to our Free Movie Collection.
David Remnick Talks About His Recent Piece on Bruce Springsteen. Listen.
Terry Gilliam's 10 Lessons For Directors Today.
Patti Smith's Early Poetry Readings & Rock Shows, 1971-74. Audio.
The Time Bob Dylan Got an Honorary Doctorate in Music from Princeton. 1970.
Library of Congress Presents Aesop's Fables for iPad/iPhone.
A Portrait of Bertrand Russell by Norman Rockwell.
A Labyrinth of Books, Based on Borges' Fingerprint.
David Lynch Designs Labels For Dom Pérignon.
Susan Sontag on Love: Illustrated Diary Excerpts.
Ayn Rand and L. Ron Hubbard Came Up With Their Big Ideas in the Sack....Together.
Evgeny Morozov: TED is "a place where ideas, regardless of their quality, go to seek celebrity." 
Paul Auster Reads from his Upcoming Memoir, 'Winter Journal'.
History of Western Social Theory, by Alan MacFarlane, Cambridge. Added to our list of 500 Free Online Courses.