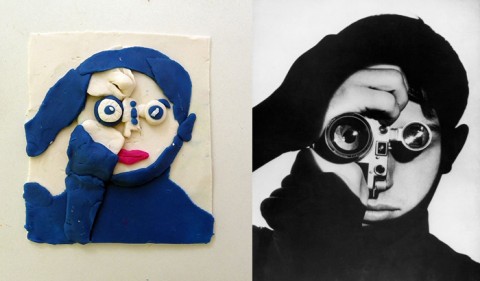 Points for creativity go to Eleanor Macnair, who recently launched the "Photographs rendered in Play-Doh" Tumblr. Given the name of the Tumblr, I probably don't have to explain the concept. I think you get it. Above we have "Photographer Dennis Stock holds a camera in front of his face, 1955" — the original by Andreas Feininger (right), and the recreation by Ms. Macnair (left). Also on the Tumblr you'll find, among others:
"Dovima with elephants, evening dress by Dior, Cirque d'Hiver, August 1955" by Richard Avedon (original – play doh)
Stay tuned, there's hopefully more to come.
H/T goes to James Estrin, co-editor of The New York Times Lens Blog
Photo above via DVAfoto
Related Content:
Two Scenes from Stanley Kubrick's Dr. Strangelove, Recreated in Lego
Henri Cartier-Bresson and the Decisive Moment
Photography of Ludwig Wittgenstein Released by Archives at Cambridge
David Lynch Talks About His 99 Favorite Photographs at Paris Photo 2012