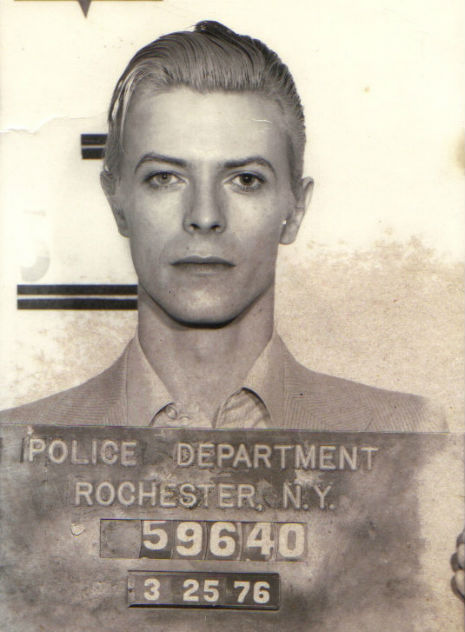 David Bowie always managed to look cool, even when he was being booked for a felony.
In early 1976 Bowie was on his "Isolar" tour, performing as the Thin White Duke, a persona he would describe as "a very Aryan fascist type — a would-be romantic with no emotions at all." Bowie invited his friend and sometime creative collaborator Iggy Pop to travel with him.
In the early morning hours of March 21, after a concert at the Community War Memorial arena in Rochester, New York, four local vice squad detectives and a state police investigator searched Bowie's three-room suite at the Americana Rochester Hotel. According to reports in the Rochester Democrat and Chronicle, the cops found 182 grams (a little over 6.4 ounces) of marijuana there. Bowie and three others — Pop, a bodyguard named Dwain Voughns, and a young Rochester woman named Chiwah Soo — were charged with fifth-degree criminal possession of marijuana, a class C felony, punishable by up to 15 years in prison.
Bowie and Pop were booked under their real names, David Jones and James Osterberg Jr. The group spent the rest of the night in the Monroe County Jail and were released at about 7 a.m. on $2,000 bond each. They were supposed to be arraigned the next day, but Bowie left town to go to his next concert in Springfield, Massachusetts. His lawyer appeared and asked for the court's indulgence, explaining the heavy penalties for breaking concert engagements. He promised the judge that Bowie would appear the following morning, March 23.
Bowie showed up for his arraignment looking dapper in his Thin White Duke clothing. It was then that his mug shot was taken — so we'll never actually know what Bowie looked like when he was unexpectedly dragged into jail at 3 a.m. The police escorted the rock star in and out of the courtroom mostly through back corridors, shielding him from a crowd of fans who showed up at the courthouse. Reporter John Stewart describes the scene in the next day's Democrat and Chronicle:
Bowie and his group ignored reporters' shouted questions and fans' yells as he walked in — except for one teenager who got his autograph as he stepped off the escalator.
His biggest greeting was the screams of about a half-dozen suspected prostitutes awaiting arraignment in the rear of the corridor outside the courtroom.
Asked for a plea by City Court Judge Alphonse Cassetti to the charge of fifth-degree criminal possession of a controlled substance, Bowie said, "not guilty, sir." The court used his real name — David Jones.
He stood demurely in front of the bench with his attorneys. He wore a gray three-piece leisure suit and a pale brown shirt. He was holding a matching hat. His two companions were arraigned on the same charge.
The defense lawyer told the judge that Bowie and the others had never been arrested before. The judge allowed them to remain free on bond until a grand jury convened. Bowie and his entourage went on with their tour, and the grand jury eventually decided not to indict anyone. The incident was largely forgotten until an auction house employee named Gary Hess stumbled on Bowie's mug shot while sorting through the estate of a retired Rochester police officer. Hess rescued the photo from the trash bin, according to an article earlier this year in Rochester Subway, and in late 2007 his brother sold it on eBay for $2,700.
via Dangerous Minds
Related Content:
John Coltrane's Naval Reserve Enlistment Mugshot (1945)
Jack Kerouac's Naval Reserve Enlistment Mugshot, 1943
Listen to Freddie Mercury and David Bowie on the Isolated Vocal Track for the Queen Hit 'Under Pressure,' 1981
David Bowie Releases Vintage Videos of His Greatest Hits from the 1970s and 1980s