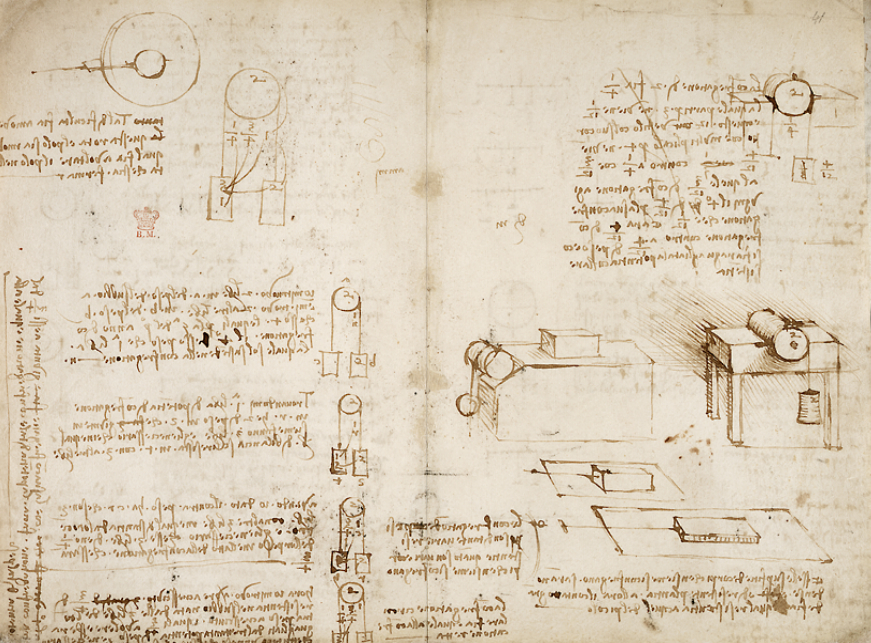 (Click image to enlarge)
This past Decem­ber, we wrote about the British Library's releas­ing "over a mil­lion images onto Flickr Com­mons for any­one to use, remix and repur­pose." For those who enjoyed this trea­sure trove of his­tor­i­cal con­tent, we bring more good tid­ings: the British Library also has a freely acces­si­ble online gallery, num­ber­ing some 30,000 items.
The vast dig­i­tal col­lec­tion includes books, ancient maps, and price­less prints. Amid the count­less vir­tu­al tomes, some of the more impres­sive hold­ings include Mozart's musi­cal diary from the last sev­en years of his life, and Leonar­do da Vinci's note­book (find both above) where the artist and inven­tor the­o­rized about mechan­ics. Da Vin­ci also record­ed rid­dles in his notes, includ­ing: "The dead will come from under­ground and by their fierce move­ments will send num­ber­less human beings out of the world" (Answer: "Iron, which comes from under the ground, is dead, but the weapons are made of it which kill so many men").
The online col­lec­tion also con­tains a num­ber of expert­ly curat­ed exhibits by British Library staff, many of which are accom­pa­nied by a thor­ough intro­duc­tion to guide read­ers through the mate­r­i­al. I've always liked get­ting lost in old, detailed maps and par­tic­u­lar­ly enjoyed the Crace Col­lec­tion of Maps of Lon­don, which range from a 16th cen­tu­ry "guide for cun­trey men in the famous cittey of Lon­don by the helpe of wich plot they shall be able to know how far it is to any street," to a 19th cen­tu­ry puz­zle-type map, whose read­ers must find a par­tic­u­lar route from the Strand to St. Paul's. The col­lec­tion also con­tains a ter­rif­ic selec­tion of pre-print­ing-press-era illu­mi­nat­ed man­u­scripts, deemed "illu­mi­nat­ed" because they were metic­u­lous­ly dec­o­rat­ed, often using gold leaf. Among these are the open­ing of St. Luke's Gospel from the Lind­is­farne Bible (below), one of the ear­li­est sur­viv­ing Eng­lish lan­guage Gospels (cir­ca 715 CE), and scenes from the life of St. Guth­lac, which dates to the ear­ly 13th cen­tu­ry.
For more of the British Library's Online Col­lec­tion, head here.
Ilia Blin­d­er­man is a Mon­tre­al-based cul­ture and sci­ence writer. Fol­low him at @iliablinderman, or read more of his writ­ing at the Huff­in­g­ton Post.
Relat­ed Con­tent:
The British Library Puts 1,000,000 Images into the Pub­lic Domain, Mak­ing Them Free to Reuse & Remix
The Get­ty Puts 4600 Art Images Into the Pub­lic Domain (and There's More to Come)
The Nation­al Gallery Makes 25,000 Images of Art­work Freely Avail­able Online