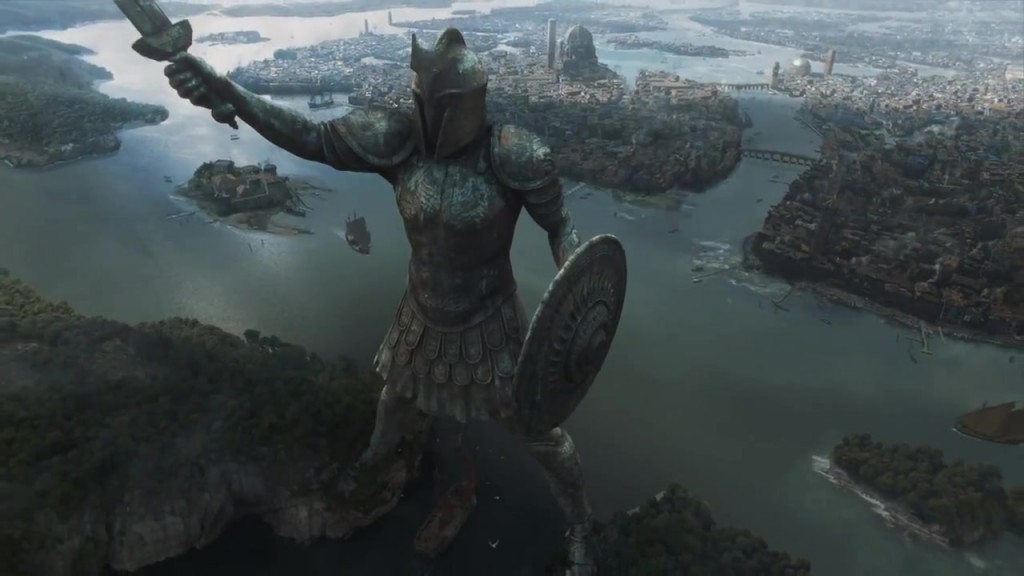 In recent days, George R.R. Martin published a blog post that begins, "Hiya kids, hiya hiya hiya. With season 4 of HBO's GAME OF THRONES almost upon us, I thought the time was ripe for me to give my readers another taste of WINDS OF WINTER." The new chapter, he tells us, "is actually an old chapter.  But no, it's not one I've published or posted before." The chapter, called "Mercy," opens with these words:
She woke with a gasp, not knowing who she was, or where.

The smell of blood was heavy in her nostrils… or was that her nightmare, lingering? She had dreamed of wolves again, of running through some dark pine forest with a great pack at her hells, hard on the scent of prey.

Half-light filled the room, grey and gloomy. Shivering, she sat up in bed and ran a hand across her scalp. Stubble bristled against her palm. I need to shave before Izembaro sees. Mercy, I'm Mercy, and tonight I'll be raped and murdered. Her true name was Mercedene, but Mercy was all anyone ever called her…

Except in dreams. She took a breath to quiet the howling in her heart, trying to remember more of what she'd dreamt, but most of it had gone already. There had been blood in it, though, and a full moon overhead, and a tree that watched her as she ran.
You can read the chapter in full here. Martin notes that you can also enjoy a new Tyrion chapter, "that is live and available with the ICE & FIRE app." It's free on iTunes.
Related Content:
Neil Gaiman's Free Short Stories
Download 33 Great Sci-Fi Stories by Philip K. Dick as Free Audio Books & Free eBooks
Free: Isaac Asimov's Epic Foundation Trilogy Dramatized in Classic Audio
The Ware Tetralogy: Free SciFi Download
575 Free eBooks: Download Great Books for Free