One of the busiest, most in-demand artists of the 19th century, Gustave Doré made his name illustrating works by such authors as Rabelais, Balzac, Milton, and Dante. In the 1860s, he created one of the most memorable and popular illustrated editions of Cervantes' Don Quixote, while at the same time completing a set of engravings for an 1866 English Bible. He probably could have stopped there and assured his place in posterity, but he would go on to illustrate a 1872 guide to London, a new edition of Samuel Taylor Coleridge's Rime of the Ancient Mariner, and several more hugely popular works.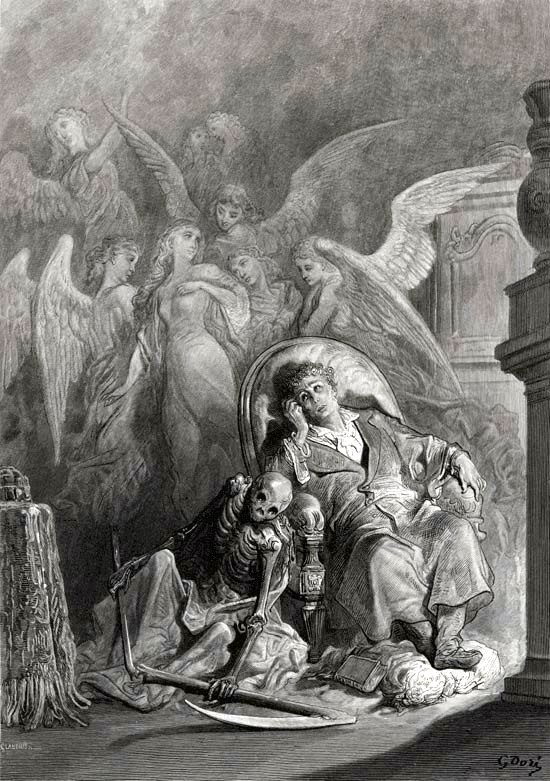 In 1884, Doré produced 26 steel engravings for an illustrated edition of Edgar Allan Poe's gloomy classic "The Raven." Like all of his illustrations, the images are rich with detail, yet in contrast to his earlier work, particularly the fine lines of his Quixote, these engravings are softer, characterized by a deep chiaroscuro appropriate to the mood of the poem.
Above see the plate depicting the first lines of the poem, the haunted speaker, "weak and weary," slumped over one of his many "quaint and curious volume[s] of forgotten lore." Below, see the raven tapping, "louder than before," at the window lattice.
By the time Doré's edition saw publication, Poe's most famous work had already achieved recognition as one of the greatest of American poems. Its author, however, had died over thirty years previous in near-poverty. A catalog description from a Penn State Library holding of one of Doré's "Raven" editions compares the two artists:
The careers of these two men are fraught with both popular success and unmitigated disappointment. Doré enjoyed phenomenal monetary success as an illustrator in his life-time, however his true desire, to be acknowledged as a fine artist, was never realized. The critics of his day derided his abilities as an artist even as his popularity soared.
One might say that Poe suffered the opposite fate—recognized as a great artist in his lifetime, he never achieved financial stability. We learn from the Penn State Rare Collections library that Doré received the rough equivalent of $140,000 for his illustrated edition of "The Raven." Poe, on the other hand, was paid approximately nine dollars for his most famous poem.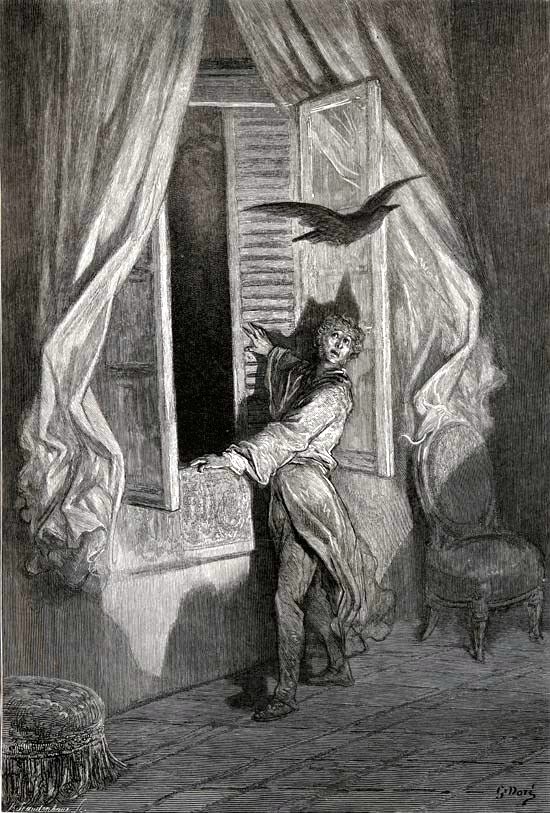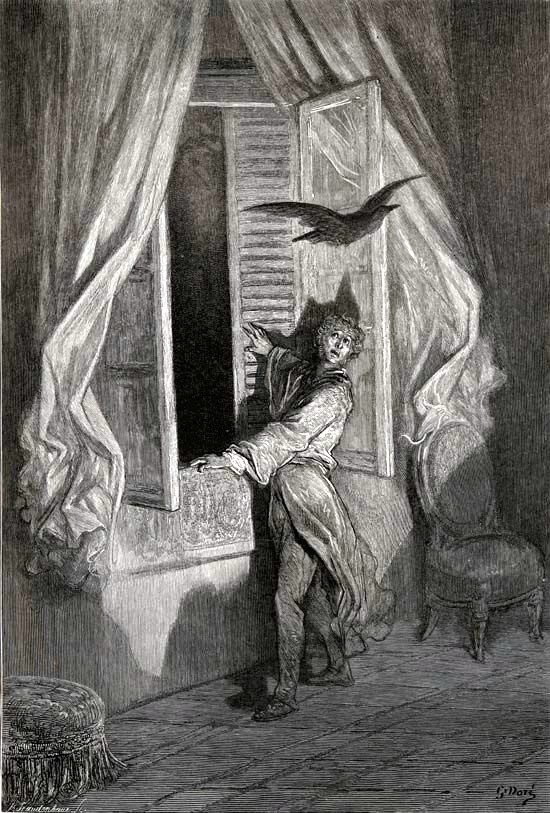 The University of Adelaide has digital editions of the complete Doré edition of "The Raven," as does the Library of Congress. For more high-quality images like that above of the "stately raven, of the saintly days of yore," see this site.
Related Content:
Gustave Doré's Dramatic Illustrations of Dante's Divine Comedy
Gustave Doré's Exquisite Engravings of Cervantes' Don Quixote
Edgar Allan Poe's "The Raven," Read by Christopher Walken, Vincent Price, and Christopher Lee
Josh Jones is a writer and musician based in Durham, NC. Follow him at @jdmagness