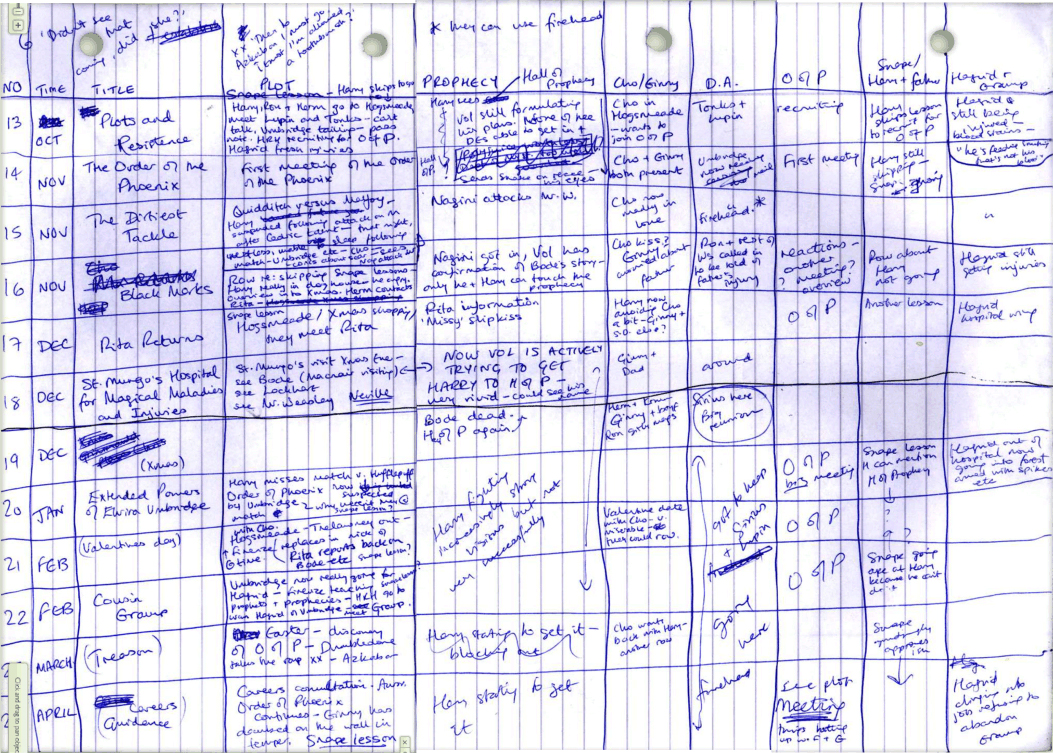 At the height of the Harry Potter novels' popularity, I asked a number of people why those books in particular enjoyed such a devoted readership. Everyone gave almost the same answer: that author J.K. Rowling "tells a good story." The response at once clarified everything and nothing; of course a "good story" can draw a large, enthusiastic (and, at that time, impatient) readership, but what does it take to actually tell a good story? People have probably made more money attempting, questionably, to pin down, define, and teach the best practices of storytelling, but at the top of this post, we have a revealing scrap of Rowling's own process. And I do, almost literally, mean a scrap: this piece of lined paper contains part of the handwritten plot spreadsheet she used to write the fifth Harry Potter novel, Harry Potter and the Order of the Phoenix.
This particular page (click to view it in a larger format) covers chapters 13 through 24, during which even more happens than you may now remember. It may have amounted to more than Rowling, too, could remember, hence the spreadsheet itself. Endpaper explains some of her story notes as follows:
"Prophecy": A subplot about the prophecy Harry finds himself concerned about all through the book
"Cho/Ginny": The book's romantic subplot
"D.A.": What's happening with the resistance army, or "Dumbledore's Army"
"O of P": What's happening with the "Order of the Phoenix" group
"Snape/Harry": What's happening with Snape and Harry
"Hagrid and Grawp": What's happening with Hagrid and Grawp
"If you think about Harry Potter and the Order of the Phoenix, that's it," writes /Film's Germain Lussier. "Those columns pretty much encompass the whole story." Rowling, of course, hardly counts as the only novelist to write with such techniques, and based on this example, hers don't get nearly as elaborate as some. (I recall once reading that Vikram Chandra had to bust out Microsoft Project to keep track of the complications of Sacred Games, his 900-page novel about the Mumbai underworld.) But Rowling must certainly rank as the most famous novelist to, quite literally, draw up spreadsheets like this. I suppose it does leave her books even more exposed to accusations of overplotting than before, but something tells me it won't bother her.
Related Content:
Download Two Harry Potter Audio Books for Free (and Get the Rest of the Series for Cheap)
Take Free Online Courses at Hogwarts: Charms, Potions, Defense Against the Dark Arts & More
The Quantum Physics of Harry Potter, Broken Down By a Physicist and a Magician
Celebrate Harry Potter's Birthday with Song. Daniel Radcliffe Sings Tom Lehrer's Tune, The Elements.
Harry Potter Prequel Now Online
Colin Marshall hosts and produces Notebook on Cities and Culture and writes essays on cities, language, Asia, and men's style. He's at work on a book about Los Angeles, A Los Angeles Primer. Follow him on Twitter at @colinmarshall or on Facebook.