Image by José Cruz/ABr CC-BY-SA-3.0
Last year, independent film icon and NYU professor Spike Lee turned to the crowdsourcing site Kickstarter to raise $1.25 million dollars for his latest film. To drum up publicity, he published his list of 87 "essential" movies that he hands out in his graduate film classes. And it is a very idiosyncratic list. Some great, overlooked movies like Charles Burnett's Killer of Sheep and Steve James's Hoop Dreams make the cut while other inclusions are more puzzling — Mel Gibson's Apocalypto, for instance. Or Abel Ferrera's Bad Lieutenant. The list's exclusions, however, raised eyebrows. Citizen Kane (?!) somehow didn't get a mention. Neither did Seven Samurai. Stanley Kubrick's Spartacus somehow won out over 2001: A Space Odyssey. And such canonical directors as Yasujiro Ozu, Ingmar Bergman, Fritz Lang, John Ford and Charlie Chaplin were left out entirely.
But the internet really took Lee to task for the list's most glaring omission – there are no women. To that last issue, Lee made amends. In his updated blog entry – "Thank You For That Coat Pulling" – Lee revamped the list to include eight movies by five female directors, bringing the total to 95.
Three of the four women ever to be nominated for a Best Director Oscar wound up on the list – Wertmuller, Campion, Bigelow. I guess Lee isn't a fan of Sophia Coppola.
Lina Wertmuller managed to get four films on the new list – a feat not shared by any of her male counterparts. That's right, she bested Kurosawa, Kubrick and Hitchcock. In her heyday, Wertmuller courted controversy by combining sex and left wing politics, which sounds right up Lee's alley. Fairly or not, Wertmuller's reputation hasn't aged well, mostly because feminist critics pilloried her movie for being misogynous. And Guy Ritchie's unfortunate remake of her 1974 movie Swept Away, starring Madonna, did little to burnish her prestige.
Also on the list is Julie Dash's Daughter of the Dust, a lyrical landmark of indie cinema about Gullah women living on one of South Carolina's barrier islands, and French director Euzhan Palcy's little seen Sugar Cane Alley is about blacks toiling in the sugar cane fields of rural Martinique.
Indiewire notes that Lee's additions bump the gender disparity up from 0% to about 8.7%. That's not a lot, but according to Celluloid Ceiling's 2013 report, it's better than it is currently in Hollywood. Of the top 250 earning movies last year, only 6 were directed by women.
You can see Lee's original list below: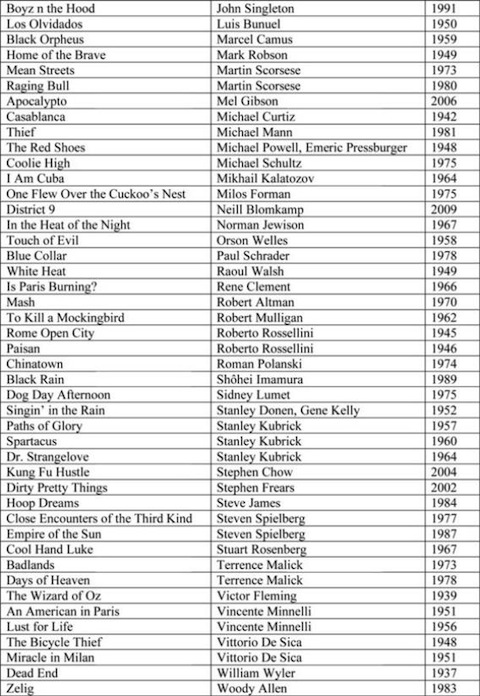 Related Content: 
Martin Scorsese Creates a List of 39 Essential Foreign Films for a Young Filmmaker
44 Essential Movies for the Student of Philosophy
The 10 Greatest Films of All Time According to 846 Film Critics
Jonathan Crow is a Los Angeles-based writer and filmmaker whose work has appeared in Yahoo!, The Hollywood Reporter, and other publications. You can follow him at @jonccrow. And check out his blog Veeptopus, featuring lots of pictures of vice presidents with octopuses on their heads.  The Veeptopus store is here.