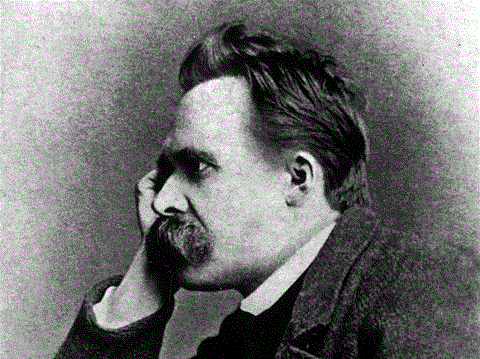 Whether they submit to his mighty philosophical influence, resist it with all their own might, or fall somewhere in between, everyone who's read the pronouncements of Friedrich Nietzsche (find his ebooks here) recognizes his voice — well, his textual voice, that is. Having died in 1900 after spending the last decade of his life in a mental breakdown, the author of Thus Spake Zarathustra and Beyond Good and Evil has an excuse for not leaving behind much in the way of audio material. But love Nietzsche or hate him, a reader has to wonder: what did the guy actually sound like?
Here to satiate our curiosity come Flavia Montaggio, Patricia Montaggio, and Imp Kerr, authors of the Investigative Genetics paper "DNA-based prediction of Nietzsche's voice," which supposedly offers a scientific means of doing just that. "We collected trace amounts of cellular material (Touch DNA) from books that belonged to the philosopher Friedrich Nietzsche," reads the abstract, which goes on to describe the gathering of Nietzsche-related data eventually "converted into bio-measures that were used to 3D-print a vocal tract and larynx through which phonation was organically generated." The result, after running everything through a series of text-to-speech simulations: "the first attempt at simulating the voice of a deceased person":
It all seems legit, right? Or maybe you German-speakers out there will suspect something fishy, starting with the unlikely name of Imp Kerr. It actually belongs to "a Swedish-French artist living in New York City, mostly known for her fake American Apparel advertisement campaign," or so reads the Wikipedia page quoted by a Language Log post on the project. "I have no idea whether anything in the Wikipedia article about Imp Kerr is true," writes author Mark Liberman, "but it's clear from internal evidence that the alleged Investigative Genetics article is a piece of performance art."
Liberman breaks down the paper's humorous elements, from its "many segments that display quasi-scientific terminology in meaningless or contradictory ways" to its simple inability to "restrain a certain telltale playfulness" (as when it deals with a resonance "lower than expected in regards of Nietzsche's robust mandibles"). All this may remind you of the famous hoax wherein physicist Alan Sokal published a paperful of sheer nonsense in a respected cultural-studies journal. Or you may think of the film above, which purports, questionably, to show Nietzsche's last days. It just goes to show that, if your ideas live on, you live on — or your readers will try to make you do so.
via The New Inquiry/Leiter Reports
Related Content:
The Digital Nietzsche: Download Nietzsche's Major Works as Free eBooks
Download Walter Kaufmann's Lectures on Nietzsche, Kierkegaard, Sartre & Modern Thought (1960)
Human, All Too Human: 3-Part Documentary Profiles Nietzsche, Heidegger & Sartre
Free Online Philosophy Courses
Colin Marshall hosts and produces Notebook on Cities and Culture as well as the video series The City in Cinema and writes essays on cities, language, Asia, and men's style. He's at work on a book about Los Angeles, A Los Angeles Primer. Follow him on Twitter at @colinmarshall or on Facebook.