As an artist, William S. Burroughs was undoubtedly his own man, beholden to no particular aesthetic, movement, or school, always independent even as a frequent collaborator with many other notable writers and artists. It didn't hurt that he came from money—Burroughs' grandfather invented the adding machine, and the writer's inheritance, writes the Daily Beast, "left the young scion free to pursue education and drugs at his leisure." Yet, although he pursued the latter without reservation, he also worked harder than most of his contemporaries, constantly innovating and pursuing new paths. Burroughs' "entire creative project," writes blogger Dan Shelalevy, "encompassed art, graphics, calligraphy, type, photography, film, assemblage, poetry, spoken word, and music…. Culture itself was his medium."
He may be associated primarily with the Beats, but Burroughs himself rejected the label, saying, "We're not doing at all the same thing, either in writing or in outlook." As a visual artist, London's October Gallery informs us, he "collaborated with Keith Haring, George Condo, Robert Rauschenberg, and others." As in his writing, Burroughs experimented throughout his art career with collage, incorporating photographs and pop culture ephemera like comic strips and advertising into paintings richly textured—as in the thick impasto surrounding the portrait of Samuel Beckett above—and often violent, as below.
The notorious gun enthusiast often blasted holes through his canvasses and even experimented with shotgun painting. (See him with his shotgun below, on the front page of a Times article covering a 2005 exhibit of his work.) Burroughs also incorporated gun imagery into his paintings—often made on slabs of plywood—and used pop art techniques like stencils and spray paint, as below.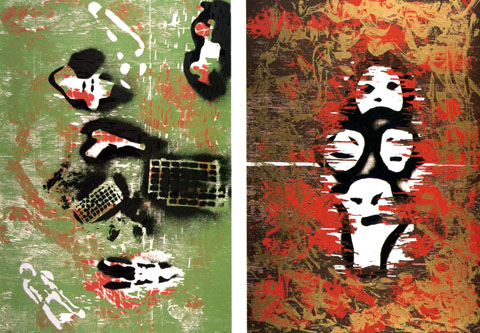 Burroughs even designed his own book covers, as you can see at the top of the post in the relatively austere paperback covers for Naked Lunch and The Soft Machine, both featuring repeating patterns of symbols. His visual art reflects the same obsessions we find in all of his work. These recurring motifs are what Paul Pieroni, co-organizer of the 2005 gallery show at The Riflemaker gallery in London, describes as a "hetero-ontology of forces at work," including the "central themes" of "vice, violence and passion."
The same imagery that recurs in hallucinatory novels like Junky, Naked Lunch, and The Western Lands appears in the writer's artwork: "thus, as in his literature," says Pieroni, "we find war, cocks, violence, dirt, parasites, guns—junk." In Burroughs' hands the detritus of American culture—the contents of advertisements, foreign policy briefs, and seedy motel rooms—takes on an ominous, mythic significance that shows us as much about ourselves as it does about the artist.
Related Content:
Gun Nut William S. Burroughs & Gonzo Illustrator Ralph Steadman Make Polaroid Portraits Together
William S. Burroughs Shows You How to Make "Shotgun Art"
William S. Burroughs on the Art of Cut-up Writing
Josh Jones is a writer and musician based in Durham, NC. Follow him at @jdmagness