It's no secret that William S. Burroughs liked guns. He's shot both Shakespeare and himself in effigy, and in a bizarre and tragic accident, he shot and killed his wife. In addition to shooting at people, he also shot at spray paint cans to create abstract paintings, known as "shotgun art." His paintings have appeared in galleries and one of them, once owned by Timothy Leary, was auctioned off a few years ago on Ebay. In the film above (date unknown), watch Burroughs in action with a rifle. He described the process in an interview with Gregory Ego:
There is no exact process. If you want to do shotgun art, you take a piece of plywood, put a can of spray paint in front of it, and shoot it with a shotgun or high powered rifle. The paint's under high pressure so it explodes! Throws the can 300 feet. The paint sprays in exploding color across your surface. You can have as many colors as you want. Turn it around, do it sideways, and have one color coming in from this side and this side. Of course, they hit. Mix in all kinds of unpredictable patterns. This is related to Pollack's drip canvases, although this is a rather more basically random process, there's no possibility of predicting what patterns you're going to get.
This is, admittedly, a very lo-fi film. It appears to have been shot on super-8, and about two thirds of the way through, the camera flips upside down, then seems to have been tossed into a car. The sound goes out, and the last minute captures a cloud-strewn Kansans sky speeding by in silence. It's a strange and captivating piece of found art that, like Burroughs' work, contains casual violence, odd perspectives, herky-jerky editing, sudden confusion and upheaval, and rare moments of beauty.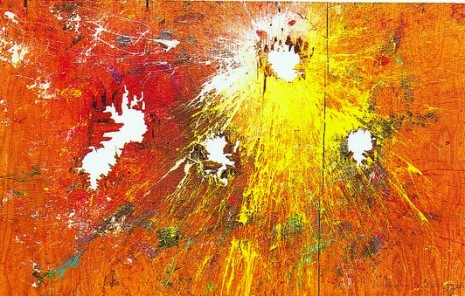 Josh Jones is a doctoral candidate in English at Fordham University and a co-founder and former managing editor of Guernica / A Magazine of Arts and Politics.