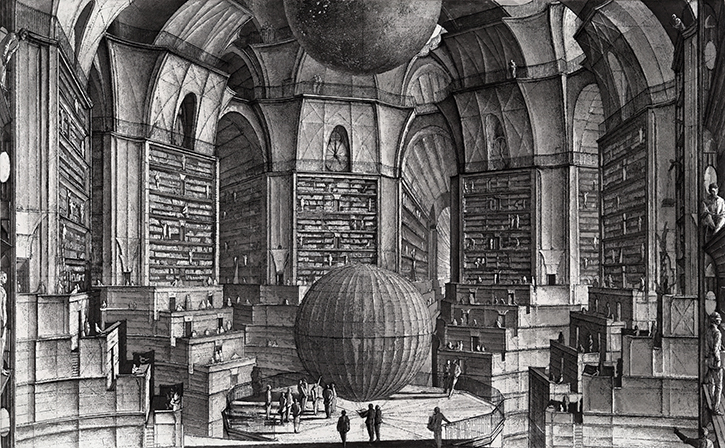 Jorge Luis Borges specialized in envisioning the unenvisionable: a map the same size as the land it depicts, an event whose possible outcomes all occur simultaneously, a single point in space containing all other points in space, a vast library containing all possible books. That last, the setting, subject, and title of his short story "The Library of Babel," has given readers much to think about since its first publication in 1941, and in recent decades has done more than its part to bolster Borges' posthumous reputation as a seer of our unprecedentedly rich but often difficult-to-navigate new media landscape.
Borges imagined the Library of Babel comprising a huge number of connected hexagonal rooms lined by bookshelves. "Each shelf contains thirty-five books of uniform format; each book is of four hundred and ten pages; each page, of forty lines, each line, of some eighty letters which are black in color." Each book contains a different combination of letters, and in total they contain all possible combinations of letters, with the result that the Library as a whole contains
Everything: the minutely detailed history of the future, the archangels' autobiographies, the faithful catalogues of the Library, thousands and thousands of false catalogues, the demonstration of the fallacy of those catalogues, the demonstration of the fallacy of the true catalogue, the Gnostic gospel of Basilides, the commentary on that gospel, the commentary on the commentary on that gospel, the true story of your death, the translation of every book in all languages, the interpolations of every book in all books.
This vision has inspired a fair few thinkers, including most recently Brooklyn author and programmer Jonathan Basile. "I was lying in bed one night and the idea of an online Library of Babel popped into my head," he says in an interview with Flavorwire.  "My first thought was — it must exist already. It seems like such a natural extension of the capabilities of a computer that I was sure someone would have made it. The next day I looked for it, a bit excitedly, and was disappointed. From then on, it's kind of been a reluctant destiny for me."
As the fruit of that destiny, we have libraryofbabel.info, a new web site that will theoretically come to contain exactly what Borges' Library of Babel contains: the text of every possible 410-page book. You can start looking through them by searching for text, viewing a random book, or browsing by hexagonal chamber. You'll notice that the vast, vast majority of Basile's Library of Babel offers nothing but nonsense — the very same thing, in other words, that Borges' does, which in his telling causes great frustration among the luckless librarians charged with maintaining the place.
But a visit to the online Library of Babel should bring you to the same question the original story does: to what extent does meaning reside in the physical world, and to what extent does it reside in our minds? And what would Borges himself make of all this? "He was never one to take the border between reality and fiction too seriously," says Basile. "Reading his story is already, in its own way, entering the world of the library. In a sense it's a horror story, but it feels to me more like a black comedy. Perhaps he would just laugh."
Enter the online Library of Babel here.
via Flavorwire
Related Content:
Jorge Luis Borges Selects 74 Books for Your Personal Library
"Borges: Profile of a Writer" Presents the Life and Writings of Argentina's Favorite Son, Jorge Luis Borges
Jorge Luis Borges' 1967-8 Norton Lectures On Poetry (And Everything Else Literary)
Jorge Luis Borges' Favorite Short Stories (Read 7 Free Online)
Colin Marshall writes on cities, language, Asia, and men's style. He's at work on a book about Los Angeles, A Los Angeles Primer, and the video series The City in Cinema. Follow him on Twitter at @colinmarshall or on Facebook.