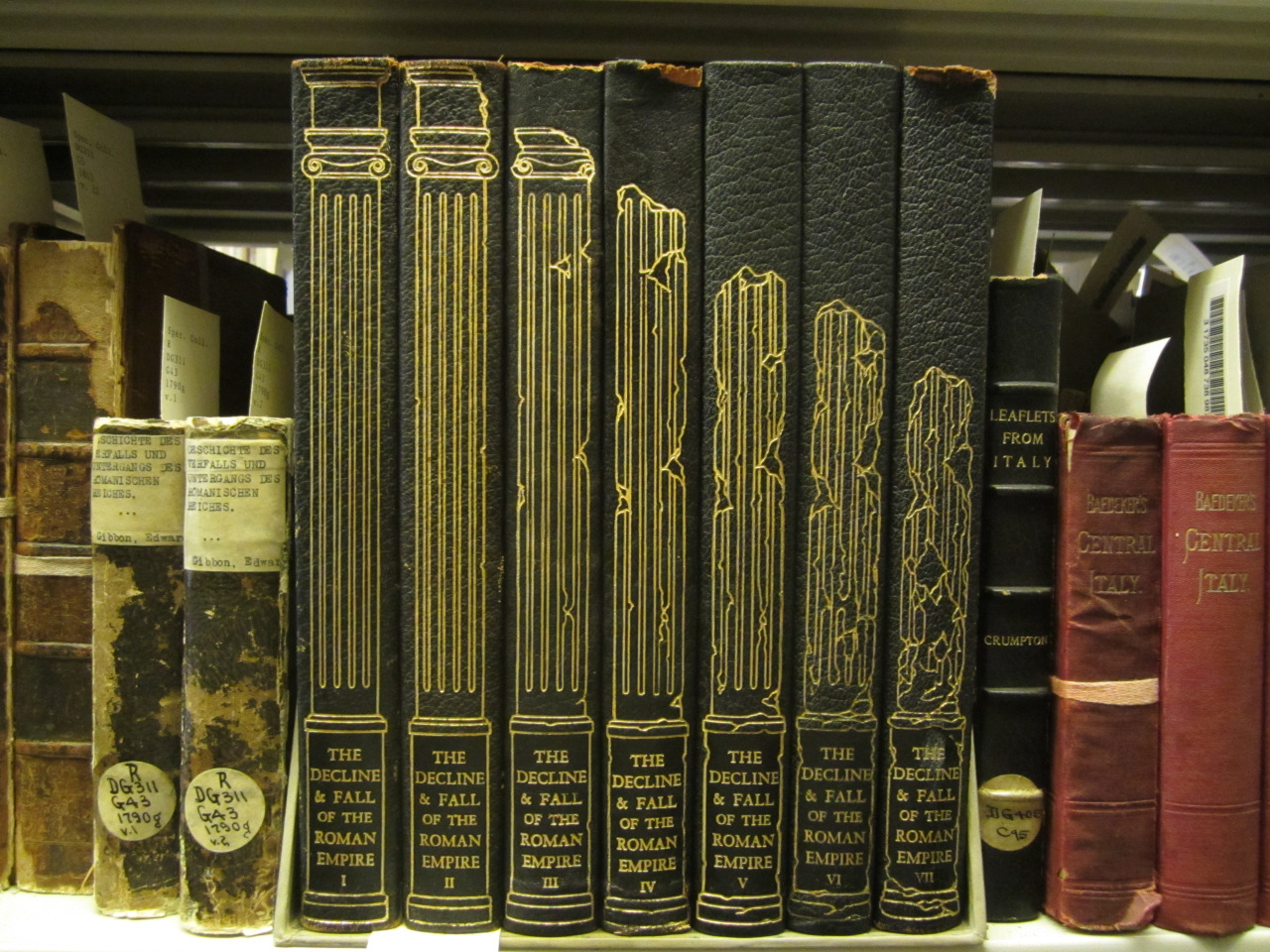 In 1929, the book publisher George Macy founded The Limited Editions Club (LEC), an imprint tasked with publishing finely illustrated limited editions of classic books. In the years to come, Macy worked with artists like Matisse and Picasso, and photographers like Edward Weston, to produce books with beautiful illustrations on their inner pages. And sometimes The Limited Editions Club even turned its design focus to other parts of the book. Take for example this 1946 edition of Edward Gibbon's The Decline and Fall of the Roman Empire and its pretty amazing spine design.
Created by Clarence P. Hornung, the design captures the essence of Gibbon's classic, showing Roman pillars progressively crumbling as your eyes move from Volume 1 to Volume 7. George Macy later called the collection, which also features illustrations by the great 18th-century printmaker Giovanni Battista Piranesi, "the most herculean labor of our career."
Find more information about this 1946 edition here, or even buy a copy here. Also feel free to download a different edition of Gibbon's classic from our Free eBooks and Free Audio Books collections.
If you would like to sign up for Open Culture's free email newsletter, please find it here.
If you would like to support the mission of Open Culture, consider making a donation to our site. It's hard to rely 100% on ads, and your contributions will help us continue providing the best free cultural and educational materials to learners everywhere. You can contribute through PayPal, Patreon, Venmo (@openculture) and Crypto. Thanks!
Related Content:
700 Free eBooks for iPad, Kindle & Other Devices
630 Free Audio Books: Download Great Books for Free
The History of Rome in 179 Podcasts
Free Courses in Ancient History, Literature & Philosophy
Rome Reborn: Take a Virtual Tour Through Ancient Rome, 320 C.E.