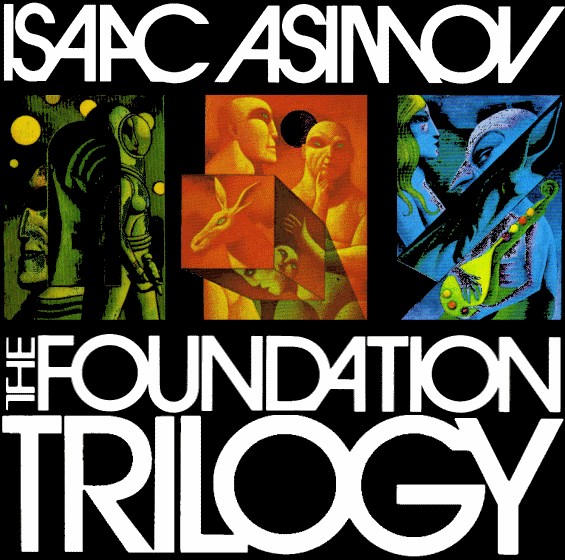 Last year Jonathan Nolan–screenwriter of Memento and Interstellar and not coincidentally director Christopher Nolan's brother–announced that he would be developing Isaac Asimov's legendary Foundation trilogy for HBO as a series. And we assume he's still doing that, because there's been nary a peep from the channel since. So far the Internet consensus has been a collective "well, that could be good!" instead of groans, which is a heartening thing these days.
For those who haven't read the classic books, but would like to get the jump on ol' Nolan, we submit this BBC Radio production from 1973, which is now available on Spotify below. (Download Spotify software here.) The recording also lives on Archive.org as well.
Right from the beginning we know we are in good hands, with the analog drones of the BBC Radiophonic Workshop ushering us into a stereo landscape filled with plummy British accents and atmospheric sound effects. It's like the best ever episode of Doctor Who without a Tardis, corridors, or the enfeebled cries of a lost companion.
The Foundation Trilogy is heavily indebted to Edward Gibbon's The History of the Decline and Fall of the Roman Empire, as well as a belief in the circular nature of history.
Asimov's hero in the first book, Hari Seldon, using a science called psychohistory, can see the inevitable collapse of the Galactic Empire in which he lives and sets about trying to change it by setting up an opposition called the Foundation. The novels then jump decades ahead, checking in with this essential conflict, much like Gibbon's work goes from emperor to emperor, marking the decline of empire and its inevitability. Free of aliens and shoot-em-ups, Foundation is very human despite its galactic scope.
Adapted by Patrick Tull and Mike Stott, the eight part radio series does a good job of presenting the novels as a character-driven drama, and while it is talky (it's radio after all), it was Orson Scott Card who said of Foundation, it is "all talk, no action — but Asimov's talk is action."
It also influenced many future sci-fi writers. No doubt somewhere along the way Douglas Adams was listening to the radio play's talking encyclopedia and thinking, hmm, what if this had jokes?
And once you get through the trilogy–maybe after an eight-hour flight?–there's more Asimov radio plays for your listening pleasure on Spotify: Hostess, Pebble in the Sky, and Nightfall.
NOTE: Looking for free, professionally-read audio books from Audible.com? Here's a great, no-strings-attached deal. If you start a 30 day free trial with Audible.com, you can download two free audio books of your choice. Get more details on the offer here.
And note this: Audiobooks.com also has a free trial offer where you can download a free audiobook. Details.
Related Content:
Isaac Asimov's Favorite Story "The Last Question" Read by Isaac Asimov— and by Leonard Nimoy
Listen to 188 Dramatized Science Fiction Stories by Ursula K. Le Guin, Isaac Asimov, Philip K. Dick, J.G. Ballard & More
Two Documentaries Introduce Delia Derbyshire, the Pioneer in Electronic Music
1,000 Free Audio Books: Download Great Books for Free
Ted Mills is a freelance writer on the arts who currently hosts the FunkZone Podcast. You can also follow him on Twitter at @tedmills, read his other arts writing at tedmills.com and/or watch his films here.