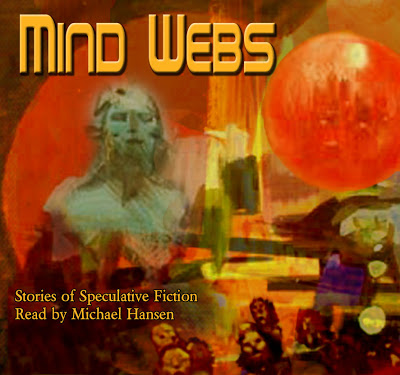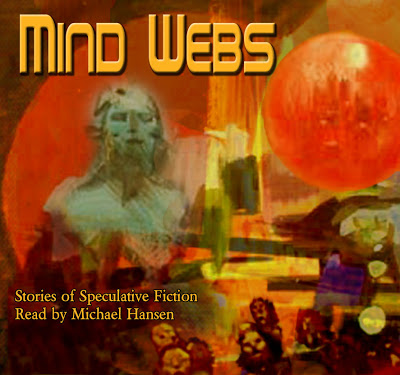 We here at Open Culture believe that, as far as science-fiction delivery systems go, you can't do much better than radio drama. We've previously featured quite a range of it, from the classic 1950s series Dimension X and its successor X Minus One to adaptations of such classic works as Isaac Asimov's Foundation trilogy, Aldous Huxley's Brave New World, and, most recently, Ursula K. LeGuin's The Left Hand of Darkness. Now we've opened up another treasure trove of sci-fi radio in the form of the archives of Mind Webs, originally broadcast on Madison, Wisconsin's WHA-AM, starting in the 1970s
One old-time radio site describes Mind Webs as "not really audio drama in the strict sense of the definition," but "readings of science fiction stories by some of the genre's best writers [ ... ] enhanced by music, periodic sound cues, and the occasional character voice." As the collector who made his recordings of the series available to the Internet Archive puts it, Mind Webs "stands as a testament to not only some of our greatest speculative fiction authors, but just how well simple dialog and music minus major sound effects can convey stories so well."
Which authors counted as great enough for inclusion into the Mind Webs canon? Some of the names, like Ursula K. LeGuin, Isaac Asimov, Arthur C. Clarke, and Ray Bradbury, you'd expect to find in this archive, but others go farther afield: the series also features stories by the likes of Philip K. Dick, J.G. Ballard, H.P. Lovecraft — writers who, each in their own way, bent the boundaries of all known fiction, science- or otherwise — and even such supposedly traditional storytellers as John Cheever and Roald Dahl who, in these selections, put their own spin on reality.
Listen to enough episodes of Mind Webs, and you may get hooked on the voice and reading style of its host Michael Hanson, a fixture on Wisconsin public radio for something like forty years. Back in 2001, just after wrapping up his career in that sector, Hanson wrote in to the New York Times lamenting the state of public radio, especially its program directors turned into "sycophantic bean counters" and a "pronounced dumbing down of program content." Mind Webs, which kept on going from the 70s through the 90s, came from a time before all that, and now its smart storytelling has come available for all of us to enjoy.
The playlist above will let you stream all of the stories -- roughly 88 hours worth -- from start to finish. Or you can access the audio at Archive.org here.
Related Content:
Hear Inventive Stories from Ursula Le Guin & J.G. Ballard Turned Into CBC Radio Dramas
Hear Aldous Huxley's Brave New World and 84 Classic Radio Dramas from CBS Radio Workshop (1956-57)
Hear Ursula K. Le Guin's Pioneering Sci-Fi Novel, The Left Hand of Darkness, as a BBC Radio Play
Free: Isaac Asimov's Epic Foundation Trilogy Dramatized in Classic Audio
Dimension X: The 1950s SciFi Radio Show That Dramatized Stories by Asimov, Bradbury, Vonnegut & More
X Minus One: More Classic 1950s Sci-Fi Radio from Asimov, Heinlein, Bradbury & Dick
Colin Marshall writes on cities, language, Asia, and men's style. He's at work on a book about Los Angeles, A Los Angeles Primer, and the video series The City in Cinema. Follow him on Twitter at @colinmarshall or on Facebook.