All of us who saw Jurassic Park as kids, no matter how much skepticism we'd precociously developed, surely spent at least a moment wondering if science could actually bring dinosaurs back to life by pulling the DNA out of their blood trapped in amber-preserved mosquitoes. It turns out that it can't — at least not yet! — but even so, we had to admit that Steven Spielberg and his CGI-savvy collaborators (not to mention their huge budget) achieved, on screen, the next best thing. Even so, people have long disagreed about whether to call the visual resurrection of dinosaurs in the service of a blockbuster adventure movie a work of art.
But what if we used the even more powerful data analysis and computer graphics technology now at our disposal specifically for the purpose of generating a masterpiece, or at least a piece by a master — by Rembrandt, say? A project called The Next Rembrandt has aimed to do just that with its attempt "to distill the artistic DNA of Rembrandt" using everything from building and analyzing "an extensive analysis of his paintings [ … ] pixel by pixel," to performing a demographic study determining his conclusive portrait subject ("a Caucasian male with facial hair, between the ages of thirty and forty, wearing black clothes with a white collar and a hat, facing to the right"), to creating a height map to mimic his physical brush strokes.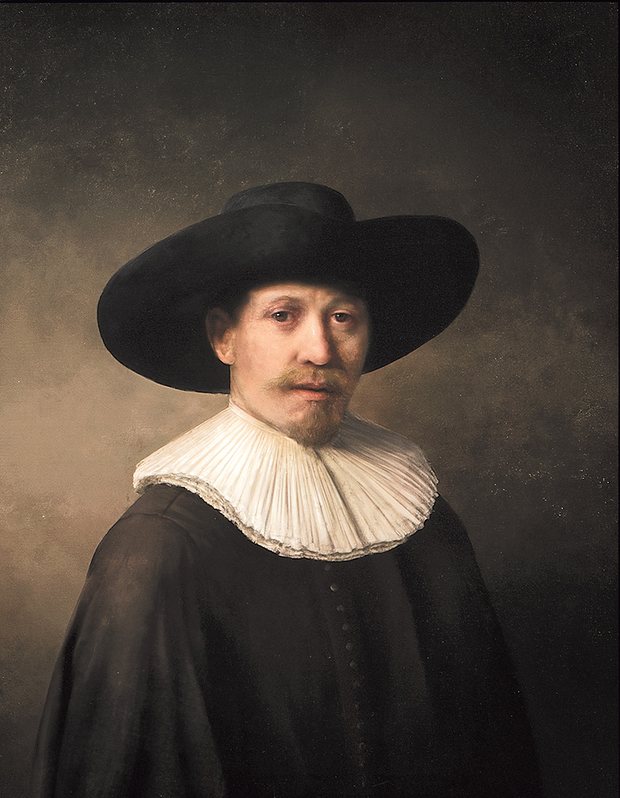 "You could say that we use technology and data like Rembrandt used his paints and his brushes to create something new." Those bold words come from Ron Augustus, Microsoft's director of small- and medium-sized business markets, in the promotional video at the top of the post. His employer acts as one of two partners involved in The Next Rembrandt, the other being the Dutch bank ING — hence, presumably, the choice of painter to resurrect. Their combined resources have produced a wholly theoretical, but in a physical sense very real, new "Rembrandt" portrait, meticulously 3D-printed at 148 megapixels in thirteen layers of paint-based UV ink.
Despite its impressive plausibility, nobody expects the fruit of the Next Rembrandt project's considerable labors, unveiled yesterday in Amsterdam, to hang in the Rijksmuseum next to The Night Watch. But it can, properly considered, teach us all a great deal about what, in the words of ING executive creative director Bas Korsten, "made Rembrandt Rembrandt." And like any cutting-edge stunt, it also gives us a glimpse into what technology will sooner or later make possible for us all. How long could we possibly have to wait before we can 3D-print, on canvas with oil paint, portraits of ourselves as Rembrandt almost certainly would have painted us — or our very own Night Watch, indistinguishable from the original? Truly, we stand on the cusp of a golden age of forgery.
Related Content:
300+ Etchings by Rembrandt Now Free Online, Thanks to the Morgan Library & Museum
A Final Wish: Terminally Ill Patients Visit Rembrandt's Paintings in the Rijksmuseum One Last Time
16th-Century Amsterdam Stunningly Visualized with 3D Animation
Flashmob Recreates Rembrandt's "The Night Watch" in a Dutch Shopping Mall
Based in Seoul, Colin Marshall writes and broadcasts on cities, language, and style. He's at work on a book about Los Angeles, A Los Angeles Primer, the video series The City in Cinema, the crowdfunded journalism project Where Is the City of the Future?, and the Los Angeles Review of Books' Korea Blog. Follow him on Twitter at @colinmarshall or on Facebook.