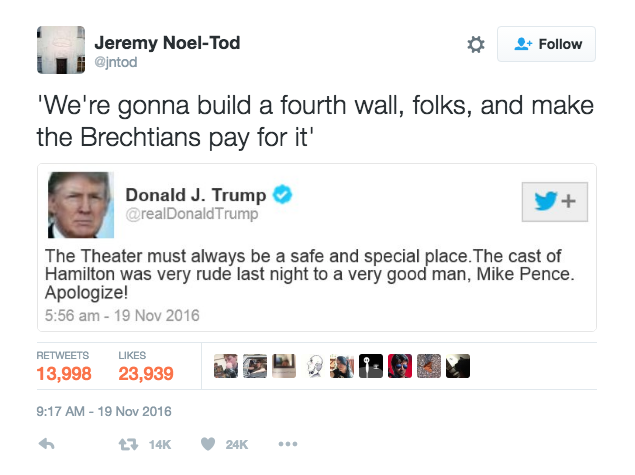 By now, you undoubtedly know what happened when Mike Pence went to see Hamilton on Friday night. And the brouhaha that unfolded from there, particularly on Twitter.
Tweets came and went throughout the weekend. But, if you're keeping score at home, none outfunnied this tweet from Jeremy Noel-Tod. We're suckers around here for Brechtian humor.
Find us on Twitter at @openculture.
If you would like to get Open Culture post's via email, please sign up for our free email newsletter here.
And if you would like to support the mission of Open Culture, consider making a donation to our site. It's hard to rely 100% on ads, and your contributions will help us continue providing the best cultural and educational materials to learners everywhere. You can contribute through PayPal, Patreon, Venmo (@openculture) and Crypto. Thanks for your support!
Related Content:
Watch Them Watch Us: A History of Breaking the "Fourth Wall" in Film
The Cast of Hamilton Sends a Strong Message to Mike Pence (After the Crowd Jeers Him)