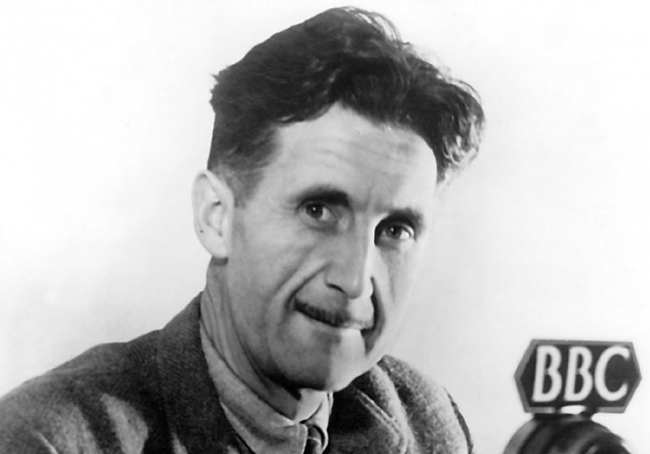 Image via Wiki­me­dia Com­mons
Say you find your­self in a one-par­ty state that promis­es to dis­man­tle every civ­il insti­tu­tion you believe in and tram­ple every eth­i­cal prin­ci­ple you hold dear. You may feel a lit­tle despon­dent. While a "this too shall pass" atti­tude may help you gain per­spec­tive, the prob­lem isn't sim­ply that you're on the los­ing side of a polit­i­cal con­test. As George Orwell wrote in 1984, total author­i­tar­i­an con­trol means that "Who con­trols the past con­trols the future. Who con­trols the present con­trols the past." The epis­temic base­line you took for grant­ed may become increas­ing­ly, fright­en­ing­ly elu­sive as the rul­ing par­ty reshapes all of real­i­ty to its designs.
With more vivid clar­i­ty than per­haps any­one since, Orwell char­ac­ter­ized the mech­a­nisms by which total­i­tar­i­an­ism takes hold. His 1948 nov­el has not only giv­en us a near-uni­ver­sal set of terms to describe the phe­nom­e­non, but it also gives us a met­ric: when our soci­ety begins to resem­ble Orwell's dystopia in per­va­sive and alarm­ing ways, we should know with­out ques­tion things have gone bad­ly wrong. Whether we can do much about it is anoth­er ques­tion, but we should remem­ber that Orwell him­self was not sim­ply an arm­chair observ­er of Fas­cism, Sovi­et total­i­tar­i­an­ism, or oppres­sive Eng­lish colo­nial rule. He fought Franco's forces in Spain dur­ing the Span­ish Civ­il War and as a jour­nal­ist wrote crit­i­cal arti­cles and essays expos­ing hypocrisies and abus­es of law and lan­guage. The impact of his work on lat­er gen­er­a­tions speaks for itself.
In the CBC radio doc­u­men­tary The Orwell Tapes, in three parts here, we have a com­pre­hen­sive intro­duc­tion to Orwell's work, thought, and life. It opens with alarm­ing sound­bites from light­ning rods (and vil­lains or heroes, depend­ing on who you ask) Julian Assange and Edward Snow­den. But it doesn't stray into the clichéd ter­ri­to­ry of over­heat­ed con­spir­a­cy those names often inspire. Instead we're large­ly treat­ed through­out each episode to first­hand accounts of the sub­ject from those who knew him well.
"CBC is the only media orga­ni­za­tion in the world," says host Paul Kennedy, "with a com­pre­hen­sive archive of record­ings fea­tur­ing peo­ple who knew Orwell, from his ear­li­est days, to his final moments. 75 peo­ple, 50 hours of record­ings." Edit­ed snip­pets of these audio record­ings make up the bulk of The Orwell Tapes, hence the title, mak­ing the pro­gram oral his­to­ry rather than sen­sa­tion­al­ism. The inter­vie­wees include friends, for­mer girl­friends, com­rades-in-arms, and crit­i­cal oppo­nents. Each episode's page on the CBC site fea­tures a list of names and rela­tions to Orwell at the bot­tom.
But of course, accu­sa­tions of sen­sa­tion­al­ism always fol­low those who warn of Orwellian trends and ten­den­cies. Like many of our con­tem­po­raries, Orwell was a con­tra­dic­to­ry fig­ure. He served as a colo­nial police­man in Bur­ma even as he grew dis­gust­ed with Empire; he con­sid­ered him­self a Demo­c­ra­t­ic Social­ist, but he nev­er looked away from the author­i­tar­i­an hor­rors of state com­mu­nism; and he has been held up as a pil­lar of resis­tance to state sur­veil­lance and con­trol, even as he also stands accused of "nam­ing names." But the over­all impres­sion we get from Orwell's friends and col­leagues is that he was ful­ly committed—to writ­ing, to polit­i­cal engage­ment, to telling the truth as he saw it.
In releas­ing The Orwell Tapes this month, the CBC gives us five rea­sons why Orwell "is still very much with us today." Some of these—modern sur­veil­lance, the cor­rup­tions of pow­er (and the pow­er of corruption)—will be famil­iar, as will num­ber 3, a vari­a­tion on what we've come to call "empa­thy" for one's oppo­nent. The 4th rea­son, CBC notes, is the renewed rel­e­vance of social­ism as a viable alter­na­tive to cap­i­tal­ist pre­da­tion. And final­ly, we have the con­tin­ued dan­ger of speak­ing truth to pow­er, and to those who serve it reli­gious­ly, uncrit­i­cal­ly, and often vio­lent­ly. As Orwell wrote in the pref­ace to Ani­mal Farm, "If lib­er­ty means any­thing at all, it means the right to tell peo­ple what they don't want to hear."
Relat­ed Con­tent:
Hux­ley to Orwell: My Hell­ish Vision of the Future is Bet­ter Than Yours (1949)
George Orwell Tries to Iden­ti­fy Who Is Real­ly a "Fas­cist" and Define the Mean­ing of This "Much-Abused Word" (1944)
George Orwell's Six Rules for Writ­ing Clear and Tight Prose
Josh Jones is a writer and musi­cian based in Durham, NC. Fol­low him at @jdmagness