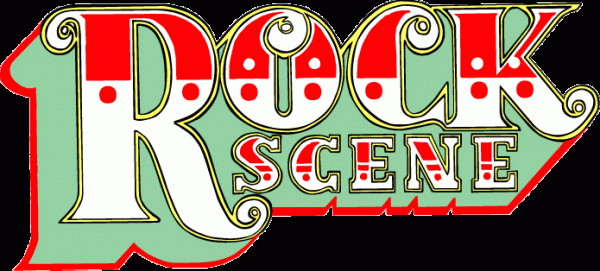 The web­site RockScen­ester, assem­bled by Ryan Richard­son, has cre­at­ed a com­plete online archive of Rock Scene mag­a­zine, which ran from 1973 through 1982.
In the book There Goes Grav­i­ty: A Life in Rock and Roll, Rock Scene's co-founder Lisa Robin­son writes, the mag­a­zine "was print­ed on cheap paper and the ink came off on your hands." "It was an irrev­er­ent, cult music mag­a­zine that doc­u­ment­ed and glam­or­ized the rise of glam­rock and punk rock." "Part fanzine, part tabloid, Rock Scene was where you could see what hap­pened before or after the show, par­tic­u­lar­ly at par­ties and back­stage." "Years after Rock Scene was out out print," Robin­son con­tin­ues, "musicians–Michael Stipe, Duran Duran's Nick Rhodes, Pearl Jam's Jeff Ament, Thurston Moore, Chrissie Hyn­de and many others–would tell me that they grew up try­ing to find it in their small towns." They would­n't have that prob­lem today.
Every sin­gle issue of Rock Scene, from 1973 through 1982, has been scanned cov­er to cov­er. (Richard­son per­son­al­ly dropped $1500 on the project.) You can flip through edi­tions fea­tur­ing David Bowie (1973), The New York Dolls (1974), Lou Reed (1974), The Rolling Stones (1974), Peter Gabriel (1975), Pat­ti Smith (1976) Robert Plant (1977), The Ramones (1977), Iggy Pop (1977) and Deb­bie Har­ry (1982). Or just explore the full archive here. There's 54 in total.
More zines can be found in the Relat­eds below.
If you would like to sign up for Open Culture's free email newslet­ter, please find it here.
If you would like to sup­port the mis­sion of Open Cul­ture, con­sid­er mak­ing a dona­tion to our site. It's hard to rely 100% on ads, and your con­tri­bu­tions will help us con­tin­ue pro­vid­ing the best free cul­tur­al and edu­ca­tion­al mate­ri­als to learn­ers every­where. You can con­tribute through Pay­Pal, Patre­on, and Ven­mo (@openculture). Thanks!
Relat­ed Con­tent:
Down­load 50+ Issues of Leg­endary West Coast Punk Music Zines from the 1970–80s: Dam­age, Slash & No Mag
Down­load 834 Rad­i­cal Zines From a Rev­o­lu­tion­ary Online Archive: Glob­al­iza­tion, Punk Music, the Indus­tri­al Prison Com­plex & More
A Com­plete Dig­i­ti­za­tion of the 1960s Mag­a­zine Avant Garde: From John Lennon's Erot­ic Lith­o­graphs to Mar­i­lyn Monroe's Last Pho­tos