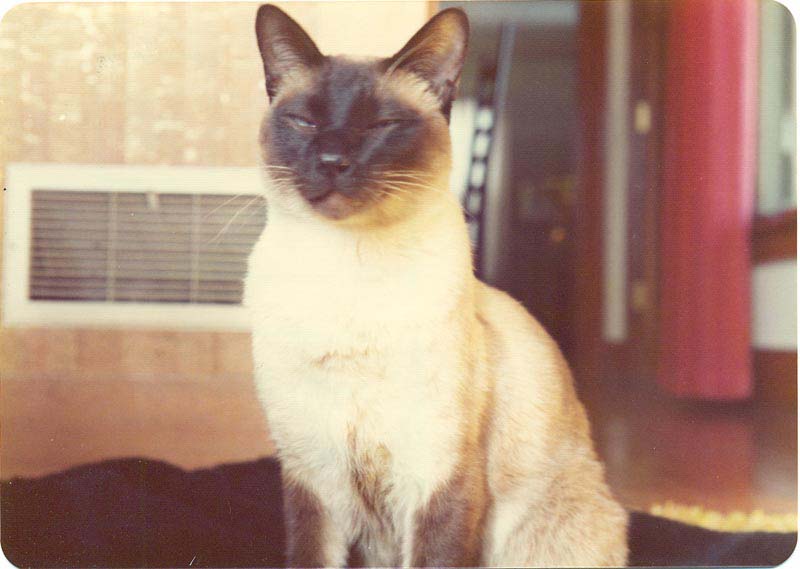 Back in 1975, Jack H. Hetherington, a physics professor at Michigan State University, wrote a research paper on low–temperature physics for the respected scientific journal Physical Review Letters. Before sending it off, Hetherington asked a colleague to review the paper, just to make sure it covered the right bases. What happened next Hetherington explained in the 1982 book, More Random Walks in Science:
Before I submitted [the article], I asked a colleague to read it over and he said, 'It's a fine paper, but they'll send it right back.' He explained that that is because of the Editor's rule that the word "we" should not be used in a paper with only a single author. Changing the paper to the impersonal seemed too difficult now, and it was all written and typed; therefore, after an evening's thought, I simply asked the secretary to change the title page to include the name of the family cat, a Siamese called Chester, sired one summer by Willard (one of the few unfixed male Siamese cats in Aspen, Colorado). I added the initials F D in front of the name to stand for Felix Domesticus and thus created F D C Willard.
The editors eventually accepted the paper, "Two-, Three-, and Four-Atom Exchange Effects in bcc 3 He." And the ruse lasted until, remembers Hetherington, "a visitor [came to the university and] asked to talk to me, and since I was unavailable asked to talk with Willard. Everyone laughed and soon the cat was out of the bag." (Pun surely intended.) Apparently only the journal editors didn't find humor in the joke.

Above, you can see F.D.C. Willard's signature (a paw print) on the front page of the article. The website, TodayIFoundOut, has much more on this enchanting little story.
If you would like to sign up for Open Culture's free email newsletter, please find it here.
If you would like to support the mission of Open Culture, consider making a donation to our site. It's hard to rely 100% on ads, and your contributions will help us continue providing the best free cultural and educational materials to learners everywhere. You can contribute through PayPal, Patreon, and Venmo (@openculture). Thanks!
Related Content:
The Shortest-Known Paper Published in a Serious Math Journal: Two Succinct Sentences 
The Famous Schrodinger's Cat Thought Experiment Gets Brought to Life in an Off-Kilter Animation
Insanely Cute Cat Commercials from Studio Ghibli, Hayao Miyazaki's Legendary Animation Shop
Nick Cave Narrates an Animated Film about the Cat Piano, the Twisted 18th Century Musical Instrument Designed to Treat Mental Illness