In 1926, Fritz Kahn, a German gynecologist and anatomy textbook author, produced a lithograph called Der Mensch als Industriepalast (Man as Industrial Palace) that depicted the human body as a factory, a chemical plant of sorts. Kahn's body came complete with mechanical lungs, a rock-sorting stomach, gears for a throat, and a switchboard for a brain, and it illustrated rather metaphorically the degree to which industrialization had taken over Western life, creating deep anxiety for some and curiosity for others.
More than 80 years later, Henning Lederer, a German artist, has brought Kahn's mechanical body to life with some gifted animation. To learn more about Lederer's project, you will want to spend more time on IndustriePalast.com and particularly with this helpful PDF. Other animation by Lederer can be found on Vimeo.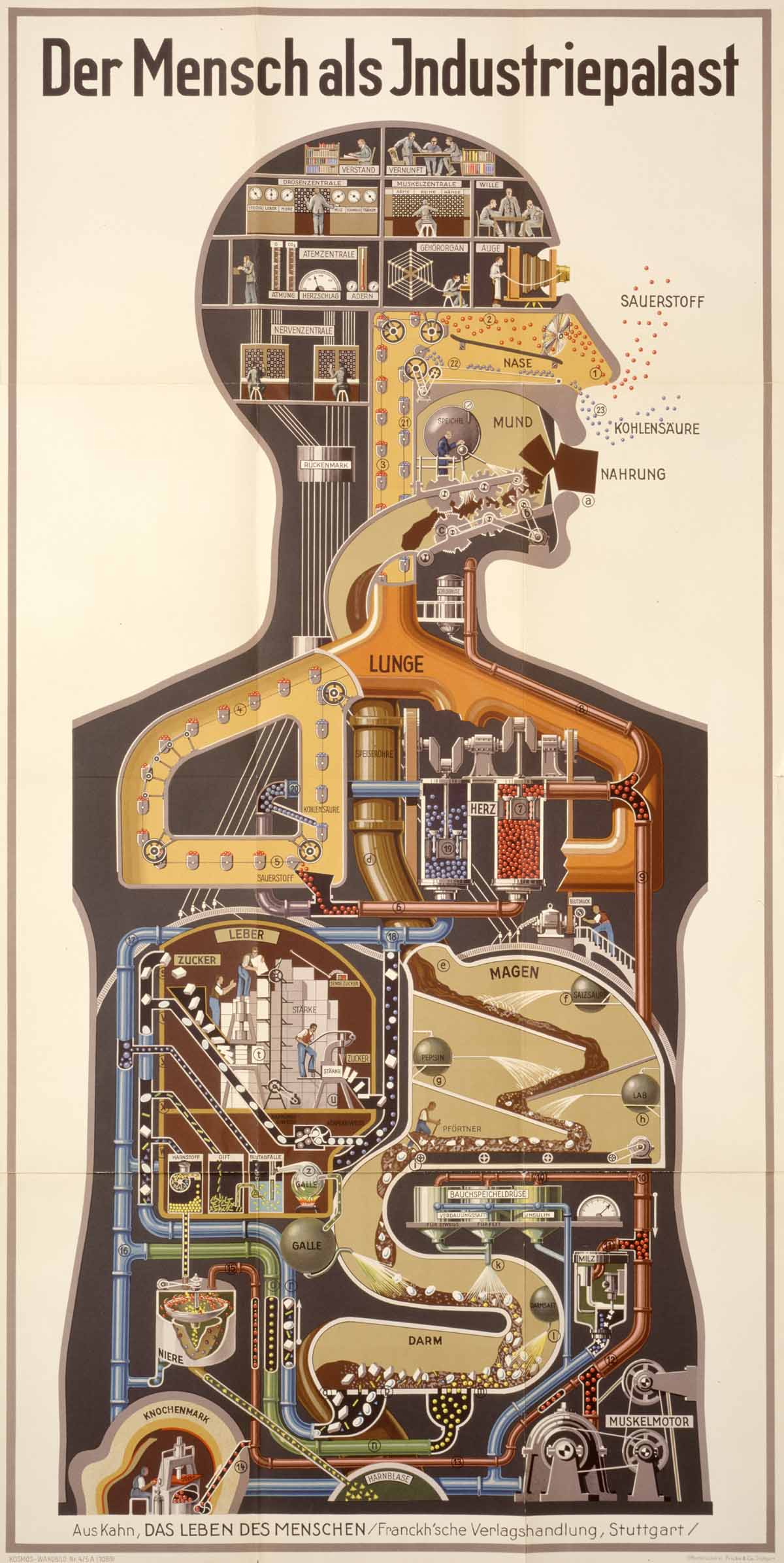 An earlier version of this post originally appeared on our site in 2011.
Would you like to support the mission of Open Culture? Please consider making a donation to our site. It's hard to rely 100% on ads, and your contributions will help us continue providing the best free cultural and educational materials to learners everywhere.
Also consider following Open Culture on Facebook and Twitter and sharing intelligent media with your friends. Or sign up for our daily email and get a daily dose of Open Culture in your inbox. 
Related Content:
Download Hundreds of Issues of Jugend, Germany's Pioneering Art Nouveau Magazine (1896-1940)
Download Influential Avant-Garde Magazines from the Early 20th Century: Dadaism, Surrealism, Futurism & More
Download 36 Dadaist Magazines from the The Digital Dada Archive (Plus Other Avant-Garde Books, Leaflets & Ephemera)
Extensive Archive of Avant-Garde & Modernist Magazines (1890-1939) Now Available Online