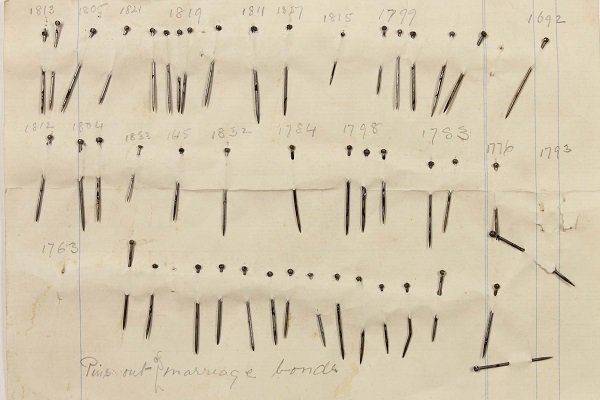 Before the word proces­sor, before White-Out, before Post It Notes, there were straight pins. Or, at least that's what Jane Austen used to make edits in one of her rare man­u­scripts. In 2011, Oxford's Bodleian Library acquired the man­u­script of Austen's aban­doned nov­el, The Wat­sons. In announc­ing the acqui­si­tion, the Bodleian wrote:
The Wat­sons is Jane Austen's first extant draft of a nov­el in process of devel­op­ment and one of the ear­li­est exam­ples of an Eng­lish nov­el to sur­vive in its for­ma­tive state. Only sev­en man­u­scripts of fic­tion by Austen are known to survive.The Wat­sons man­u­script is exten­sive­ly revised and cor­rect­ed through­out, with cross­ings out and inter­lin­ear addi­tions.
Janeausten.ac.uk (the web site where Austen's man­u­scripts have been dig­i­tized) takes a deep­er dive into the curi­ous qual­i­ty of The Wat­sons man­u­script, not­ing:
The man­u­script is writ­ten and cor­rect­ed through­out in brown iron-gall ink. The pages are filled in a neat, even hand with signs of con­cur­rent writ­ing, era­sure, and revi­sion, inter­rupt­ed by occa­sion­al pas­sages of heavy inter­lin­ear cor­rec­tion.… The man­u­script is with­out chap­ter divi­sions, though not with­out infor­mal divi­sion by wider spac­ing and ruled lines. The full pages sug­gest that Jane Austen did not antic­i­pate a pro­tract­ed process of redraft­ing. With no cal­cu­lat­ed blank spaces and no obvi­ous way of incor­po­rat­ing large revi­sion or expan­sion she had to find oth­er strate­gies – the three patch­es, small pieces of paper, each of which was filled close­ly and neat­ly with the new mate­r­i­al, attached with straight pins to the pre­cise spot where erased mate­r­i­al was to be cov­ered or where an inser­tion was required to expand the text.
Accord­ing to Christo­pher Fletch­er, Keep­er of Spe­cial Col­lec­tions at the Bodleian Library, this prick­ly method of edit­ing was­n't exact­ly new. Archivists at the library can trace pins being used as edit­ing tools back to 1617.
You can find The Wat­sons online here:
Note: An ear­li­er ver­sion of this post appeared on our site in August, 2014.
If you would like to sign up for Open Culture's free email newslet­ter, please find it here.
If you would like to sup­port the mis­sion of Open Cul­ture, con­sid­er mak­ing a dona­tion to our site. It's hard to rely 100% on ads, and your con­tri­bu­tions will help us con­tin­ue pro­vid­ing the best free cul­tur­al and edu­ca­tion­al mate­ri­als to learn­ers every­where. You can con­tribute through Pay­Pal, Patre­on, and Ven­mo (@openculture). Thanks!
Relat­ed Con­tent:
An Ani­mat­ed Intro­duc­tion to Jane Austen
Jane Austen's Music Col­lec­tion, Now Dig­i­tized and Avail­able Online
15-Year-Old Jane Austen Writes a Satir­i­cal His­to­ry Of Eng­land: Read the Hand­writ­ten Man­u­script Online (1791)
Read Jane Austen's Man­u­scripts Online
This Is Your Brain on Jane Austen: The Neu­ro­science of Read­ing Great Lit­er­a­ture