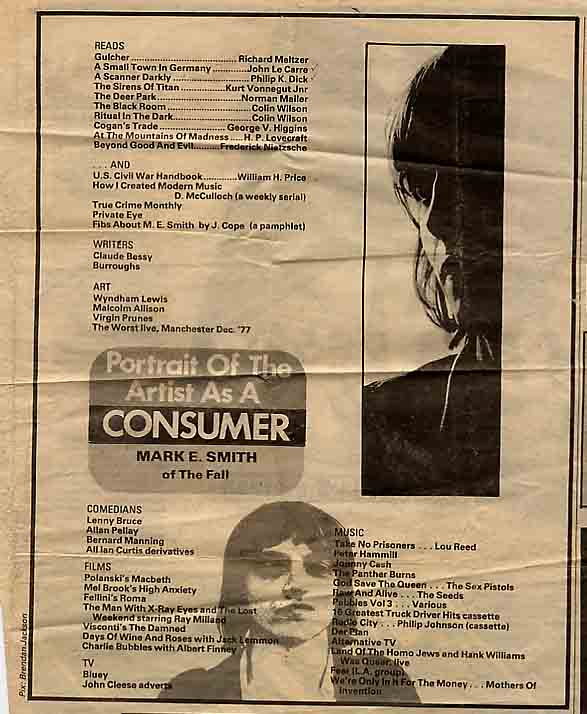 Some of us are still reeling from the death this last January of Mark E. Smith, the frontman and acerbic brains behind The Fall, surely one of post-punk's finest groups, and definitely its longest lasting. The band might not have scored that many Top 40 singles, but Britain's music press loved and feared Smith in equal amounts. He was always good for a belligerent quote, or a beer-fueled interview down the pub. To paraphrase DJ John Peel, Smith was the yardstick against which other musicians were measured.
And his death has also brought out a treasure trove of clippings, including this one from the August 15, 1981 edition of NME. "Portrait of the Artist as a Consumer" was an occasional series, asking musicians for their favorite books, art, writers, comedians, films, and even other music. We've pasted the original scan above, but just in case, we've transcribed his lists with a little bit of commentary.
READS
Gulcher – Richard Meltzer
A Small Town in Germany – John Le Carré
A Scanner Darkly – Philip K. Dick
The Sirens of Titan – Kurt Vonnegut Jr.
The Deer Park – Norman Mailer
The Black Room – Colin Wilson
Ritual in the Dark – Colin Wilson
Cogan's Trade – George V. Higgins
At the Mountains of Madness – H.P. Lovecraft
Beyond Good and Evil – Frederich Nietzsche
AND
U.S. Civil War Handbook – William H. Price
How I Created Modern Music – D. McCulloch (a weekly serial)
True Crime Monthly
Private Eye
Fibs About M.E. Smith by J. Cope (a pamphlet)
Okay, for longtime fans of The Fall, the appearance of Philip K. Dick and H.P. Lovecraft should come as no surprise, as Smith referenced them often in his lyrics. Gulcher (subtitled Post-Rock Cultural Pluralism in America) was one of the first ever collections of serious rock criticism from one of the first ever rock critics. The blurb on Colin Wilson over at Amazon says he "wrote widely on true crime, mysticism and the paranormal" which sounds pretty much like Smith's CV. George V. Higgins was also a crime writer, with a gift for mafioso gab. And as for The Deer Park by Mailer, Smith took the title for an early Fall song:
Of Smith's fascination with the U.S. Civil War, I can think of his own visualizing between the North and South in his own beleaguered Britain, and the lyric from "The N.W.R.A.":
"The streets of Soho did reverberate
With drunken Highland men
Revenge for Culloden dead
The North had rose again
But it would turn out wrong"
Don't go looking for the McCulloch and Cope writings—they're both jokes at the expense of fellow Mancunians Ian McCulloch (Echo and the Bunnymen) and Julian Cope, who Smith gigged with back in the day and went on to—as Smith no doubt saw it—sell out to the mainstream
[UPDATE: As one commenter has noted D. Culloch is actually Dave McCulloch, Ian's brother and once the editor and writer for Sounds. However, he is a man that has dropped off the face of the Internet, and we'll need some more digging to see if his serial even exists. Help us in the comments.]
WRITERS
Claude Bessy
Burroughs
Of William S. Burroughs much has been written, but Claude Bessy was a French writer who started and/or wrote for several punk fanzines, including Angeleno Dread and Slash, was the resident VJ at Manchester's Hacienda Club, and directed—supposedly—music videos for The Fall (which ones, I can't discern).
ART
Wyndham Lewis
Malcolm Allison
Virgin Prunes
The Worst live, Marchester Dec. '77
Those who have seen Lewis' writings for BLAST, the magazine of the vorticist movement in Britain, circa 1914, might be mistaken that they were looking at a M.E.S. lyric sheet.
The list is Smith's joke over what is considered art: Malcolm Allison was an English football player and manager; the Virgin Prunes were an Irish post-punk band; The Worst was a little known punk band that shared the bill with The Fall and John Cooper Clark at the Electric Circus gig—the recording of which was the Fall's first release.
COMEDIANS
Lenny Bruce
Alan Pellay
Bernard Manning
All Ian Curtis derivatives
Lenny Bruce and Bernard Manning are opposite ends of a very odd spectrum. More interesting is Alan Pellay aka Al Pellay aka Lana Pellay, who fronted a group I Scream Pleasures that often opened for The Fall, and whose angry declarations over dub tracks by Adrian Sherwood are sonic cousins to Smith.
FILMS
Polanski's Macbeth
Mel Brook's (sic) High Anxiety
Fellini's Rome
The Man with X-Ray Eyes and The Lost Weekend starring Ray Milland
Visconti's The Damned
Days of Wine and Roses with Jack Lemmon
Charlie Bubbles with Albert Finney
The most personal selection here is the last one, a 1968 film that starred Finney as a desperate but successful writer who returns to his childhood home…Salford, near Manchester, Smith's own hometown.
TV
Bluey
John Cleese adverts
Of the two, Bluey is the rare one, a cult Australian cop drama from 1976 created by Jock Blair and Ian Jones. We also have no idea why he liked it.
MUSIC
Take No Prisoners – Lou Reed
Peter Hammill
Johnny Cash
The Panther Burns
God Save the Queen – The Sex Pistols
Raw and Alive – The Seeds
Pebbles Vol. 3 – Various
16 Greatest Truck Driver Hits cassette
Radio City – Philip Johnson (cassette)
Der Plan
Alternative TV
Land of the Homo Jews and Hank Williams Was Queer, live – Fear (L.A. Group)
We're Only In It for the Money – Mothers of Invention
So, at last, the music list. No surprises seeing Lou Reed, Johnny Cash, The Pistols, or Zappa on here. The Panther Burns was a favorite group of Claude Bessy; The Seeds was a great garage rock band of the '60s; Pebbles is a compilation of American psyche rock; Alternative TV, Fear, and Der Plan had varying degrees of success in the punk and electronic genres.
Of note, two things: the 16 Greatest Truck Driver Hits cassette, which the band must have picked up somewhere on tour. A baffling release, it has songs not credited to any artist, so perhaps this is a studio band concoction of country covers. But it might have inspired Smith to write his own version of the American trucker song, "Container Drivers":
Also Philip Johnson. Radio City was one of a dozen self-released cassettes by an early electronic artist, which DieorDIY described as "A fantastic cut up of various current affairs radio broadcasts, with the classic AM radio sound quality, made good by that cosily depressing ferric oxide degradation technique." For those looking for the various influences on the genius of Mark E. Smith, this entire list gives you a good place to start.
Related Content:
Patti Smith's 40 Favorite Books
Springsteen's Favorite Books & Reading List
Hayao Miyazaki Picks His 50 Favorite Children's Books
Ted Mills is a freelance writer on the arts who currently hosts the FunkZone Podcast. You can also follow him on Twitter at @tedmills, read his other arts writing at tedmills.com and/or watch his films here.