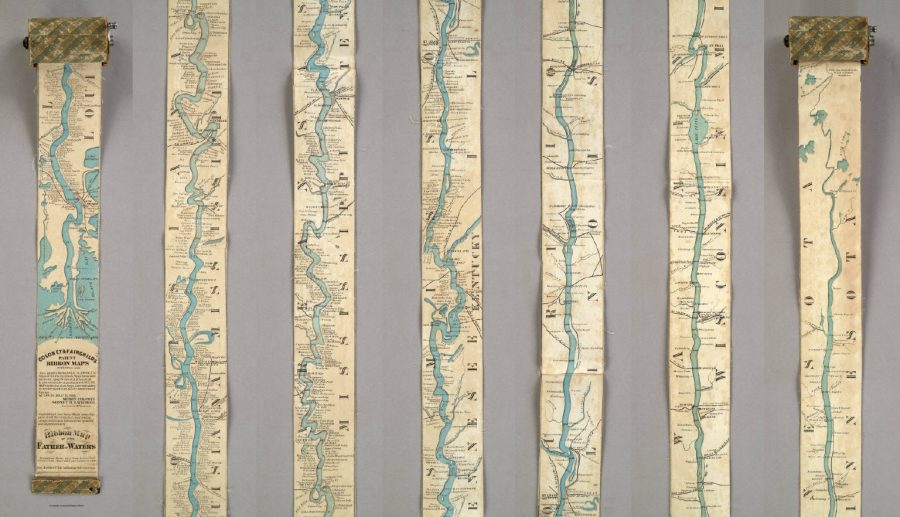 Image courtesy of the David Rumsey Map Center
Everybody knows a fact or two about the United States of America, even those who've never set foot there. At the very least, they know the US is a big country, but it's one thing to know that and another to truly understand the scale involved. Today we offer you an artifact from cartographic history that illustrates it vividly: a 19th-century traveler's map of the Mississippi River that, in order to display the length of that mighty 2,320-mile waterway, extends to a full eleven feet. (Or, for those especially unfamiliar with how things are in America, displays the river's full 3,734-kilometer length at a full 3.35 meters.)
With a width of only three inches (or 7.62 centimeters), the Ribbon Map of the Father of Waters came on a spool the reader could use to unroll it to the relevant section of the river anywhere between the Gulf of Mexico and northern Minnesota. First published in 1866, just a year after the end of the Civil War, the map "was marketed toward tourists, who were flocking to the Mississippi to see the sights and ride the steamboats." So writes Atlas Obscura's Cara Giamo, who quotes art historian Nenette Luarca-Shoaf as describing the river as "a source of great awe. That kind of length, that kind of spaciousness was incomprehensible to a lot of folks who were coming from the East Coast."
Luarca-Shoaf describes the map, an invention of St. Louis entrepreneurs Myron Coloney and Sidney B. Fairchild, in more detail in an article of her own at Common-Place. "The completely unfurled map extends beyond the limits of the user's reach, wondrously embodying the scope of the river in the time it took to unroll it and in the eleven feet of space it now occupies," she writes. "At the same time, the care required to wind the strip back into Coloney and Fairchild's patented spool apparatus reiterates the precariousness of human control — either representational or environmental — over the mercurial Mississippi." We still today talk about "scrolling" maps, though we now mean it as nothing more than a digital metaphor.
Unwieldy though it may seem, the Ribbon Map of the Father of Waters must have struck its travel-minded buyers in the 1860s — some 150 years before technology put touchscreens in all of our hands — as the height of cartographic convenience. Despite having sold out their Mississippi River map quickly enough to necessitate a second edition, though, Coloney and Fairchild did little more with their patented concept. You can see a surviving example of the Ribbon Map in greater detail at the Library of Congress and the David Rumsey Map Collection. The current generation of river tourists yearning for an understanding of the surprising breadth of America's land and depth of its history may even constitute sufficient market for a replica. But what happens when it gets wet?
via Atlas Obscura and Slate
Related Content:
All the Rivers & Streams in the U.S. Shown in Rainbow Colours: A Data Visualization to Behold
William Faulkner Draws Maps of Yoknapatawpha County, the Fictional Home of His Great Novels
Learn the Untold History of the Chinese Community in the Mississippi Delta
Download 67,000 Historic Maps (in High Resolution) from the Wonderful David Rumsey Map Collection
Based in Seoul, Colin Marshall writes and broadcasts on cities and culture. His projects include the book The Stateless City: a Walk through 21st-Century Los Angeles and the video series The City in Cinema. Follow him on Twitter at @colinmarshall or on Facebook.