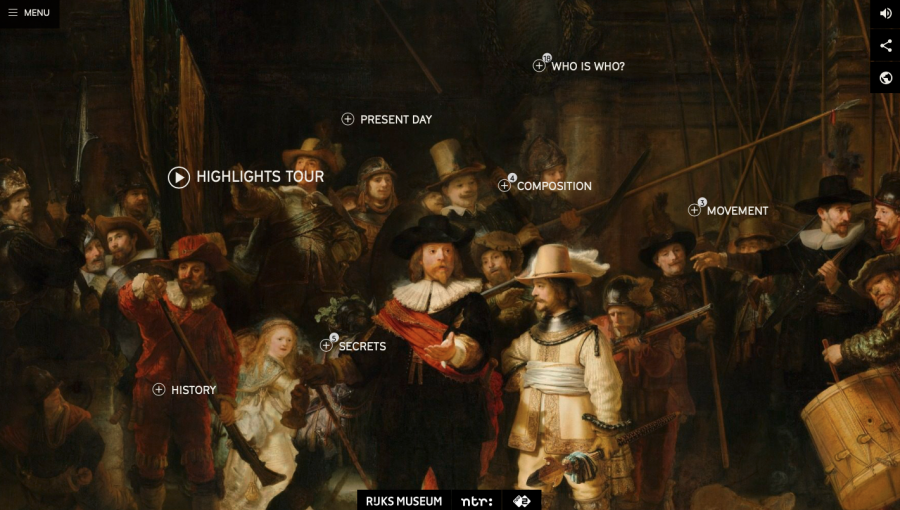 What possessed the man who attacked Rembrandt's The Night Watch with a bread knife in 1975, "jabbing two-foot-long knife marks into the surface," as Nina Siegal writes at The New York Times, "cutting a seven-foot-wide hole, and ripping off a section of the canvas"? This was not the first time the painting had been mangled. In 1715, just a little over 70 years after the monumental work's 1642 completion, the Amsterdam city government decided to move it, and removed a significant part to shrink it down for easier transport. The missing top and left portions have never been recovered.
It survived intact for two centuries then faced its first knife attack in 1911. Then it survived two World Wars only to endure the second attack. Then, in 1990, it was set upon by a man armed with sulphuric acid.
Thanks to the quick thinking of a Rijksmuseum guard, only the painting's varnish sustained injury. These are just some of the facts we learn in the interactive documentary Experience The Night Watch, a joint creation of NTR TV channel and the Amsterdam Rijksmuseum.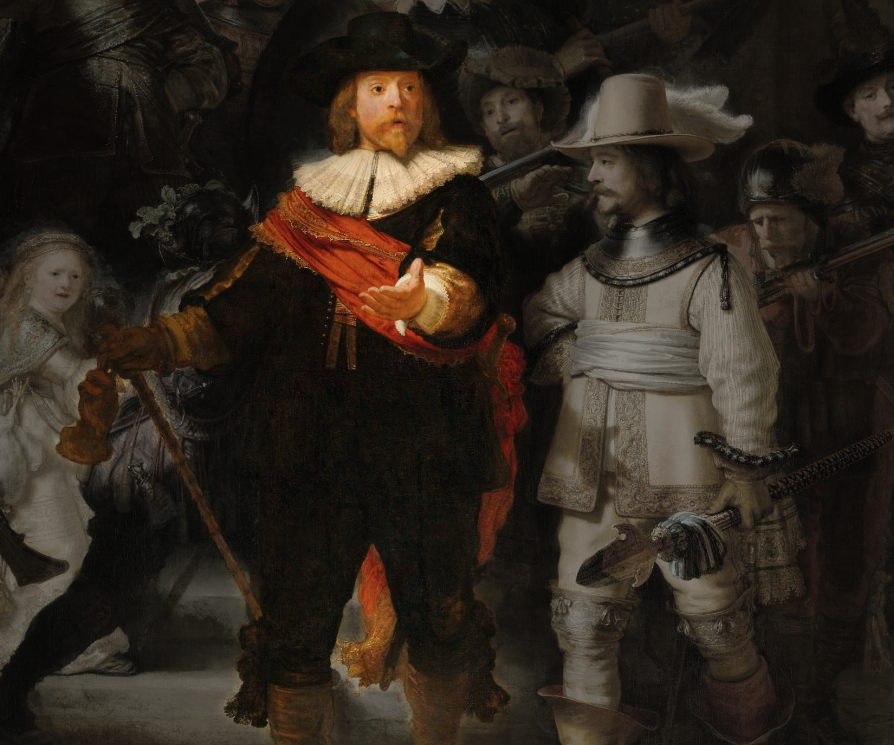 You can read or hear the painting's history in Dutch or English, learn the names of the historical figures depicted in it, learn about Rembrandt's command of composition and chiaroscuro, and much more. (Enter the interactive documentary here.) The painter's masterful, dramatic use of light and shadow to create a sense of depth—probably the most famous example of his use of the technique—is responsible for the painting's usual title, since most of its viewers have assumed that the assembled volunteer militia depicted in it came together in the dead of night. (The shadows had darkened considerably over the years until a thick layer of varnish was removed in the 1940s.)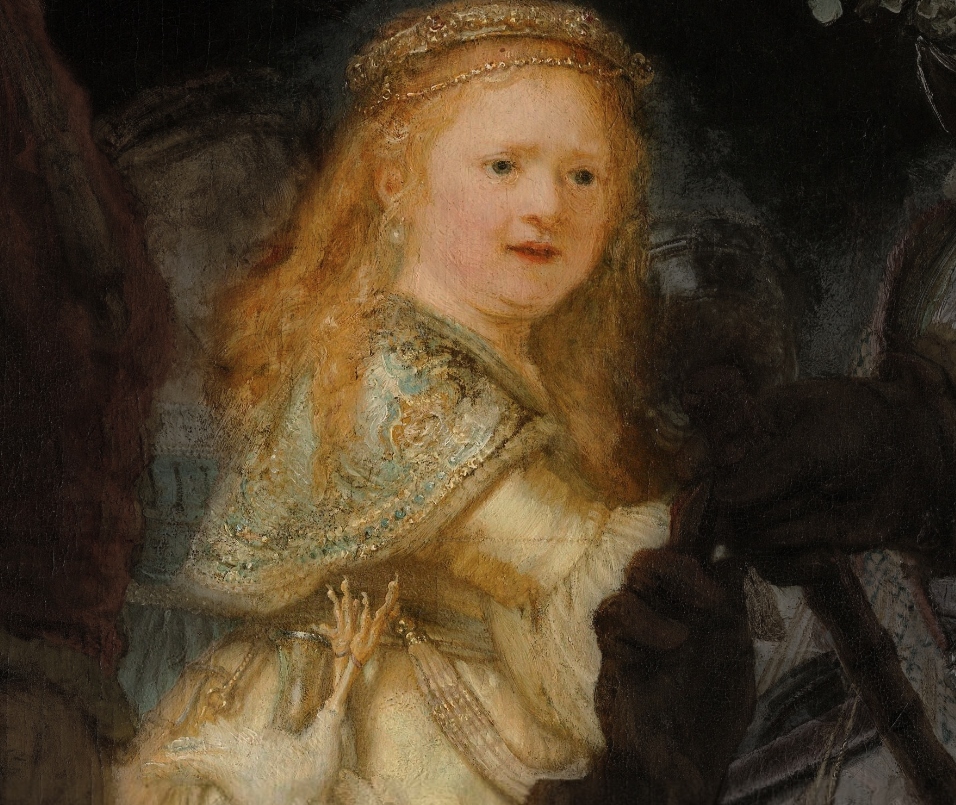 But Rembrandt's masterpiece was originally called Militia Company of District II under the Command of Captain Frans Banninck Cocq, and it records not a troop of seasoned soldiers but a gentleman's shooting company, one of the bands of civic guards that had "effectively developed into a social club for well-to-do citizens" who would "turn up mostly as ceremonies or to quell minor riots." Each of the men memorialized paid to have his likeness included. We may never have known their names except that in 1715 they were added inside a shield painted by an anonymous artist for some reason. The work is full of other such mysteries.
Who is the small girl in white, bathed in angelic light, to whom our eyes are inevitably drawn? "She does not have any traceable identity," our narrator tells us, "she is Rembrandt's invention," a symbol of the company. And yet behind her, almost completely shrouded, is another girl, identity unknown, who most of us would probably never have noticed had she not been pointed out. "In The Night Watch," we discover, "nothing is what it seems."
Learn more of the painting's secrets at the online documentary project here, see similarly interactive art histories from NTR on M.C. Escher and Hieronymus Bosch, and, above, listen to an Artsy podcast featuring Rijksmuseum curator Pieter Roelofs and other Rembrandt experts who explain what makes The Night Watch so wildly famous that more than one person has felt driven to destroy it.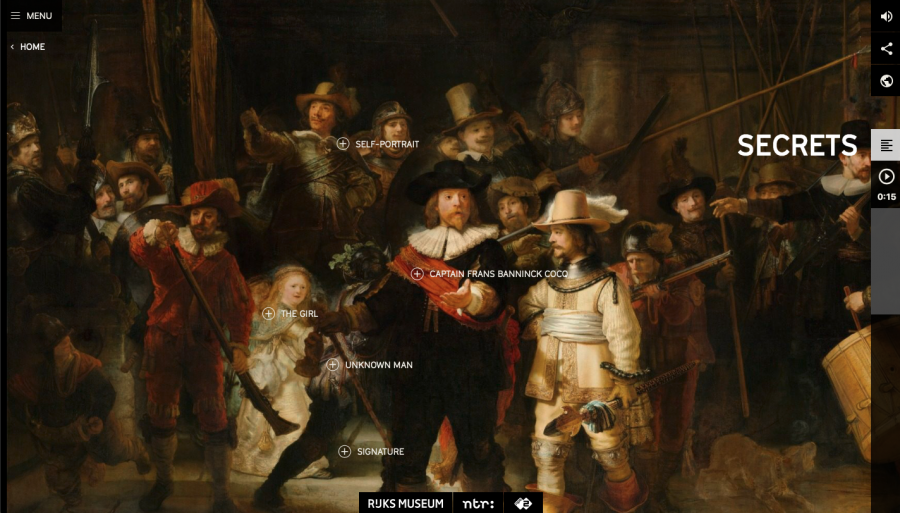 Related Content:
300+ Etchings by Rembrandt Now Free Online, Thanks to the Morgan Library & Museum
Rijksmuseum Digitizes & Makes Free Online 361,000 Works of Art, Masterpieces by Rembrandt Included!
What Makes The Night Watch Rembrandt's Masterpiece
Enter an Online Interactive Documentary on M.C. Escher's Art & Life, Narrated By Peter Greenaway
Take a Virtual Tour of Hieronymus Bosch's Bewildering Masterpiece The Garden of Earthly Delights