And then she said to Annika, "Why don't you feel in that old tree stump? One practically always finds things in old tree stumps." 
– Pippi Longstocking, Astrid Lindgren 
Remember that other classic of children's literature, wherein a boy runs from the city to a secluded mountain, taking up residence in an old tree he hollows into a cozy shelter?
Public librarian and artist Sharalee Armitage Howard's Little Free Library is a bit like that, except there was no running involved.
When the venerable and ailing cottonwood in her Coeur d'Alene front yard began dropping branches on cars parked below, Howard faced the inevitable. But rather than chop the tree even with the ground, she arranged with the removal crew to leave a considerable amount of stump intact.
Then, in a Pippi Longstocking-ish move, she filled it with books for her neighbors and strangers to discover.
The interior has a snug, woodland vibe, worthy of Beatrix Potter or Alison Uttley, with tidy shelves, soft lighting, and a shingled roof to protect the contents from the elements.
Ever since December, when Howard posted photos to social media, the fairytale-like structure has been engendering epic amounts of global goodwill.
What a beautiful way to preserve and honor a tree that stood for well over a century.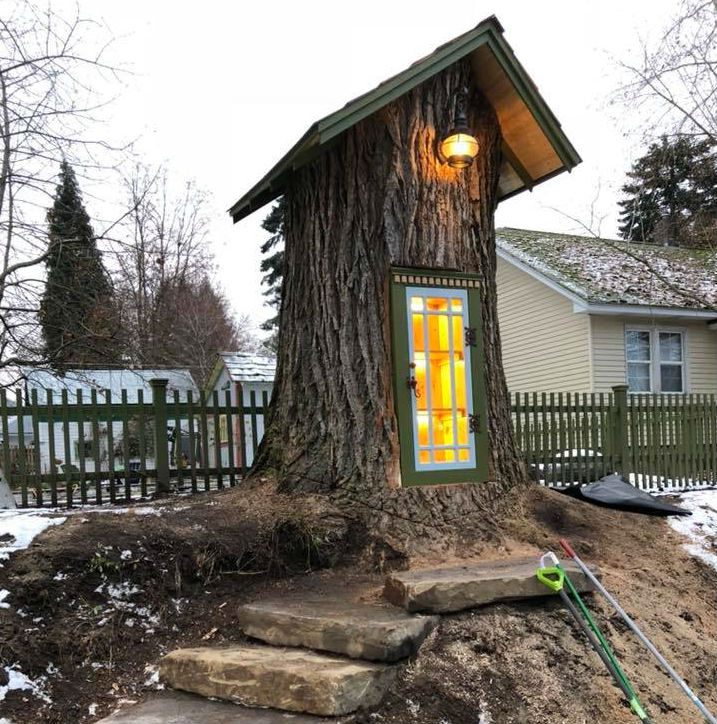 One of the few naysayers is Reddit user discerningpervert, who is perhaps not giving voice to the Lorax, so much as Thalia, Muse of Comedy, when he writes:
It's like a house of horrors for trees. Inside the corpse of their former comrade are the processed remnants of their treebrothers and treesisters.
A literal Treehouse of Horror…
Visit Howard's Little Free Library (charter #8206) the next time you're in Idaho. Or install one of your own.
(Those with trees to throw at the cause may want to begin with the stump hollowing tutorial below.)
Related Content:
RIP Todd Bol, Founder of the Little Free Library Movement: He Leaves Behind 75,000 Small Libraries That Promote Reading Worldwide
Free Libraries Shaped Like Doctor Who's Time-Traveling TARDIS Pop Up in Detroit, Saskatoon, Macon & Other Cities
Growing Up Surrounded by Books Has a Lasting Positive Effect on the Brain, Says a New Scientific Study
Ayun Halliday is an author, illustrator, theater maker and Chief Primatologist of the East Village Inky zine.  See her onstage in New York City in February as host of  Theater of the Apes book-based variety show, Necromancers of the Public Domain. Follow her @AyunHalliday.