No matter our native language, we all have to learn a writing system. And whichever language we learn, its writing system had to come from somewhere. Take English, the language you're reading right now and one written in Latin script, which it shares with a range of other tongues: the European likes of French, Spanish, and German, of course, but now also Icelandic, Swahili, Tagalog, and a great many more besides. The video above by Matt Baker of UsefulCharts explains just where this increasingly widespread writing system came from, tracing its origins all the way back to the Proto-Sinaitic script of Egypt in 1750 BCE.
As revealed in the video, or by the poster available for purchase from UsefulCharts, the letters used to write English today evolved from there "through Phoenician, early Greek and early Latin, to their present forms. You can see how some letters were dropped and others ended up evolving into more than one letter."
The color-coding and direction dotted lines help to make clearly legible what was, in reality, an evolution that happened organically over about two millennia. Enough changed over that time, as Jason Kottke writes, that "it's tough to see how the pictographic forms of the original script evolved into our letters; aside from the T and maybe M & O, there's little resemblance."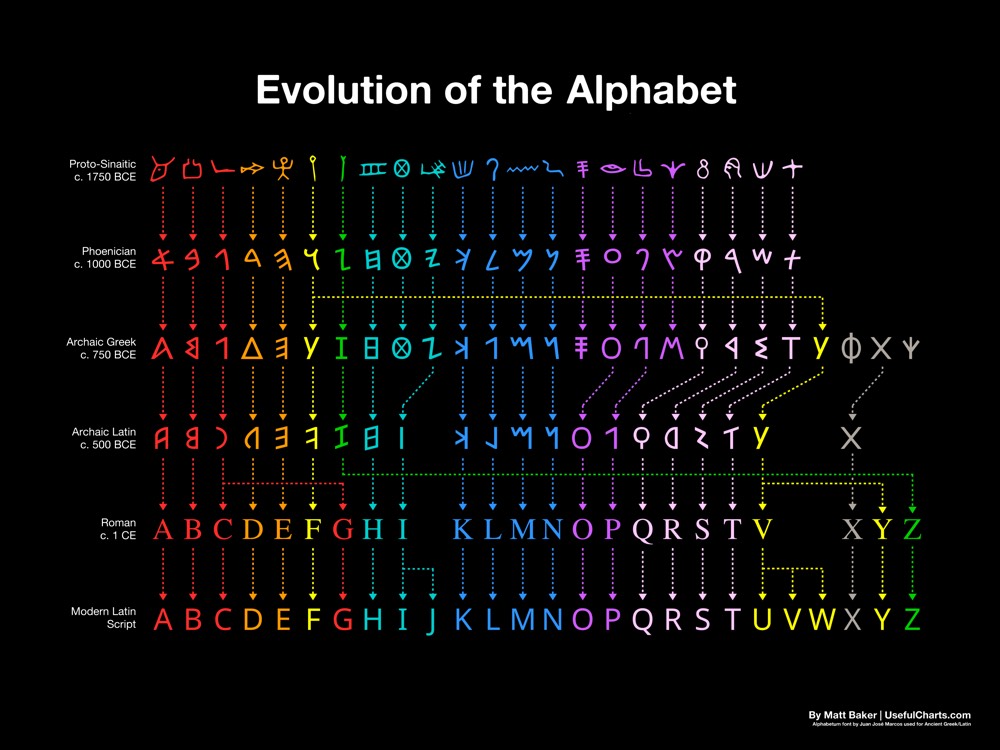 Baker's design for this poster, notes Colossal's Kate Sierzuputowski, "was created in association with his Writing Systems of the World chart which takes a look at 51 different writing systems from around the world." All of the research for both those posters informs his video on the history of the alphabet, which looks at writing systems as they've developed across a variety of civilizations. You'll notice that all of them respond in different ways to the needs of the times and places in which they arose, and some possess advantages that others don't. (In Korea, where I live, one often hears the praises sung of the Korean alphabet, "the most scientific writing system in the world.") But what the strengths of the descendant of modern Latin 2000 years on will be — and whether it will contain anything resembling emoji — not even the most astute linguist knows.
Related Content:
Now I Know My LSD ABCs: A Trippy Animation of the Alphabet
Dictionary of the Oldest Written Language–It Took 90 Years to Complete, and It's Now Free Online
How to Write in Cuneiform, the Oldest Writing System in the World: A Short, Charming Introduction
You Could Soon Be Able to Text with 2,000 Ancient Egyptian Hieroglyphs
The History of the English Language in Ten Animated Minutes
Based in Seoul, Colin Marshall writes and broadcasts on cities, language, and culture. His projects include the book The Stateless City: a Walk through 21st-Century Los Angeles and the video series The City in Cinema. Follow him on Twitter at @colinmarshall or on Facebook.