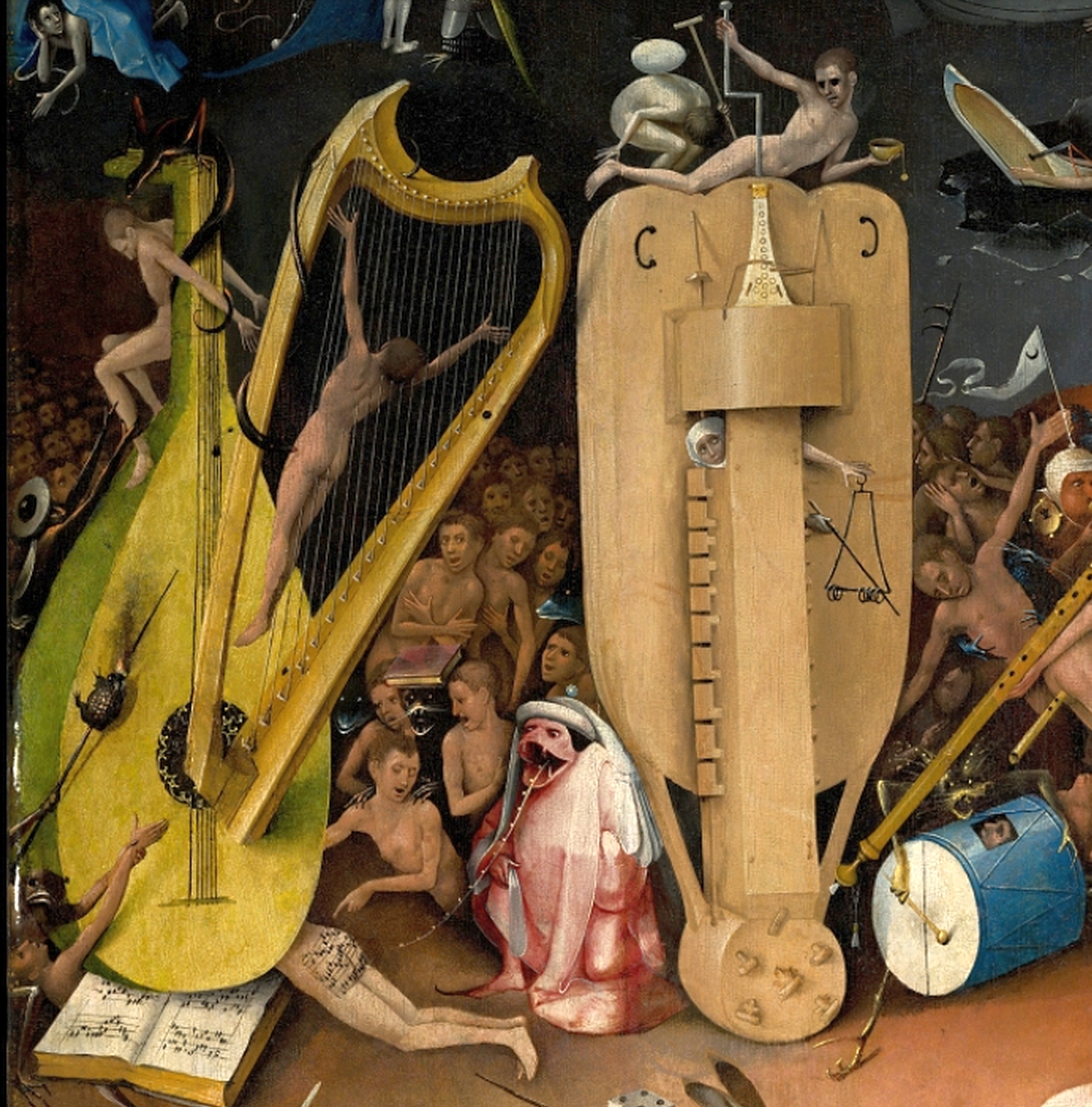 Wel­come to The Gar­den of Earth­ly Delights.
You'll find no angel­ic strings here.
Those are reserved for first class cit­i­zens whose vir­tu­ous lives earned them pas­sage to the upper­most heights.
Down below, stringed instru­ments pro­duce the most hell­ish sort of cacoph­o­ny, a fit­ting accom­pa­ni­ment for the horn whose bell is befouled with the arm of a tor­tured soul.
How do we know that's what they sound­ed like?
A group of musi­col­o­gists, crafts­peo­ple and aca­d­e­mics from the Bate Col­lec­tion of Musi­cal Instru­ments at the Uni­ver­si­ty of Oxford, took it upon them­selves to actu­al­ly build the instru­ments depict­ed in Hierony­mus Bosch's action-packed trip­tych—the hell harp, the vio­lat­ed lute, the gross­ly over­sized hur­dy-gur­dy…
…And then they played them.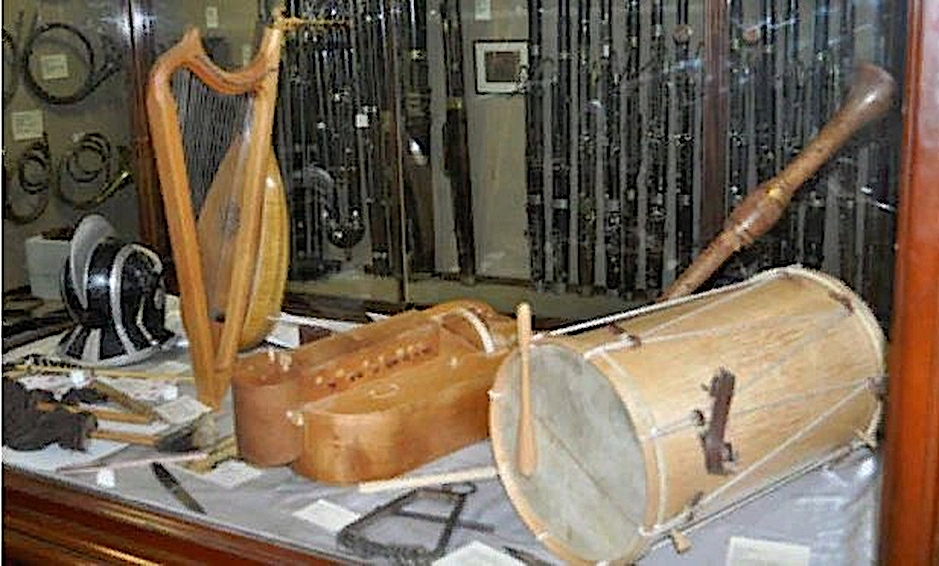 Let us hope they stopped shy of shov­ing flutes up their bums. (Such a place­ment might pro­duce a sound, but not from the flute's gold­en throat).
The Bosch exper­i­ment added ten more instru­ments to the museum's already impres­sive, over-1000-strong col­lec­tion of wood­winds, per­cus­sion, and brass, many from the stu­dios of esteemed mak­ers, some dat­ing all the way back to the Renais­sance.
Unfor­tu­nate­ly, the new addi­tions don't sound very good. "Hor­ri­ble" and "painful" are among the adjec­tives the Bate Col­lec­tion man­ag­er Andrew Lamb uses to describe the aur­al fruits of his team's months-long labors.
Might we assume Bosch would have want­ed it that way?
Bran­don McWilliams, the wag behind Bosch's wild­ly enthu­si­as­tic, f‑bomb-laced review of thrash met­al band Slayer's 1986 Reign in Blood album, would sure­ly say yes, as would
Alden and Cali Hack­mann, North Amer­i­can hur­dy-gur­dy mak­ers, who note that Bosch's painter­ly des­e­cra­tions were not lim­it­ed to their per­son­al favorite instru­ment:
Bosch and his con­tem­po­raries viewed music as sin­ful, asso­ci­at­ing it with oth­er sins of the flesh and spir­it. A num­ber of oth­er instru­ments are also depict­ed: a harp, a drum, a shawm, a recorder, and the met­al tri­an­gle being played by the woman (a nun, per­haps) who is appar­ent­ly impris­oned in the key­box of the instru­ment. The hur­dy-gur­dy was also asso­ci­at­ed with beg­gars, who were often blind. The man turn­ing the crank is hold­ing a beg­ging bowl in his oth­er hand. Hang­ing from the bowl is a met­al seal on a rib­bon, called a "gaber­lun­zie." This was a license to beg in a par­tic­u­lar town on a par­tic­u­lar day, grant­ed by the nobil­i­ty. Sol­diers who were blind­ed or maimed in their lord's ser­vice might be giv­en a gaber­lun­zie in rec­om­pense.
To the best of our knowl­edge, no gaber­fun­zies were grant­ed, nor any sin­ners eter­nal­ly damned, in the Bate Collection's caper. Accord­ing to man­ag­er Lamb, expand­ing the bound­aries of music edu­ca­tion was rec­om­pense enough, well worth the tem­po­rary affront to ten­der ears.
Relat­ed Con­tent:
Take a Vir­tu­al Tour of Hierony­mus Bosch's Bewil­der­ing Mas­ter­piece The Gar­den of Earth­ly Delights
The Hierony­mus Bosch Demon Bird Was Spot­ted Rid­ing the New York City Sub­way the Oth­er Day…
Hierony­mus Bosch Fig­urines: Col­lect Sur­re­al Char­ac­ters from Bosch's Paint­ings & Put Them on Your Book­shelf
Ayun Hal­l­i­day is an author, illus­tra­tor, the­ater mak­er and Chief Pri­ma­tol­o­gist of the East Vil­lage Inky zine. See her onstage in New York City tonight as host of The­ater of the Apes book-based vari­ety show, Necro­mancers of the Pub­lic Domain. Fol­low her @AyunHalliday.