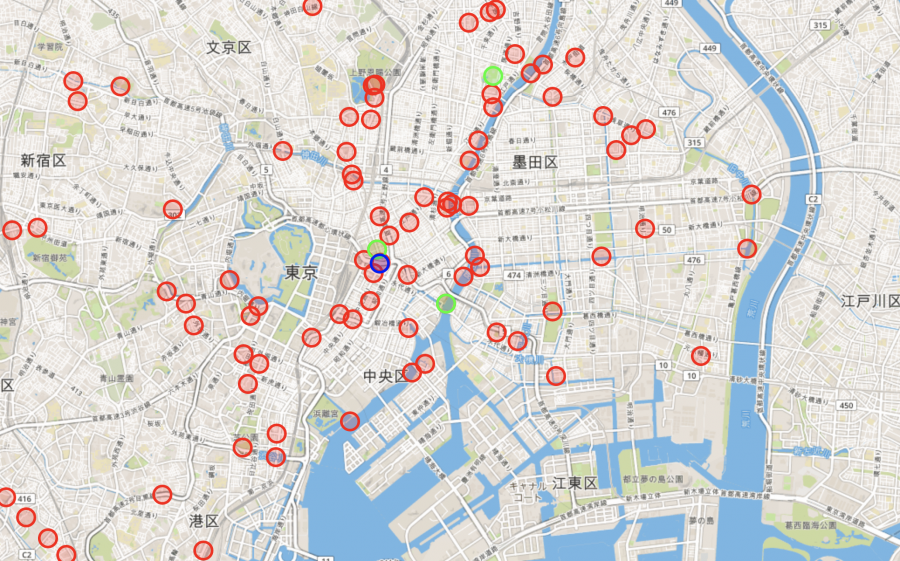 The undis­put­ed last great mas­ter of ukiyo‑e was Uta­gawa Hiroshige. He is best known for the many series he cre­at­ed of bucol­ic land­scapes, which offered col­lec­tors a chance to see parts of Japan they might nev­er reach. The Japan of his ear­ly 19th cen­tu­ry work holds a spe­cial place in Japan­ese hearts–a final look at an iso­lat­ed and beau­ti­ful coun­try just before the open­ing up of the ports to the West and, with it, indus­tri­al­iza­tion.
Apart from Mount Fuji, the loca­tions that Hiroshige drew have long gone, but "Com­put­er sci­ence under­grad, mar­tial artist, ukiyo‑e lover" and British res­i­dent George–he goes by the Twit­ter han­dle @Cascadesssss–has plot­ted the loca­tion of Hiroshige's prints on an inter­ac­tive Google map that has gone quick­ly viral.
The red cir­cles rep­re­sent the series "One Hun­dred Famous Views of Edo," the blue cir­cles "The Fifty-Three Sta­tions of the Tokai­do" (one of five main routes in Edo Japan), and the green "Famous Views of the Six­ty-odd Provinces," the most expan­sive series show­ing scenes all the way from the The Two-sword Rocks of Bo Bay to the north province of Dewa and Mount Gas­san. Each loca­tion opens to a sep­a­rate web page with loca­tion infor­ma­tion, includ­ing lat­i­tude-lon­gi­tude num­bers. (Pull up a chair map-lovers, you might be here a long time.)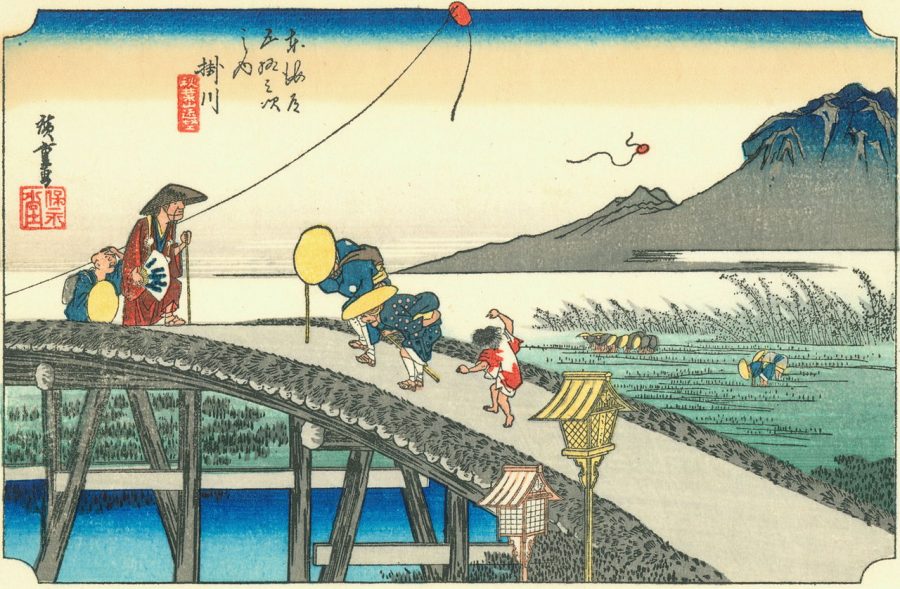 "The Fifty-Three Sta­tions of the Tokai­do" was Hiroshige's most pop­u­lar series and unlike the oth­er two depict­ed hor­i­zon­tal land­scapes. The artist sketched these in 1832 as he rode in a pro­ces­sion from Edo (now Tokyo) to Kyoto and set to work on the prints once he returned home. The 55 prints (two extra draw­ings of the start­ing and end­ing points of the jour­ney) sold like crazy, as they cost about the same as a bowl of soup for the com­mon per­son.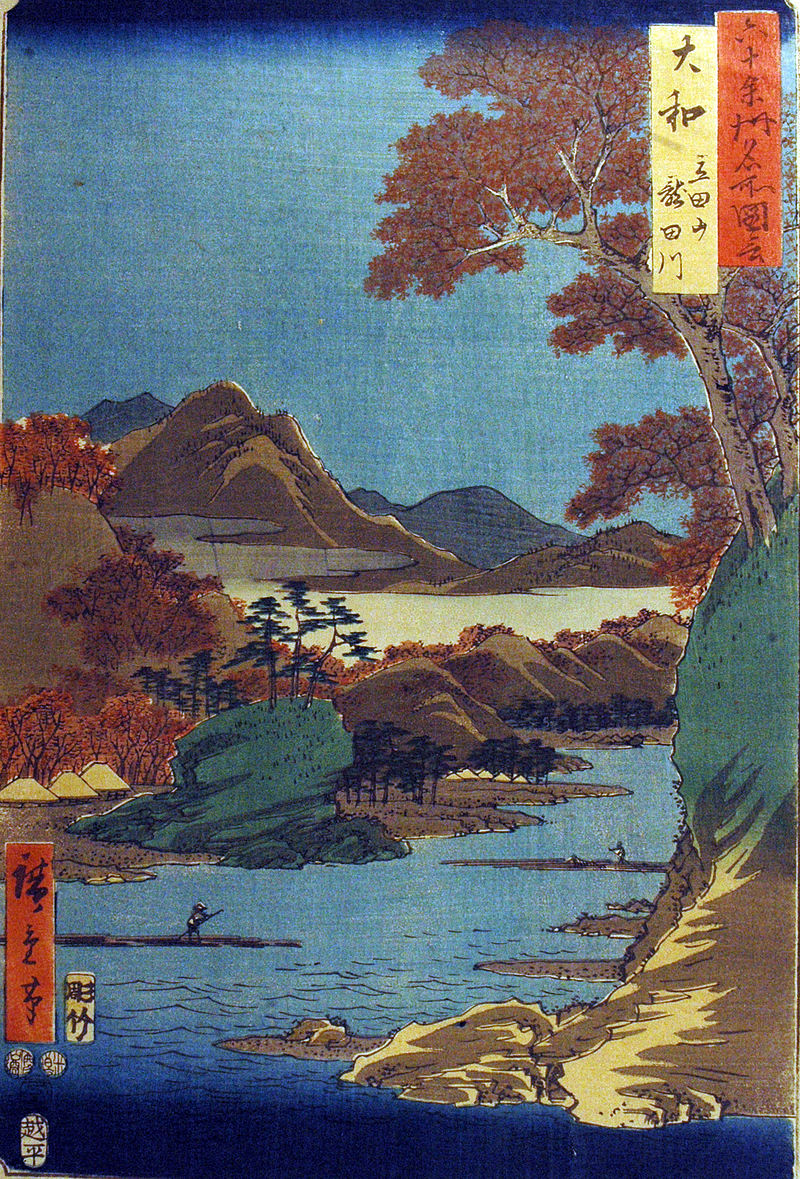 "Famous Views of the Six­ty-odd Provinces" is dif­fer­ent in that Hiroshige did not make trips to see all these beloved locations–instead he put his own spin on exist­ing draw­ings found in guide books and oth­er sources. The total series of 70 prints took four years to com­plete, from 1853 to 1856.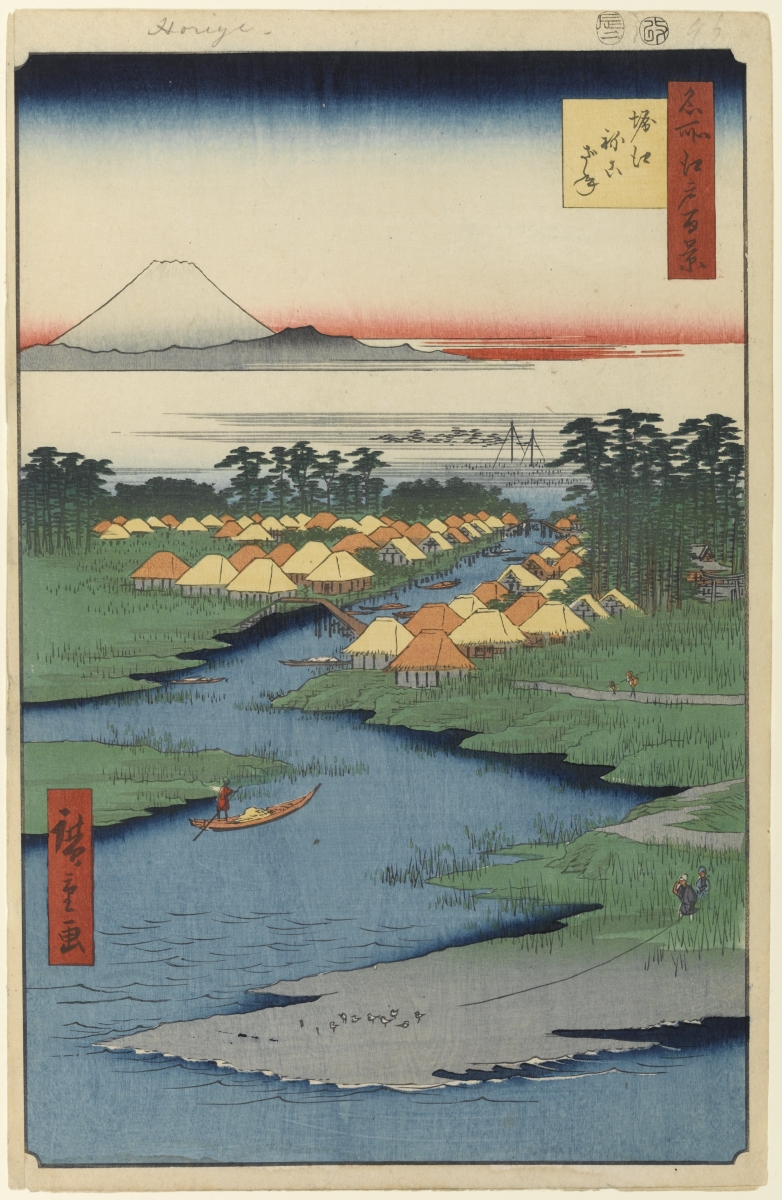 By the time the "Provinces" series was wind­ing down, Hiroshige start­ed work on his final series "One Hun­dred Famous Views of Edo," which he worked on until his death. Again, though liv­ing in Edo, Hiroshige drew from the works of oth­ers from decades before. This is also the artist at his most adventurous–some land­scapes are obscured by posts and bridge rail­ings or even a carp stream­er. One fea­tures what is rumored to be Hiroshige's favorite geisha. These prints would go on to influ­ence West­ern artists, espe­cial­ly Vin­cent van Gogh.
Hiroshige pro­duced more series over his life–he died aged 61–and here's hop­ing Cas­cadesssss plots more on his map soon.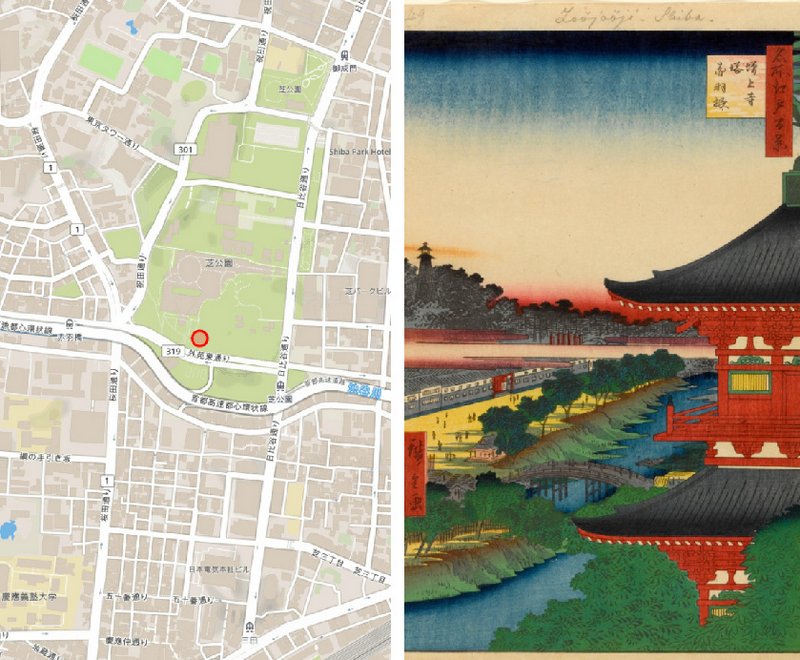 Relat­ed Con­tent:
Enter a Dig­i­tal Archive of 213,000+ Beau­ti­ful Japan­ese Wood­block Prints
Down­load 2,500 Beau­ti­ful Wood­block Prints and Draw­ings by Japan­ese Mas­ters (1600–1915)
The Evo­lu­tion of The Great Wave off Kanaza­wa: See Four Ver­sions That Hoku­sai Paint­ed Over Near­ly 40 Years
Ted Mills is a free­lance writer on the arts who cur­rent­ly hosts the artist inter­view-based FunkZone Pod­cast and is the pro­duc­er of KCR­W's Curi­ous Coast. You can also fol­low him on Twit­ter at @tedmills, read his oth­er arts writ­ing at tedmills.com and/or watch his films here.