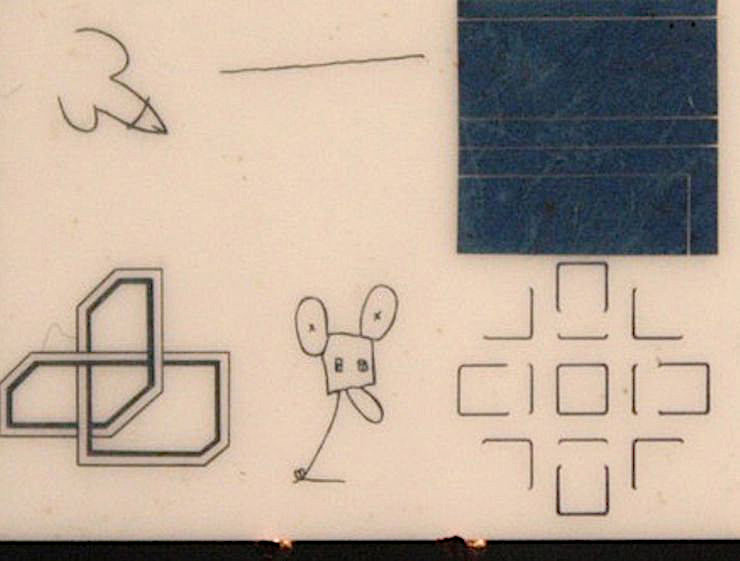 This week is the 50th anniversary of the moon landing, and though we have yet to send an artist into space (photographer Michael Najjar is apparently still training to become the first), there is a tiny art museum on the moon, and it's been there since November 1969, four months after man set foot on the lunar service, and in the afterglow of that amazing summer.
Don't expect a walkable gallery, however. The museum is actually a ceramic wafer the size of a postage stamp, but what an impressive list: John Chamberlain, Forrest Myers, David Novros, Claes Oldenburg, Robert Rauschenberg and Andy Warhol.
As you can see, the six kept it minimal. Rauschenberg drew a single line. Abstract artist Novros created a black square with intersecting white lines that look like a circuit board. Sculptor Chamberlain also created a geometric shape like circuitry. Oldenburg left his signature, which at the time resembled an old Mickey Mouse. Myers, who initiated the project, drew a "linked symbol." And Andy Warhol drew a "stylized signature" but let's be honest, it's a penis. Yes, Warhol put a dick pic on the moon.
The museum was not an officially sanctioned project. It had to be smuggled onto the Apollo 12 lunar lander. This took some doing and it started with Myers.
He might not be as well known as his fellows, but Myers was one of the forces behind the Soho art scene in the '60s, who saw the industrial area blossom with artists looking for cheap rents and large spaces.
Myers had been thinking about putting art on the moon, but all his entreaties to NASA were met with silence–neither a no nor a yes. It would have to be smuggled on board, he decided, but for such an operation, he'd need someone on the inside.
Fortunately, there was a non-profit that was helping connect artists with engineers, called Experiments in Art and Technology (E.A.T.) and Rauschenberg was one of its founders. Through E.A.T., Myers met Bell Labs' Fred Waldhauer who loved the moon museum project, and came up with the idea of the small wafers. Sixteen wafers were produced (other accounts say 20), one to go on Apollo 12, the others to go back to the artists (one now resides in MOMA's collection). Waldhauer knew an engineer with Grumman who was working on the Apollo 12, and he agreed to sneak the ceramic wafer on board. But how would they know this ultra secret mission was accomplished?
Two days before the Apollo launch, Myers received a telegram from Cape Canaveral:
"YOUR ON' A.O.K. ALL SYSTEMS GO.
JOHN F."
The artwork was not the only object sent to the moon on that mission. Engineers placed personal photos in the same place: in between the gold thermal insulation pads that would be shed when the lander left the moon's surface.
Only when Apollo 12's re-entry capsule was on its way back to earth did Myers reveal to the press his successful stunt. However, unless we sent astronauts back to the exact same spot we don't really know if the museum ever made its way there. Maybe it landed the wrong way up? Maybe other wafers moved in through gentrification, raised rents, and the moon museum had to move to Mars. We'll never find out.
Related Content:
Apollo 11 in Real Time: A New Web Site Lets You Take a Real-Time Journey Through First Landing on the Moon
David Bowie's "Space Oddity" and the Apollo 11 Moon Landing Turn 50 This Month: Celebrate Two Giant Leaps That Took Place 9 Days Apart
NASA Digitizes 20,000 Hours of Audio from the Historic Apollo 11 Mission: Stream Them Free Online
Ted Mills is a freelance writer on the arts who currently hosts the artist interview-based FunkZone Podcast and is the producer of KCRW's Curious Coast. You can also follow him on Twitter at @tedmills, read his other arts writing at tedmills.com and/or watch his films here.