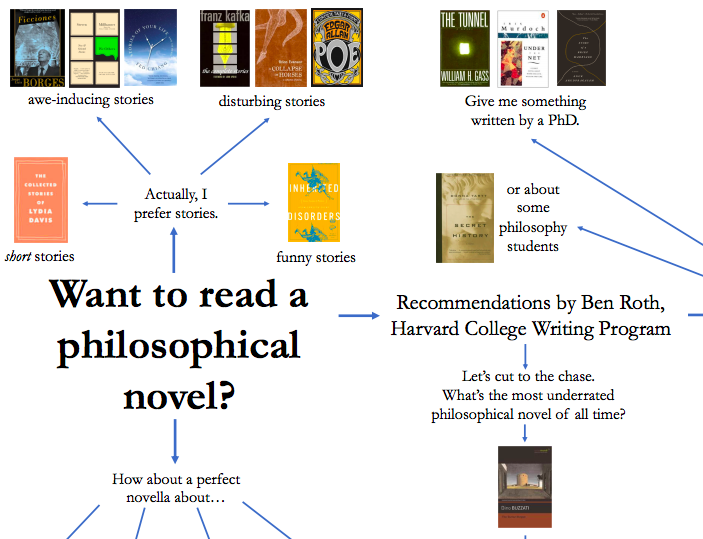 Do you want to read a philo­soph­i­cal nov­el? Sure, we all do. But the ques­tion of exact­ly what kind of philo­soph­i­cal nov­el you want to read, let alone which indi­vid­ual book, isn't quite so eas­i­ly answered. But now a pro­fes­sion­al has come to the res­cue: "Ben Roth, a philoso­pher who teach­es in the Har­vard Col­lege Writ­ing Pro­gram, has put togeth­er a kind of flow­chart rec­om­mend­ing philo­soph­i­cal nov­els and sto­ries," reports Dai­ly Nous' Justin Wein­berg. "With cat­e­gories like 'about a philoso­pher,' 'by a Ph.D.,' 'hor­ror,' 'the com­pli­ca­tions of his­to­ry,' and many more, the chart is pret­ty big."
The choic­es you make in nav­i­gat­ing it could land you on the work of a writer from one of a vari­ety of coun­tries, one of sev­er­al eras, and one of a capa­cious range of def­i­n­i­tions of "philo­soph­i­cal." If you take the word in the sense of a nov­el­'s being about or steeped in the work of a par­tic­u­lar philoso­pher, Roth rec­om­mends books like Thomas Bern­hard's Cor­rec­tion (Wittgen­stein) and Teju Cole's Open City (Ben­jamin and Barthes). Else­where on the map he also includes nov­els writ­ten by philo­soph­i­cal­ly cre­den­tialed aca­d­e­mics like William Gass, Iris Mur­doch, and Anuk Arud­pra­gasam.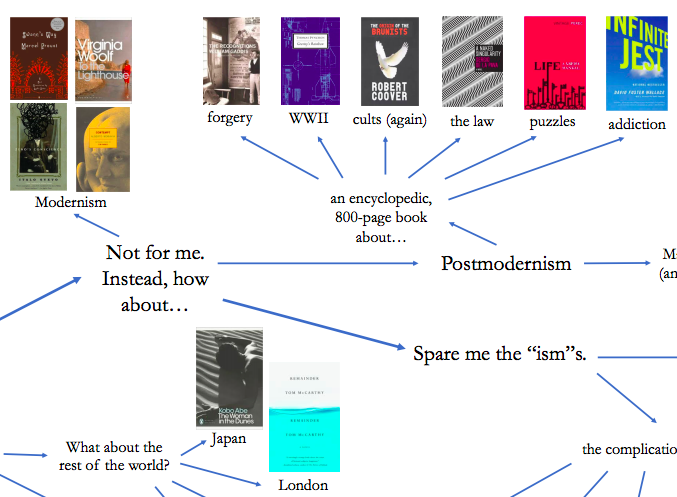 If you pre­fer nov­els where "fic­tion writ­ers drop into straight essay­is­tic mode," Roth offers a choice between the easy mode of Milan Kun­der­a's The Unbear­able Light­ness of Being and the hard mode of Robert Musil's The Man With­out Qual­i­ties. (If you just want­ed to read about a bunch of phi­los­o­phy stu­dents, well, there's always Don­na Tart­t's The Secret His­to­ry.)
To those who go in for more "nov­el­ly nov­els," as Geoff Dyer (a known Bern­hard enthu­si­ast and author of some pret­ty philo­soph­i­cal fic­tion him­self) mem­o­rably put it, Roth presents more forks in the road: Would you like to read sci­ence fic­tion? Exis­ten­tial­ism? Post­mod­ernism? A book free of ‑isms entire­ly, or any­way as free as pos­si­ble?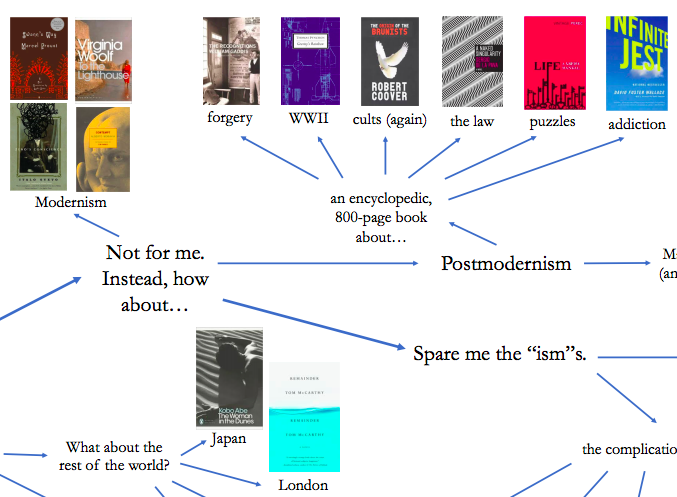 Your answers to those ques­tions and oth­ers could have you read­ing any­thing from J.G. Bal­lard's Crash ("body hor­ror") to Jean-Paul Sartre's Nau­sea ("mid-cen­tu­ry French clas­sic") to David Fos­ter Wal­lace's Infi­nite Jest (post­mod­ern, ency­clo­pe­dic, on addic­tion). Oth­er choic­es may lead you to selec­tions less obvi­ous­ly involved with phi­los­o­phy: J.M. Coet­zee's Wait­ing for the Bar­bar­ians, or Vir­ginia Woolf's To the Light­house, Haru­ki Murakami's Hard-Boiled Won­der­land and the End of the World. Of course, you may not want to read a philo­soph­i­cal nov­el at all: you may want to read philo­soph­i­cal short sto­ries, in which case Roth rec­om­mends such form-defin­ing fig­ures as Edgar Allan Poe, writer of "dis­turb­ing sto­ries"; Lydia Davis, writer of "short sto­ries" (empha­sis his); and Jorge Luis Borges, writer of "awe-induc­ing sto­ries."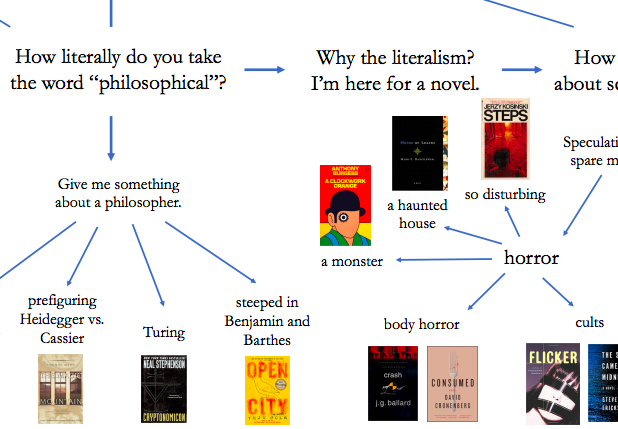 Borges and quite a few oth­er names on Roth's philo­soph­i­cal-nov­el flow­chart also appear in crit­ic David Auer­bach's "Inquest on Left-Brained Lit­er­a­ture," a reveal­ing look at the authors read by "engi­neers with a lit­er­ary bent." Both also include Don DeLil­lo, whose work Auer­bach char­ac­ter­izes as mak­ing "heavy use of phan­tas­mago­ria, com­ple­ment­ed by very sophis­ti­cat­ed nar­ra­tive con­struc­tion," and "sim­ple, vis­cer­al, clas­si­cal themes approached in [a] flashy, nov­el way." Roth, for his part, describes DeLil­lo's White Noise as his "favorite book ever." Else­where on the flow­chart, to the philo­soph­i­cal lit­er­a­ture enthu­si­ast who's read every­thing he offers "the most under­rat­ed philo­soph­i­cal nov­el of all time," Dino Buz­za­ti's The Tar­tar Steppe. No, I haven't heard of it either, but I have to admit that it keeps good com­pa­ny.
Relat­ed Con­tent:
Jorge Luis Borges Selects 74 Books for Your Per­son­al Library
A Clock­work Orange Author Antho­ny Burgess Lists His Five Favorite Dystopi­an Nov­els: Orwell's 1984, Huxley's Island & More
R. Crumb Illus­trates Jean-Paul Sartre's Nau­sea: Exis­ten­tial­ism Meets Under­ground Comics
44 Essen­tial Movies for the Stu­dent of Phi­los­o­phy
Emi­nent Philoso­phers Name the 43 Most Impor­tant Phi­los­o­phy Books Writ­ten Between 1950–2000: Wittgen­stein, Fou­cault, Rawls & More
Based in Seoul, Col­in Mar­shall writes and broad­casts on cities, lan­guage, and cul­ture. His projects include the book The State­less City: a Walk through 21st-Cen­tu­ry Los Ange­les and the video series The City in Cin­e­ma. Fol­low him on Twit­ter at @colinmarshall or on Face­book.