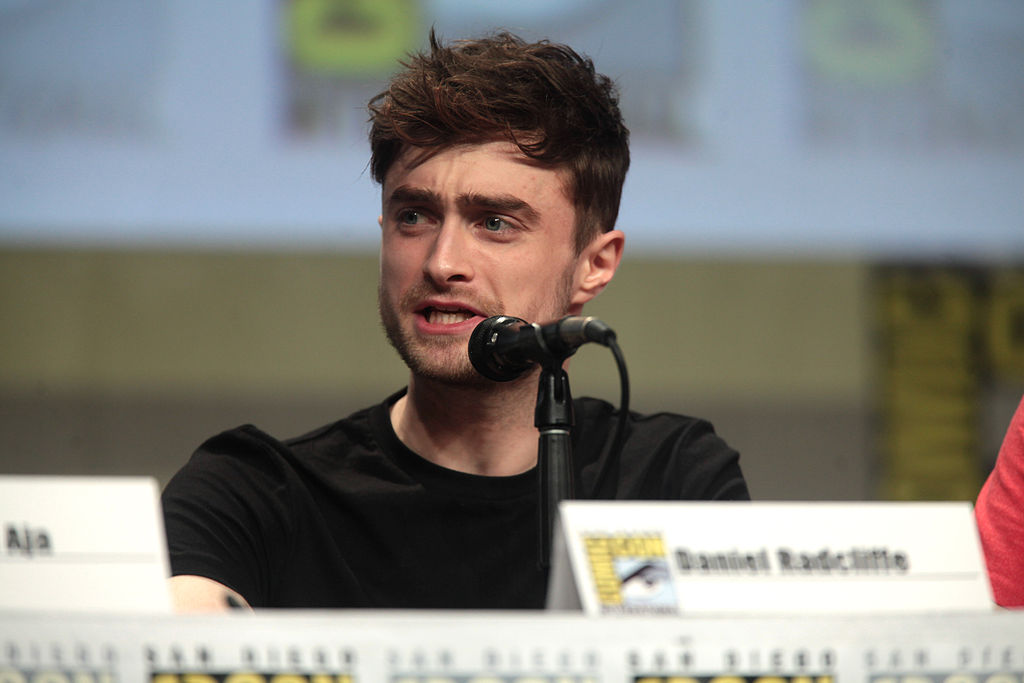 Image by Gage Skidmore, via Wikimedia Commons
There are many more important things happening in the world than the tweets of Harry Potter author J.K. Rowling, but the tweets of J.K. Rowling are nonetheless worthy of attention, for the sake of fans of the series, many of whom are young and do not understand why their parents might suddenly be angry with her, or who are very angry with her themselves. As you have probably heard, Rowling has doubled and tripled down on statements others have repeatedly told her are transphobic, ignorant, and offensive.
Whatever you think of her tweets (and if you agree with her, you're probably only reading this post to disagree with me), they signal a failure of empathy and humility on Rowling's part. She could just say nothing and try to listen and learn more. Empathy does not require that we wholly understand another's lived experience. Only that we can imagine feeling the feelings someone has about it—feelings of marginalization, disappointment, fear, desire for recognition and respect, whatever; and that we trust they know more about who they are than we do.
Rowling is neither a trans woman, nor a doctor, nor an expert on gender identity, a fact that Daniel Radcliffe, Harry Potter himself, points out in his response to her:
Transgender women are women. Any statement to the contrary erases the identity and dignity of transgender people and goes against all advice given by professional health care associations who have far more expertise on this subject matter than either Jo or I. According to The Trevor Project, 78% of transgender and nonbinary youth reported being the subject of discrimination due to their gender identity. It's clear that we need to do more to support transgender and nonbinary people, not invalidate their identities, and not cause further harm.
While the author has qualified her dogmatic statements by expressing support for the trans community and saying she has many trans friends, this doesn't explain why she feels the need to offer uninformed opinions about people who face very real harm from such rhetoric: who are routinely victims of violent hate crimes and are far more likely to live in poverty and face employment discrimination.
Radcliffe's thoughtful, kind response will get more clicks if it's sold as "Harry Potter Claps Back at J.K. Rowling" or "Harry Potter DESTROYS J.K. Rowling" or "Harry Potter Bites the Hand that Fed Him" or something, but he wants to make it clear "that is really not what this is about, nor is it what's important right now" and that he wouldn't be where he is without her. He closes with a lovely message to the series' fans, one that might apply to any of our troubled relationships with an artist and their work:
To all the people who now feel that their experience of the books has been tarnished or diminished, I am deeply sorry for the pain these comments have caused you. I really hope that you don't entirely lose what was valuable in these stories to you. If these books taught you that love is the strongest force in the universe, capable of overcoming anything; if they taught you that strength is found in diversity, and that dogmatic ideas of pureness lead to the oppression of vulnerable groups; if you believe that a particular character is trans, nonbinary, or gender fluid, or that they are gay or bisexual; if you found anything in these stories that resonated with you and helped you at any time in your life — then that is between you and the book that you read, and it is sacred. And in my opinion nobody can touch that. It means to you what it means to you and I hope that these comments will not taint that too much.
The statement was posted at the Trevor Project, an organization providing "crisis intervention and suicide prevention services to lesbian, gay, bisexual, transgender, queer & questioning (LGBTQ) young people under 25." Learn more about resources for young people who might need mental health support at their site.
Update: You can read Rowling's response, posted today here.
Related Content:
J.K. Rowling Defends Donald Trump's Right to Be "Offensive and Bigoted"
J.K. Rowling Is Publishing Her New Children's Novel Free Online, One Chapter Per Day
Harry Potter Finally Gets Translated Into Scots: Hear & Read Passages from Harry Potter and the Philosopher's Stane
Josh Jones is a writer and musician based in Durham, NC. Follow him at @jdmagness