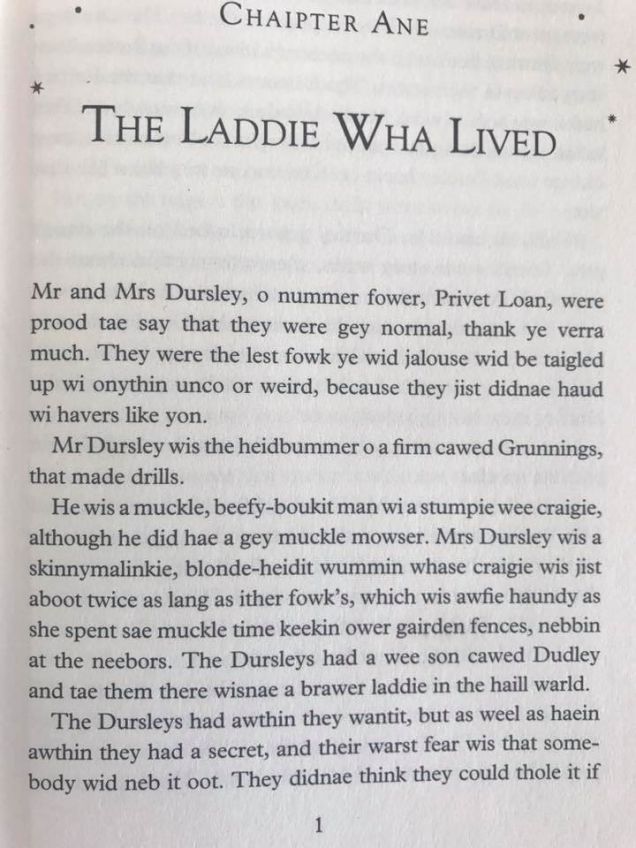 In something of a landmark, Harry Potter and The Sorcerer's Stone has just been translated into its 80th language--Scots, a language spoken by 1.5 million people in Scotland. Originally written by J.K. Rowling in Edinburgh, the first Harry Potter book was carefully translated by children's author, writer, poet, editor and translator Matthew Fitt. You can see the first page of Harry Potter and the Philosopher's Stane above, and hear Fitt read samples of the text in the NPR interview below. Due out on March 1, the book can be pre-ordered now.
Follow Open Culture on Facebook and Twitter and share intelligent media with your friends. Or better yet, sign up for our daily email and get a daily dose of Open Culture in your inbox. 
If you'd like to support Open Culture and our mission, please consider making a donation to our site. It's hard to rely 100% on ads, and your contributions will help us provide the best free cultural and educational materials.
Related Content:
J.K. Rowling Plotted Harry Potter with a Hand-Drawn Spreadsheet
Download Two Harry Potter Audio Books for Free (and Get the Rest of the Series for Cheap)
Take Free Online Courses at Hogwarts: Charms, Potions, Defense Against the Dark Arts & More
30 Minutes of Harry Potter Sung in an Avant-Garde Fashion by UbuWeb's Kenneth Goldsmith