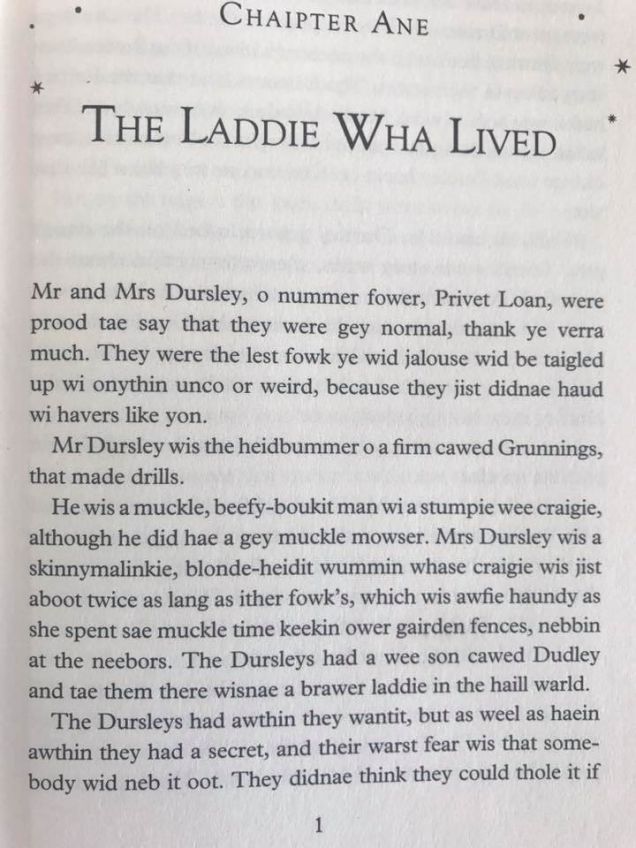 In some­thing of a land­mark, Har­ry Pot­ter and The Sor­cer­er's Stone has just been trans­lat­ed into its 80th lan­guage–Scots, a lan­guage spo­ken by 1.5 mil­lion peo­ple in Scot­land. Orig­i­nal­ly writ­ten by J.K. Rowl­ing in Edin­burgh, the first Har­ry Pot­ter book was care­ful­ly trans­lat­ed by children's author, writer, poet, edi­tor and trans­la­tor Matthew Fitt. You can see the first page of Har­ry Pot­ter and the Philoso­pher's Stane above, and hear Fitt read sam­ples of the text in the NPR inter­view below. Due out on March 1, the book can be pre-ordered now.
If you would like to sign up for Open Culture's free email newslet­ter, please find it here.
If you would like to sup­port the mis­sion of Open Cul­ture, con­sid­er mak­ing a dona­tion to our site. It's hard to rely 100% on ads, and your con­tri­bu­tions will help us con­tin­ue pro­vid­ing the best free cul­tur­al and edu­ca­tion­al mate­ri­als to learn­ers every­where. You can con­tribute through Pay­Pal, Patre­on, and Ven­mo (@openculture). Thanks!
Relat­ed Con­tent:
J.K. Rowl­ing Plot­ted Har­ry Pot­ter with a Hand-Drawn Spread­sheet
Down­load Two Har­ry Pot­ter Audio Books for Free (and Get the Rest of the Series for Cheap)
Take Free Online Cours­es at Hog­warts: Charms, Potions, Defense Against the Dark Arts & More
30 Min­utes of Har­ry Pot­ter Sung in an Avant-Garde Fash­ion by UbuWeb's Ken­neth Gold­smith