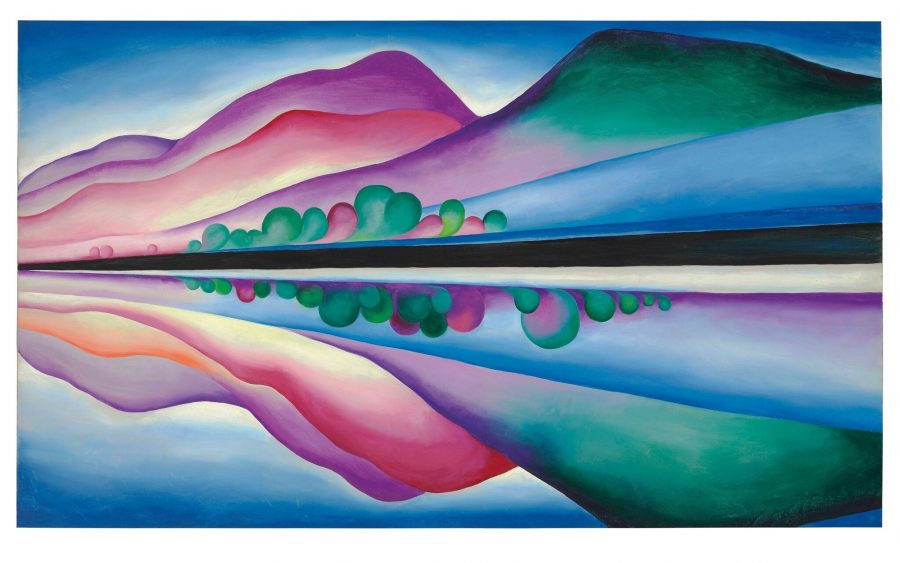 Lake George Reflection (circa 1921) via Wikimedia Commons
What comes to mind when you think of Georgia O'Keeffe?
Bleached skulls in the desert?
Aerial views of clouds, almost cartoonish in their puffiness?
Voluptuous flowers (freighted with an erotic charge the artist may not have intended)?
Probably not Polaroid prints of a dark haired pet chow sprawled on flagstones…
Or watercolor sketches of demurely pretty ladies…
Or a massive cast iron abstraction…
If your knowledge of America's most celebrated female artists is confined to the gift shop's greatest hits, you might enjoy a leisurely prowl through the 1100+ works in the Georgia O'Keeffe Museum's digital collection.
A main objective of this beta release is to provide a more complete understanding of the life and work of the iconic artist, who died in 1986 at the age of 98.
Her evolution is evident when you search by materials or date.
You can also view works by other artists in the collection, including two very significant men in her life, photographer Alfred Stieglitz and ceramicist Juan Hamilton.
Each item's listing is enhanced with information on inscriptions and exhibitions, as well as links to other works produced in the same year.
If your explorations leave you in a creative mood, the museum's website has devised a host of  O'Keeffe-inspired, all-ages creative assignments, such as an advertising challenge stemming from her 1939 trip to Hawaii to design promotional images for the Hawaiian Pineapple Company (now known as Dole).
Visit the Georgia O'Keeffe Museum's online collection here. And watch a documentary introduction to O'Keeffee, narrated by Gene Hackman, below:
Related Content:
The Real Georgia O'Keeffe: The Artist Reveals Herself in Vintage Documentary Clips
Georgia O'Keeffe: A Life in Art, a Short Documentary on the Painter Narrated by Gene Hackman
How Georgia O'Keeffe Became Georgia O'Keeffe: An Animated Video Tells the Story
Ayun Halliday is an author, illustrator, theater maker and Chief Primatologist of the East Village Inky zine. Follow her @AyunHalliday.