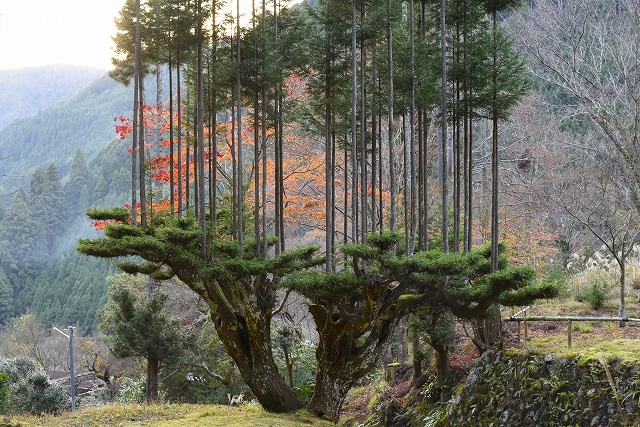 We've all admired the ele­gance of Japan's tra­di­tion­al styles of archi­tec­ture. Their devel­op­ment required the kind of ded­i­cat­ed crafts­man­ship that takes gen­er­a­tions to cul­ti­vate — but also, more prac­ti­cal­ly speak­ing, no small amount of wood. By the 15th cen­tu­ry, Japan already faced a short­age of seedlings, as well as land on which to prop­er­ly cul­ti­vate the trees in the first place. Neces­si­ty being the moth­er of inven­tion, this led to the cre­ation of an inge­nious solu­tion: daisu­gi, the grow­ing of addi­tion­al trees, in effect, out of exist­ing trees — cre­at­ing, in oth­er words, a kind of giant bon­sai.
"Writ­ten as 台杉 and lit­er­al­ly mean­ing plat­form cedar, the tech­nique result­ed in a tree that resem­bled an open palm with mul­ti­ple trees grow­ing out if it, per­fect­ly ver­ti­cal," writes Spoon and Tam­ago's John­ny Wald­man. "Done right, the tech­nique can pre­vent defor­esta­tion and result in per­fect­ly round and straight tim­ber known as taru­ki, which are used in the roofs of Japan­ese tea­hous­es."
These tea­hous­es are still promi­nent in Kyoto, a city still known for its tra­di­tion­al cul­tur­al her­itage, and not coin­ci­den­tal­ly where daisu­gi first devel­oped. "It's said that it was Kyoto's pre­em­i­nent tea mas­ter, Sen-no-rikyu, who demand­ed per­fec­tion in the Kitaya­ma cedar dur­ing the 16th cen­tu­ry," writes My Mod­ern Met's Jes­si­ca Stew­art.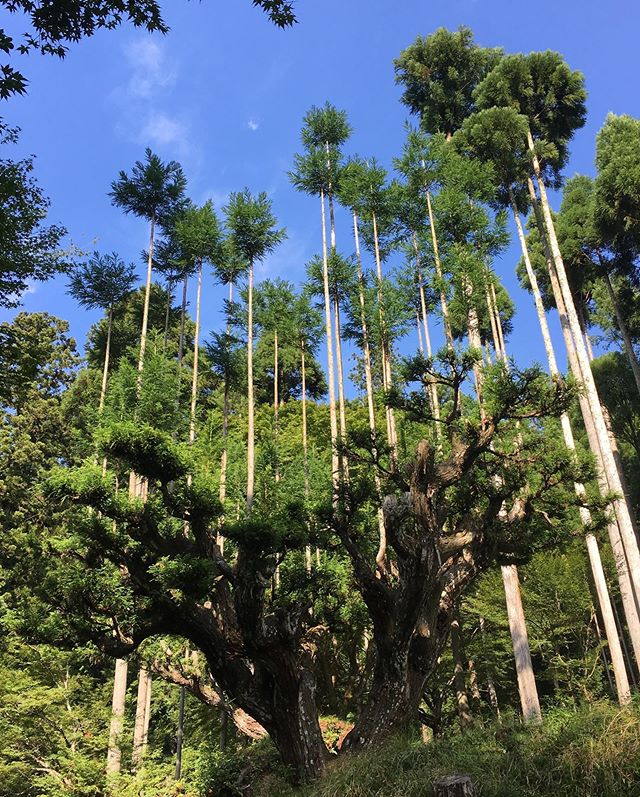 At the time "a form of very straight and styl­ized sukiya-zukuri archi­tec­ture was high fash­ion, but there sim­ply weren't near­ly enough raw mate­ri­als to build these homes for every noble or samu­rai who want­ed one," says a thread by Twit­ter account Wrath of Gnon, which includes these and oth­er pho­tos of daisu­gi in action. "Hence this clever solu­tion of using bon­sai tech­niques on trees." Aes­thet­ics aside — as far aside as they ever get in Japan, at any rate — "the lum­ber pro­duced in this method is 140% as flex­i­ble as stan­dard cedar and 200% as dense/strong," mak­ing it "absolute­ly per­fect for rafters and roof tim­ber." And not only is daisu­gi's prod­uct straight, slen­der, and typhoon-resis­tant, it's mar­veled at around the world 600 years lat­er. Of how many forestry tech­niques can we say the same?
Relat­ed Con­tent:
The Art & Phi­los­o­phy of Bon­sai
This 392-Year-Old Bon­sai Tree Sur­vived the Hiroshi­ma Atom­ic Blast & Still Flour­ish­es Today: The Pow­er of Resilience
The Philo­soph­i­cal Appre­ci­a­tion of Rocks in Chi­na & Japan: A Short Intro­duc­tion to an Ancient Tra­di­tion
The Secret Lan­guage of Trees: A Charm­ing Ani­mat­ed Les­son Explains How Trees Share Infor­ma­tion with Each Oth­er
The Social Lives of Trees: Sci­ence Reveals How Trees Mys­te­ri­ous­ly Talk to Each Oth­er, Work Togeth­er & Form Nur­tur­ing Fam­i­lies
A Dig­i­tal Ani­ma­tion Com­pares the Size of Trees: From the 3‑Inch Bon­sai, to the 300-Foot Sequoia
Based in Seoul, Col­in Mar­shall writes and broad­casts on cities, lan­guage, and cul­ture. His projects include the Sub­stack newslet­ter Books on Cities, the book The State­less City: a Walk through 21st-Cen­tu­ry Los Ange­les and the video series The City in Cin­e­ma. Fol­low him on Twit­ter at @colinmarshall, on Face­book, or on Insta­gram.