Edward Gorey and Halloween go together as well as Dracula and Halloween. Bring the three together (well, it's almost Halloween), and you've got a triumvirate of classic, wicked, scary fun. The alignment of these dark stars first occurred, Olivia Rutigliano writes at CrimeReads, when a Gorey-designed production of Dracula "premiered on Broadway at the Martin Beck Theater on October 20th, 1977, just in time for Halloween." Starring Frank Langella in the title role, "the production was a smash," and Gorey, who designed the sets, costumes, posters, playbills, and merchandise, won a Tony the following year.
To hear Gorey tell it, in Episode 4 of "Goreytelling," an animated series of previously unheard recorded interviews with the reclusive writer/illustrator, he was "only too conscious of not being a real set designer or a real costume designer or a real anything…. I designed it the only way I could." His seeming pain over the whole thing extends to the play itself. "I don't know what anybody saw in it, exactly," he says, "but it was a big hit."
The play was first staged in 1973, and for years, Gorey says, each time a theater company decided to put it on, he was called up to consult. He dutifully turned up each time, scowling glumly and wondering why. When it finally hit Broadway, he saw two-thirds of a rehearsal and left "jaundiced." The final product left an even more sour taste. It was, he says, "absurd," but very lucrative. As for the Tony, he says ironically, the award turned out to be "the cross I had to bear," an embarrassing accolade for costumes he deemed unworthy of the honor.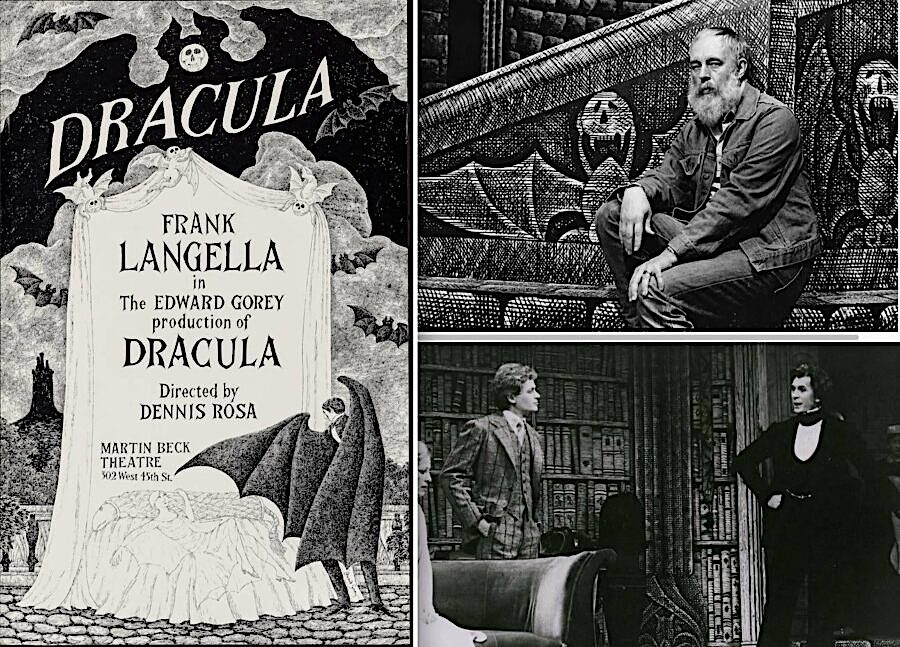 Rutigliano deems the set designs "gorgeous… three giant tableaux, in his familiar inky, meticulous style" and features a few photographs from a production in Houston. We would not expect otherwise from Gorey, who was always himself and always a professional. The sets have lived on in photos—some featuring Langella, some his successor, Raul Julia—in miniature models, and in the brief but sort-of compelling production of "Dracula: Starring Edward Gorey's Toy Theatre," just below. Gorey also created an illustrated edition of Dracula in 1996.
"It should be noted," Goreyana writes, "that all the sets for Dracula were hand painted by talented scene shop artists. Every cross hatched line on the walls, furniture, and floor had to be recreated to size by hand." This is indeed impressive, and Gorey is probably right: the sets, which he also seemed to loathe, were probably more deserving of the Tony than the costumes. "The overall aesthetic," says Rutigliano, "matches the period of the original Broadway run, the 1920s." (The production won another Tony for Most Innovative Revival.)
The original theater adaptation was commissioned by Bram Stoker's widow, Florence, "as part of her copyright crusade against F.W. Murnau's Nosferatu." It debuted in England in 1924, then premiered on Broadway in 1927 with a then-unknown Bela Lugosi. "This production would be adapted, in turn, by the director Tod Browning into the famous 1931 Dracula film." Gorey himself may have hated it, but the play he so meticulously brought back to life in the 70s descended, in a way, in a long, venerable, undead line, from the original Dracula himself.
via CrimeReads
Related Content: 
Edward Gorey Talks About His Love Cats & More in the Animated Series, "Goreytelling"
When Edward Gorey Designed Book Covers for Classic Novels: See His Ironic-Gothic Take on Dickens, Conrad, Poe & More
Horror Legend Christopher Lee Reads Bram Stoker's Dracula
Watch Nosferatu, the Seminal Vampire Film, Free Online (1922)
Josh Jones is a writer and musician based in Durham, NC. Follow him at @jdmagness