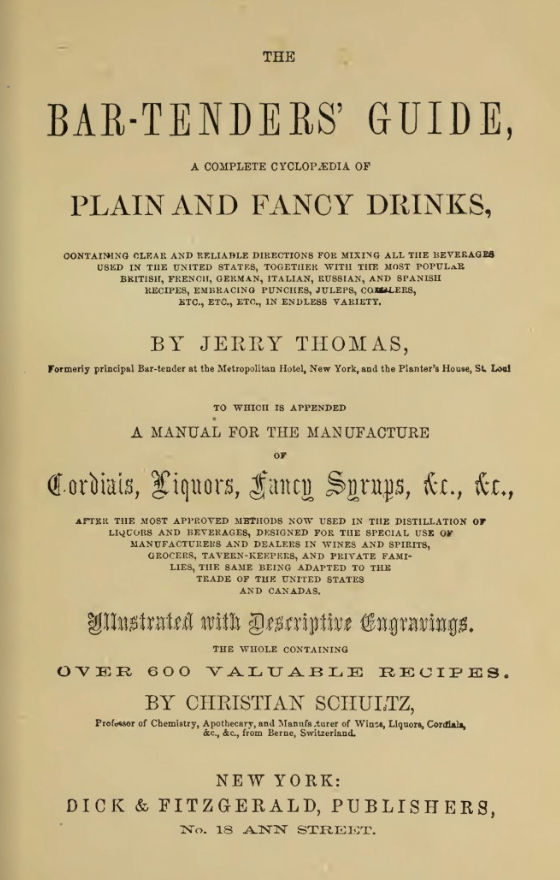 So, um… you look like you could use a drink… or anoth­er drink, or five…. I've giv­en it up, but I can still mix a mean cock­tail. How about a Stom­ach Julep (Julepum Stom­achicum). No white suit or veran­da required. It's a "saf­fron syrup made with sher­ry, spir­it rec­ti­fied with mint, and a non-alco­holic mint dis­til­late" among oth­er "fas­ci­nat­ing ingre­di­ents." Yes, this is a recipe from a 1753 phar­ma­col­o­gy text­book, but in 1753, one's bar­tender might just as well also be the local alchemist, phar­ma­cist, and cap­tive audi­ence. Fear­ing a resur­gence of plague and oth­er mal­adies, lack­ing prop­er health­care or clean water, the Ear­ly Mod­ern British for­ti­fied them­selves with booze.
The New Eng­lish Dis­pen­sato­ry might seem like an odd text, nonethe­less, to include in an online library for bar­tenders, but it is per­fect­ly in keep­ing with the spir­it of the EUVS Dig­i­tal Col­lec­tion, an appre­cia­ble sam­pling of man­u­als, cock­tail menus, recipe books, and his­tor­i­cal ephemera relat­ed to "a pro­fes­sion that has redis­cov­ered a jus­ti­fi­able sense of pride and pur­pose."
This sense does seem to vary great­ly between estab­lish­ments, but the col­lec­tion does not dis­crim­i­nate, though it does dis­play a par­tic­u­lar fond­ness for Cuba in its cur­rent state of digitization—now up to a few dozen titles span­ning the years 1753 to 1959. More books will be com­ing online soon out of a phys­i­cal col­lec­tion of "over 1,000 vol­umes."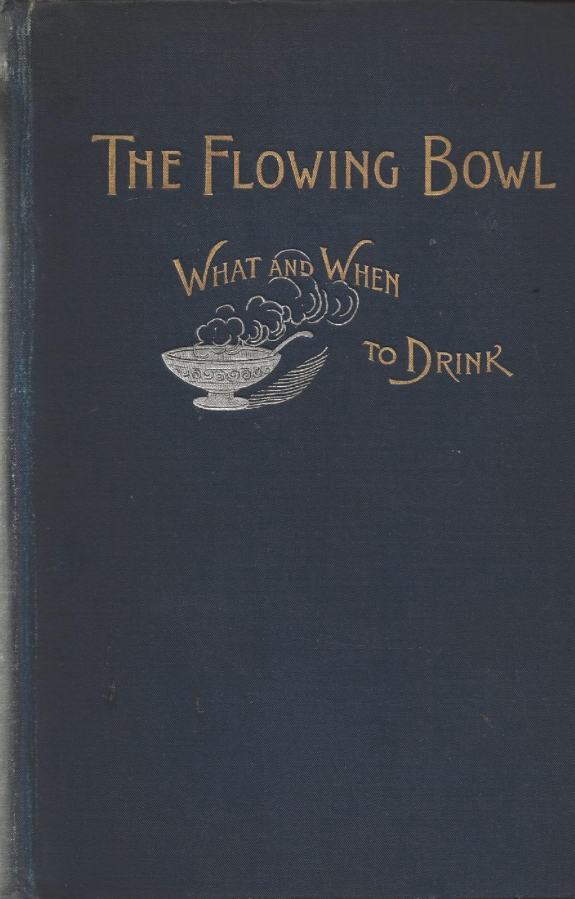 It may be hard to imag­ine earn­ing a bar­tend­ing Ph.D. but one could cer­tain­ly find a dis­ser­ta­tion top­ic in the impres­sive breadth and depth of the col­lec­tion, even in its lim­it­ed state. Or, more like­ly, one could put togeth­er a unique­ly imag­i­na­tive cock­tail menu that no one else in town can boast of. Bar­tend­ing is both art and sci­ence. In his 1892 book The Flow­ing Bowl, New York bar­tender William Schmidt, also known as "The Only William," com­ments:
Mixed drinks might be com­pared to music: an orches­tra will pro­duce good music, pro­vid­ed all play­ers are artists; but have only one or two infe­ri­or musi­cians in your band and you may be con­vinced they will spoil the entire har­mo­ny.
To the bartender's list of sup­ple­men­tary roles in the lives of their cus­tomers, we can add anoth­er: con­duc­tor. William first came to promi­nence in the pro­fes­sion in Ham­burg, Ger­many before emi­grat­ing to Chica­go, then Man­hat­tan. His tastes, in music and liquors, remained Euro­pean. "The finest mixed drinks and their ingre­di­ents are of for­eign ori­gin. Are not all of the supe­ri­or cor­dials of for­eign make?" he wrote. Clear­ly he knew noth­ing of bour­bon.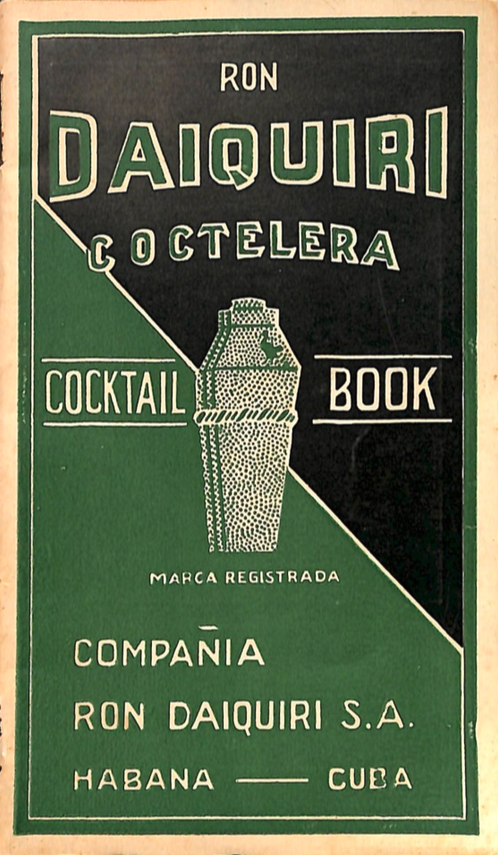 The Only William did know that fine art requires show­man­ship and style. He was "renowned for his acro­bat­ic bar­tend­ing feats: throw­ing flam­ing and non-flam­ing drinks in grace­ful arcs." The EUVS Dig­i­tal Col­lec­tion presents William as a kind of bar­tend­ing folk hero, a larg­er-than-life fig­ure who was said to have invent­ed a new drink dai­ly. If this is so, it may not be so sur­pris­ing. William was not only total­ly devot­ed to his art, but he was also a schol­ar, "cred­it­ed with an ency­clo­pe­dic knowl­edge of the clas­sics."
The Flow­ing Bowl con­tains Schmidt's "his­to­ry of var­i­ous bev­er­ages, descrip­tions of his­toric Gre­co-Roman ban­quets, sam­ple menus with bev­er­age pair­ings, plus a live­ly selec­tion of poet­ry read­ings whose focus is on drink." One gets the sense he rep­re­sents the ide­al patron of The Bartender's Library. What would such a mod­el bar­tender do dur­ing the pan­dem­ic? I think he'd hit the books, espe­cial­ly giv­en that so many, like his own, are free online. And giv­en the ever-present pos­si­bil­i­ty of plague and oth­er calami­ties, I guess he'd offer spir­it­ed reme­dies to the peo­ple locked down at home with him.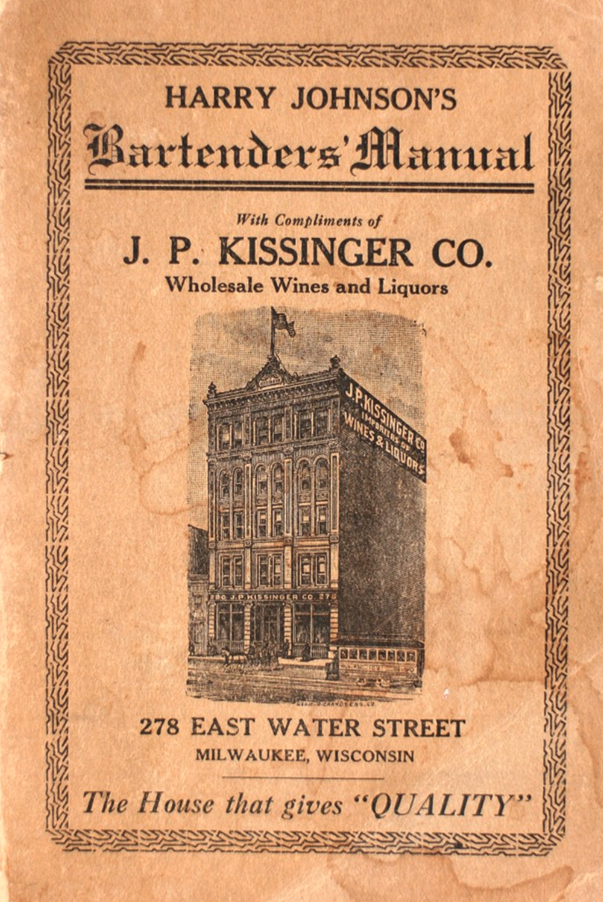 Note: One com­menter on the Cock­tail archive site left these com­ments, which might prove handy:
Here is a list of con­ver­sions, with Impe­r­i­al mea­sure­ments (from the U.K), as well as few British ones–as both are found in many clas­sic cock­tail books and can be mighty con­fus­ing.
1 quart (Impe­r­i­al) = 40 ounces
1 quart = 32 ounces
1 bot­tle = 24 ounces
1 pint (Impe­r­i­al) = 20 ounces
1 pint = 16 ounces
1/2 pint (Impe­r­i­al) = 10 ounces
1/2 pint = 8 ounces
1 gill (Impe­r­i­al) = 4.8 ounces
1 gill = 4 ounces
1 dram = 1/4 table­spoon (found in the British met­ric sys­tem or Eng­lish recipes before approx. 1972)
1 wine­glass = 2 ounces
1 jig­ger = 1 1/2 ounces – 1 1/4 ounces
1 pony = 1 (flu­id) ounce = 2 table­spoons
1 table­spoon = 1/2 (flu­id) ounces
1 tea­spoon = 1/16 flu­id ounces
A dash is a tricky one. When applied to bit­ters, a "dash" makes sense: it's what comes out the top of the bot­tle. But if you find a recipe call­ing for "dash­es of syrup," check out sim­i­lar drink recipes and use your judg­ment in how much you need.
Relat­ed Con­tent:
The Sci­ence of Beer: A New Free Online Course Promis­es to Enhance Your Appre­ci­a­tion of the Time­less Bev­er­age
A New Dig­i­tized Menu Col­lec­tion Lets You Revis­it the Cui­sine from the "Gold­en Age of Rail­road Din­ing"
The Recipes of Famous Artists: Din­ners & Cock­tails From Tol­stoy, Miles Davis, Mar­i­lyn Mon­roe, David Lynch & Many More
Josh Jones is a writer and musi­cian based in Wash­ing­ton, DC. Fol­low him @jdmagness