People do weird things in the desert. A spokesman for the Utah Division of Wildlife Resources acknowledges that widely understood truth in a recent New York Times article about a mysterious monolith discovered in Red Rock Country. "A team that was counting bighorn sheep by helicopter spotted something odd and landed to take a closer look," writes Alan Yuhas. "It was a three-sided metal monolith, about 10 to 12 feet tall, planted firmly in the ground with no clear sign of where it came from or why it was there." Whatever the differences in size, shape, and color, this still-unexplained object brings to mind nothing so much as 2001: A Space Odyssey, with its most famous monolith of all.
Though Stanley Kubrick shot that particular scene in London's Shepperton Studios, plenty of other productions have made use of the Utah Desert, including installments of the spectacle-driven Indiana Jones and Mission: Impossible series. But as far as anyone knows, the monolith isn't a piece of set dressing.
Crowdsourcing guesses on social media, the Utah Highway Patrol received such responses as "a 'resonance deflector,' 'an eyesore,' 'some good metal.' Some theorized, vaguely, that it was a satellite beacon. Others joked that it was a Wi-Fi router." Whoever assembled and installed it, they did so with "human-made rivets" and a skilled enough hand to cut a perfectly shaped hole into the rock — the kind of combination of apparent skill and inexplicability that once stirred up so much fascination over crop circles.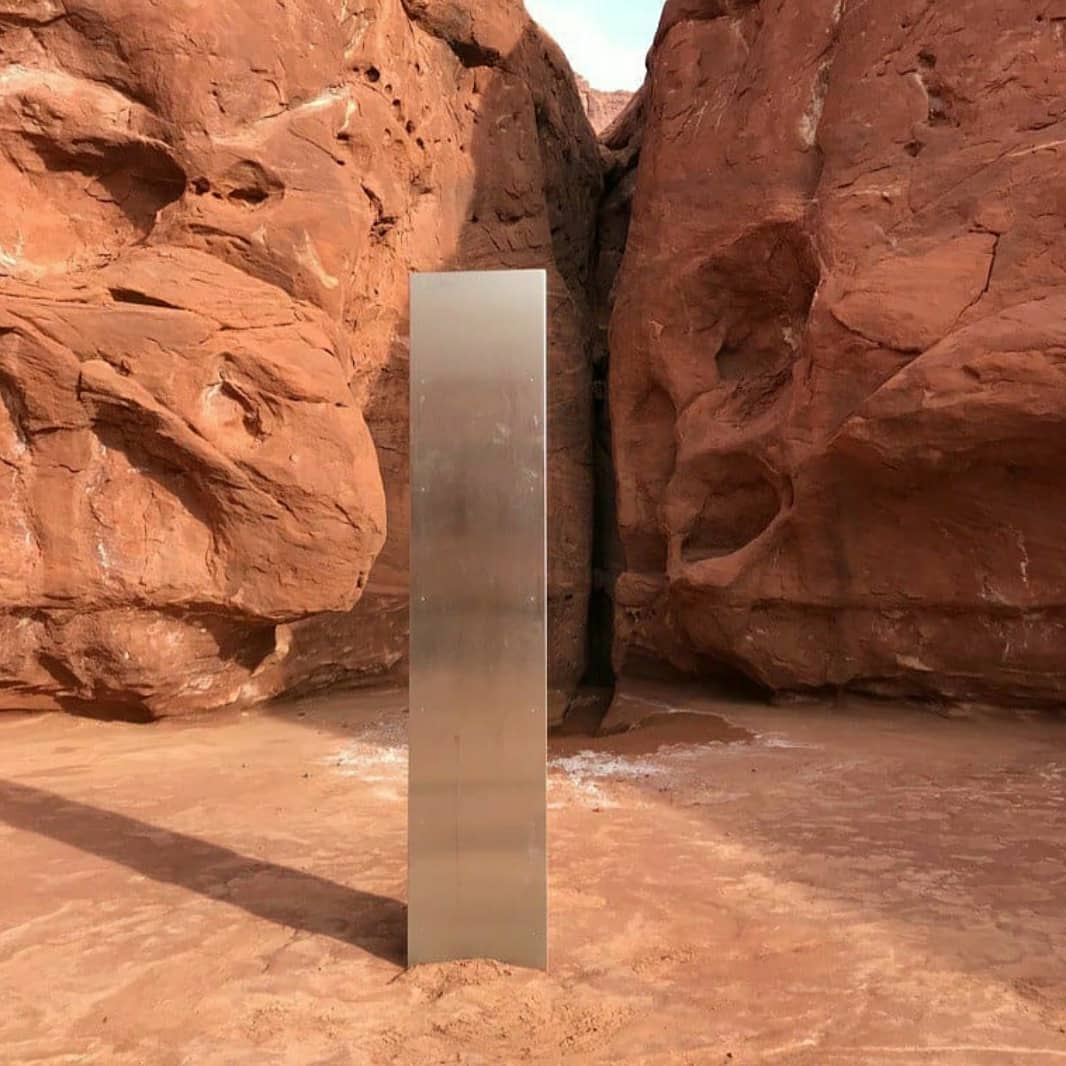 Image by Utah Department of Public Safety
The Art Newspaper's Gabriella Angeleti describes the monolith as "resembling the freestanding plank sculptures of the late Minimalist artist John McCracken." Though McCracken never officially made an installation in the Utah desert, he did spend the last years of his life not far away (at least by the standards of the southwestern United States) in northern New Mexico, and anyone familiar with his work will sense a certain affinity with it in this newly discovered object. "While this is not a work by the late American artist John McCracken," says a spokesman for the gallery that represents him, "we suspect it is a work by a fellow artist paying homage." Whether or not the monolith has an intended message, the reactions now going viral around the world already have many of us wondering how far we've really evolved past the apes.
The monolith is apparently viewable on Google Earth here.
Related Content:
When Michel Foucault Tripped on Acid in Death Valley and Called It "The Greatest Experience of My Life" (1975)
The CIA Puts Hundreds of Declassified Documents About UFO Sightings Online, Plus 10 Tips for Investigating Flying Saucers
Hear the Declassified, Eerie "Space Music" Heard During the Apollo 10 Mission (1969)
Watch a Newly-Created "Epilogue" For Stanley Kubrick's 2001: A Space Odyssey
Based in Seoul, Colin Marshall writes and broadcasts on cities, language, and culture. His projects include the Substack newsletter Books on Cities, the book The Stateless City: a Walk through 21st-Century Los Angeles and the video series The City in Cinema. Follow him on Twitter at @colinmarshall, on Facebook, or on Instagram.