When I think of roller skates, I first think of 1997's Boogie Nights and De La Soul's 1991 hit "A Roller Skating Jam Named 'Saturdays.'" I date myself to a time not particularly well known as a golden age of roller skating (not the kinds in those references, in any case). The 90s were known as a golden age of visual effects, when Jurassic Park, its sequels, and at the decade's end, The Matrix, previewed a brave new world of filmmaking to come….
When I think of roller skates, I do not tend to think of Charlie Chaplin….
But if you've watched Chaplin's classic 1936 Modern Times recently, you'll have the film's famous roller skating scene fresh in your mind. You may or may not know that Chaplin's seemingly death-defying stunt on skates in that film was itself a pioneering invention of visual effects, in a strikingly contemporary work from Chaplin that, like The Matrix, helped advance the modern technologies it critiqued (and ended up playing an important role in modern philosophy).
The scene in Modern Times takes place in the toy department, on the fourth floor of a department store. Chaplin's Tramp and Ellen (Paulette Goddard) strap on skates, he cruises around blindfolded, and seems to back right to the edge of a sheer drop where the railing has broken. "The stunt looks so real that it's impossible to figure out where the effects are at first sight," Nicolas Ayala writes at Screenrant, "but the technique is actually simpler than it seems. In fact, there is no gap in the floor. It's a practical effect consisting of a matte painting placed right in front of the camera."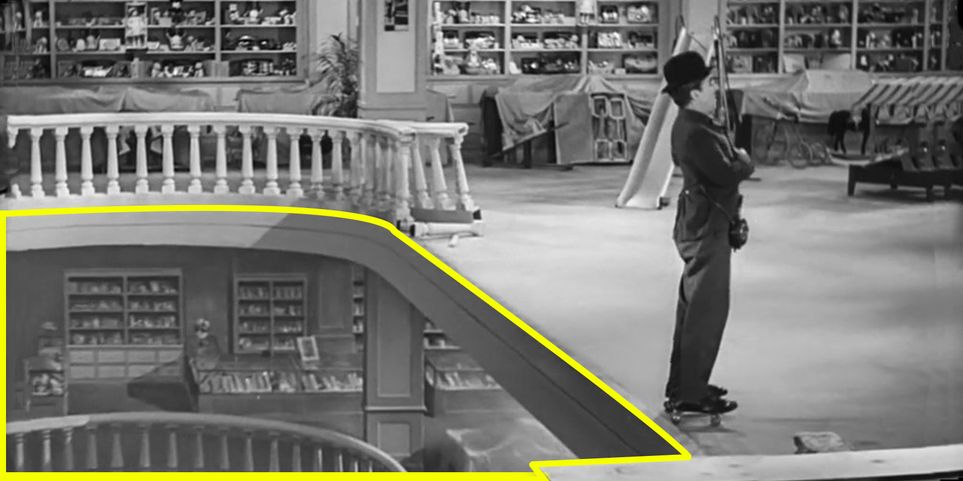 Performed live on set ("with no stunt doubles," Ayala notes), the scene doesn't actually show Chaplin in any danger. He performs "on a fully-floored set" with a ledge to help him "discern when to stop, since it was measured to fit exactly with the photorealistic matte painting that was placed on a sheet of glass just a couple feet in front of the lens. This way, the painting would appear to be the precise size of the gap without interfering with Chaplin's performance."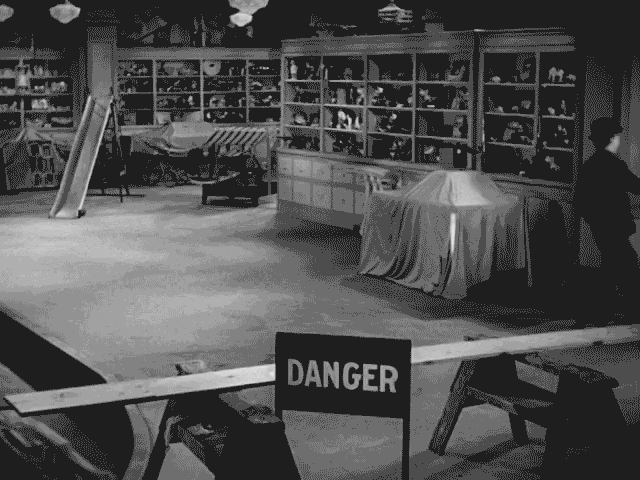 See the matte painting outlined in a still further up, courtesy of Ayala, see the stunt diagrammed in the animation above from Petr Pechar, and learn more about the filming of Modern Times, the Matrix of its day, here.
Related Content:  
Charlie Chaplin Does Cocaine and Saves the Day in Modern Times (1936)
Charlie Chaplin Gets Strapped into a Dystopian "Rube Goldberg Machine," a Frightful Commentary on Modern Capitalism
The Charlie Chaplin Archive Opens, Putting Online 30,000 Photos & Documents from the Life of the Iconic Film Star
Josh Jones is a writer and musician based in Washington, DC. Follow him @jdmagness